It looks like Air Canada's cost-cutting subsidiary rouge has figured out that Eurobusiness seating doesn't work in the North American market, even on the leisure-heavy routes that rouge was created to serve.
The carrier is pulling out the 3-3 regular economy seats to replace them with a relatively generous three rows of recliners in a 2-2 configuration in the Premium rouge cabin.
It's a massive upgrade from the old Eurobusiness product, which was just the first few rows of the otherwise all-economy cabin, pitched at a knee-crunchingly tight 29".
"Developed by B/E Aerospace's Spectrum First, the seats were previously flown by the mainline but have been completely refurbished," the airline says.
Interestingly, Air Canada's customer-facing website promises 21.1" seat width, but its PR blurb offers "a 36" pitch, a 5" recline and an 18" width between armrests".  Another instance of an airline measuring the same thing in different ways, perhaps?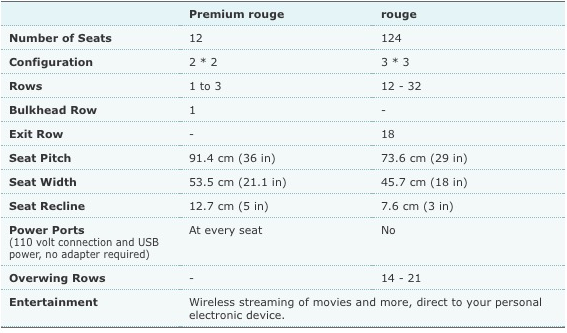 I do note that the pitch is quite stingy for a recliner style seat, especially one that isn't a new slimline model. By comparison, the mainline Air Canada A319 aircraft on which these seats used to sit were pitched at 38-39", according to the airline's website.
The airline does promise "more personal space and generous legroom as well as full power charging capacity with a 110-volt power plug and a high-powered USB port at every seat." Another big #PaxEx upgrade from no power ports at all in the old Eurobusiness seats.
With plans to convert the entire rouge A319 fleet "by mid-June 2015", the airline has expunged any mention of the old Eurobusiness layout from its seat map page.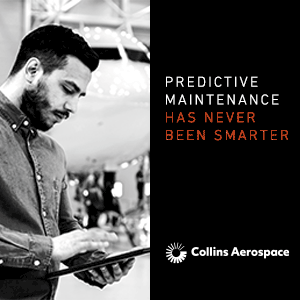 It's a remarkable change for the airline that was launched less than two years ago, and indeed the personal space in Premium rouge on the A319s is likely to eclipse the recliners on the airline's rouge 767-300ER aircraft. 2-2-2 feels tight on a 767, and its 6:7 ratio of business to economy seats across the same fuselage is less spacious than the 4:6 ratio of business to economy on the A319.
"Air Canada has listened to its customers and is pleased to announce product investments in the Air Canada route fleet including new Business Class seats on all Airbus A319 aircraft, Air Canada's president, passenger airlines Benjamin Smith says, although the airline is clearly still keen on its lower cost subsidiary.
"The new business class seating on rouge Airbus A319 aircraft provides our premium leisure customers with more space and comfort and, together with complimentary bar and meal service, is in line with our award winning Air Canada Business Class. We continue to strategically deploy Air Canada rouge on routes with high leisure travel demand as part of our strategy for sustainable, profitable growth."
Another positive on board the high-density rouge A319s: new "pillow doors" for the overhead compartments are to be installed "this summer", with the aim of fitting more carry-ons in the bins.
Premium rouge passengers are also offered complimentary rental of a new iPad Air 2 featuring "dozens of the latest Hollywood new releases and popular iPad games for one and two players", streaming via a Panasonic Avionics wireless entertainment system. Regular rouge passengers will still have to pay to rent iPads, although the streaming content is "available complimentary to customers that have downloaded the free app onto their own laptops or mobile Apple and Android devices".
For business and upmarket leisure passengers in the pointy end at least, flying on this Air Canada subsidiary will no longer feel like "being rouged".