Commercial aviation  took another step towards accessing faster inflight connectivity today as Gogo received certification from the FAA to begin testing an important part of its new 2Ku Internet service on board the company's Boeing 737-500 flying testbed.
The STC certification means that Gogo is now permitted to operate the 737 with its new radome, antenna, and other systems necessary to handle the connectivity requirements. Initial testing will involve only one ThinKom-made Ku-band antenna installed under the radome, but there is room for two.
With only one Ku antenna, the system will operate as Gogo's hybrid air-to-ground (ATG)/Ku-based "Ground-to-Orbit" (GTO) solution, which was initially announced in September 2013.
"It's set up as GTO right now," Gogo spokesman Steve Nolan confirmed to RGN.
The Chicago-headquartered company expects to receive permission from the FAA next month to add the second antenna under the radome and operate it in the 2Ku configuration.
While a number of airlines expressed interest in both the GTO and 2Ku systems it is expected that most will eventually choose to fly with the 2Ku solution rather than GTO. This is mostly because 2Ku does not suffer the requirement to remain over US and Canadian airspace where the ground-based portion of the service is available.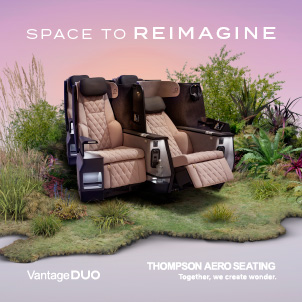 An added benefit is that the 2Ku solution should offer improved upload speeds for passengers. That does not mean the GTO product is DoA, though Gogo's CTO Anand Chari has previously suggested that "it doesn't matter" if the GTO product never flies commercially because its development was a necessary step towards the 2Ku solution's success.
It remains to be seen if 2Ku can deliver on promised speeds of up to 70 Mbps across full fleets of aircraft flying with this technology. However, even though 2Ku has not yet been fully tested on the Gogo 737 testbed, Delta Air Lines gave the technology its vote of confidence when the carrier recently tapped Gogo to provide 2Ku for hundreds of aircraft.
Delta will no doubt be pleased to learn that the 2Ku assembly is expected to meet the specifications laid out in ARINC 791, the standard generally used by the industry for Ku and Ka-band airborne terminal unit fittings. During the recent APEX Technology Conference in California, Peter Lemme – who chairs the AEEC subcommittee that developed the spec – noted that the rear antenna for 2Ku "sits on top of fittings that we have expressed in 791 so that is creating a bit of a challenge on airplanes built to 791 to accommodate these antennas. It is not insurmountable; it just means that we are going to have to do a little more mechanical engineering – basically probably move the rear aperture up just a little bit, fractions of an inch effectively, to create enough vacated space to allow the fittings to coexist with the antenna itself."
Meanwhile, satellite operators are working to get High Throughput Satellites (HTS) into the skies, and this will benefit Gogo, which believes 2Ku can offer 100 Mbps speeds over HTS. Another Ku connectivity provider, Panasonic Avionics, has already locked down a plan to access HTS capacity with partners like Intelsat.
"I think the first [HTS] goes the end of this year. The next one goes in next year and then covering the Pacific by 2017," said Greg Montevideo, senior director of global communications at Panasonic. "We know bandwidth is always going to be in demand, [passengers] are going to always want more bandwidth."