Las Vegas-based Allegiant Air hopes to shore up revenue in tandem with complying with new pilot rest rules with the introduction of six larger seats on its Boeing 757s.
Specifics of the new offering are scant as an Allegiant spokeswoman states, "We are still nailing down many details for the seats. I do not have an install date or an on-sale date."
A portion of the six larger seats may be reserved for pilots to meet new rest requirements effective in January of this year. "We initially took on a seat reconfiguration to comply with the FAA Part 117 augmented crew rest rules," the carrier's spokeswoman explains. "This project created an opportunity to make further modifications to the 757 seat configuration."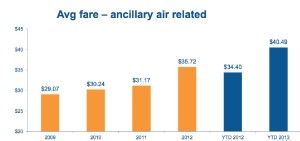 There is also an opportunity for Allegiant to notch up its ancillary revenue from the sale of the larger seats. The carrier is no stranger to strong ancillary sales. It estimates that through mid-December 2013 its average ancillary air fare (sales of items such as assigned seats and carry-on and checked baggage) reached $40.49 compared with $34.40 the year prior.
The carrier's spokeswoman confirms that no other amenities will be included in the upsell to the larger seats on the 757s, which Allegiant primarily operates from the US west coast to Hawaii.
For Allegiant the experiment in offering a larger seating option similar to Spirit's "big front seat" seems relatively low risk. Director of data for flight and data search site Routehappy John Walton says that, for the most part, passengers buying a similar product on other low-cost carriers "do not expect to be wined and dined. I think Allegiant probably won't oversell expectations."
In some respects a single offering of a larger seat without any other extras is not that much different than some domestic first class products offered by other US carriers. For example, US Airways does not offer a meal in first class on flights less than 3.5 hours, Walton notes.
Without knowing more details about what Allegiant has in store for its larger seats, it is tough to predict specific pricing points for the new product. Spirit charges anywhere from $12 to $150 for upsells to its big front seat. Walton believes Allegiant could reasonably charge "a couple of hundred bucks" for an extra legroom product. For some customers, a trip to Hawaii might be their only vacation for the year, so "maybe they'll want to step it up a little bit", Walton says.
There's no doubt Allegiant is betting that more than few customers may opt to splurge at the start of their vacation for a little extra comfort en route.
See one of Allegiant's 757s take off in the video below (photo also courtesy of this @ohareaviation video)