Latitude Aero, which specializes in refurbishing and electrifying airline seats, has an enviable track record in aviation: for its eight-year history of delivering 87,000 pax seats including to US mainline carriers, the company has been able to make the remarkable claim that it has 'never been late and never had a quality rejection'.
Now, Greensboro, North Carolina-based Latitude Aero is spreading its wings, firstly by expanding into the refurbishment of aircraft sidewalls, overhead bins, and passenger service units (PSUs), and later monuments.
"There are companies that can do it all, but the goal is to be the only company globally that has our 100% on-time, 100% quality" performance, Latitude Aero founder, president and CEO Kelvin Boyette revealed to Runway Girl Network at the Aircraft Interiors Expo in Hamburg.
And basically the goal by 2025 is to be the only company that, if the passenger sees it in the cabin, we can refurbish it.
To that end, Latitude Aero recently acquired the sidewall refurbishment assets of another US company, including the firm's sidewall panel molds for Boeing 737 and Airbus A320 family narrowbodies.
"We have a heated delam machine where it takes the old Tedlar off. And we have three vacuum form ovens to bake and vacuum form the new Tedlar on," explained Boyette.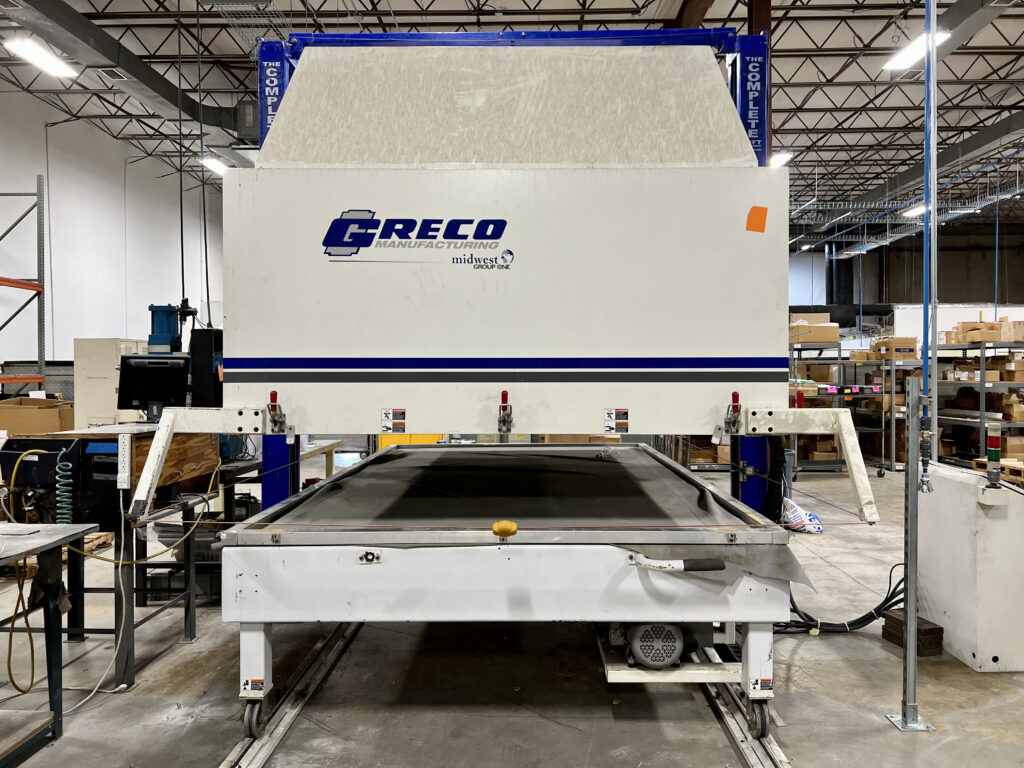 The machines were installed a couple of weeks ago and pre-production testing is underway. Latitude Aero has already secured purchase & order (PO) commitments "for 83 aircraft of sidewalls", said Boyette, pointing to the company's stellar record as the reason why airlines are "giving us a shot at sidewalls".
"Just as we do with seats — the seats come off the airplane in a heavy check or during the lease return and we refurbish and send back — we're doing the same thing with the sidewalls," he explained. "For one airline, while the airplanes are in C or D check, we're going to refurbish them for reuse. For one PO, we are restoring the sidewalls aesthetically" in preparation for lease returns.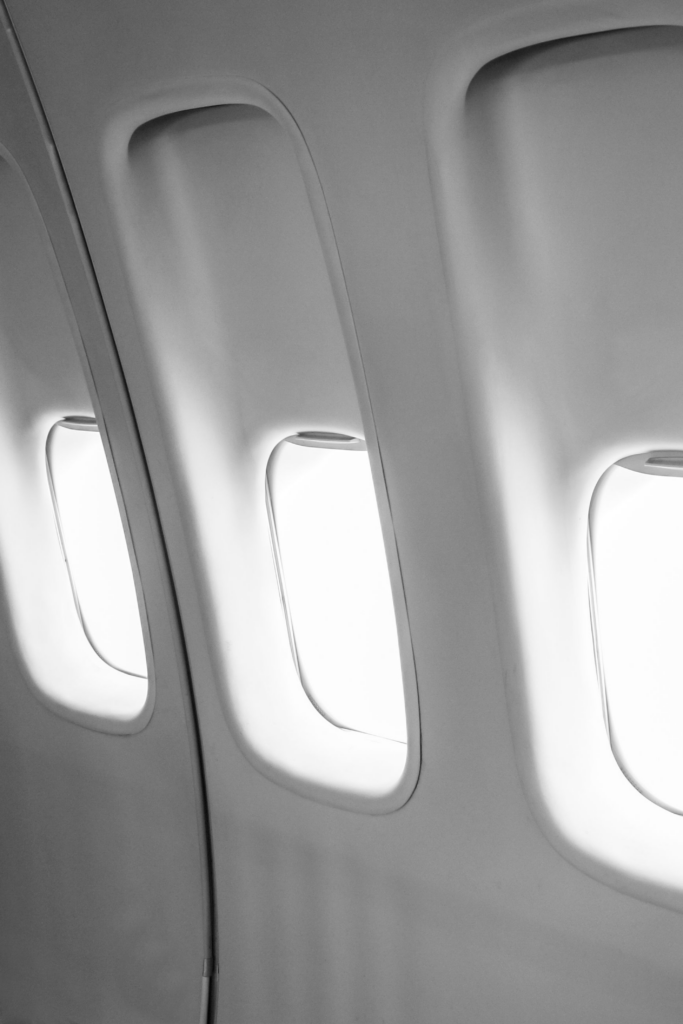 In addition to the acquisition of sidewall refurbishment systems, Latitude Aero has approved "over $2 million of CapEx" for 2023. So, later this year, it will add two full-size, automotive-style paint booths "which will get us into overhead bin refurbishment and PSU refurbishment", said Boyette.
"And then in 2024, because we have all that equipment in place, we would just need to add the autoclave and then we can get into monument refurbishment."
Sustainability focus
Latitude Aero's success story is as much about sustainability as it is refurbishment, with the company breathing fresh life into seats that would otherwise be disposed of.
The seats are sourced in a variety of different ways. "I'm on the distribution list for the leasing companies when they have assets to sell. Every week I get an e-mail. But the passenger-to-freighter (P2F) market is a large source. Aircraft still parked in Victorville, California are a big source," explained Boyette.
Whitetails manufactured during the Covid pandemic, which are now being earmarked for P2F conversion, are also a source. "No one's ever sat in the seats, no one's ever touched the IFE screens. So, we can buy at a discount and refurbish them to the next airline's colors."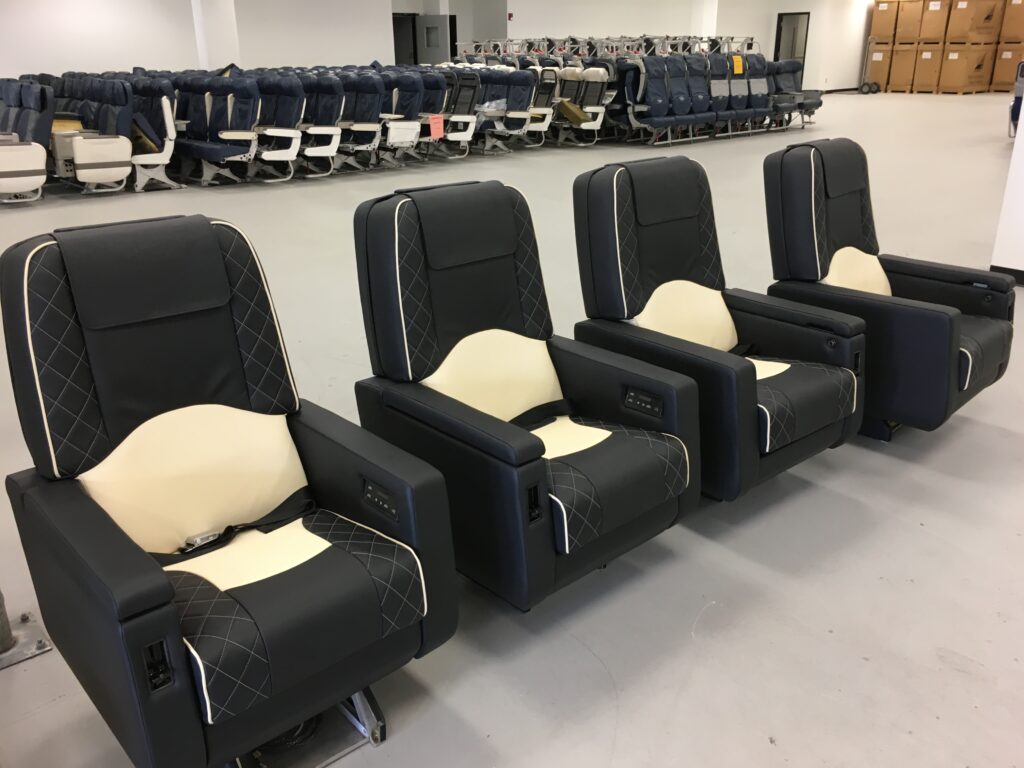 In many ways, Latitude Aero's work also helps airlines meet their own sustainability goals as well. "We're keeping them from having to discard of used seats. We're keeping them from having to buy new seats," noted Boyette.
And, with end-of-life in mind, the firm recycles almost everything, the Latitude Aero chief said:
At any given time, we have up to four construction size dumpsters at our dock door. One is for foam, one is for plastics, one is for metal, and one is for general rubbish. But almost everything we do goes back to a recycling company, even the old dress covers. We donate them to a local charity, and they teach people with physical disabilities to sew, and they sell coin purses, they sell pocketbooks at local farmers markets. So it's pretty cool. We recycle almost 100,000 pounds of waste a year.
The Covid crisis was devastating to aviation overall, but was oddly good for business at Latitude Aero. Certainly, the first few months were rough, admitted Boyette. "We cleaned city buses, we did everything, anything."
But the pandemic created inventory — relatively new seats that languished in the desert for two years later needed to have mold, mildew and corrosion addressed — as well as new opportunities for Latitude Aero to help airlines overcome supply chain constraints.
"Because of supply chain issues with the seat OEMs, we're refurbishing seats for Delta in nine days and making them look good as opposed to waiting many, many months for brand new seats," noted Boyette, later adding: "Our standard is overhaul like new. We're making the seats look new again. We are, for Delta, upgrading IFE, doing some other cool things too, changing out power. But we're helping the airlines on their bottom line by spending a fraction to refurbish to look like new, [rather] than having to go out in these long-term contracts and buying them."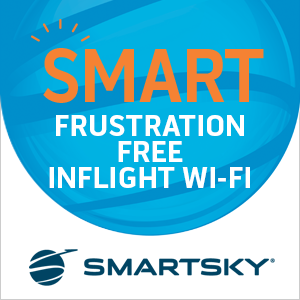 The firm remains agnostic, willing to do business with the span of IFE and in-seat power players, and even in some instances serving as the labor source when an airline needs to upgrade the IFE in its seats.
"It's like a push-pull sales model. I'm calling on the same airline that the IFE OEM is calling on, and then we kind of meet in the middle and we can quote the airline directly. We can quote it through the IFE provider so they're a turnkey solution. So we just, you know, we cover all facets of the sales cycle," said Boyette.
Latitude Aero's ability to draw on a strong workforce to support expansion is a testament to the city of Greensboro, as the aviation center of North Carolina, said Boyette. "You know, I came from HAECO. When I opened Latitude, I just moved to the other side of the runway. We have HondaJet. We have HondaJet engines. You know, within 45 minutes of me, there are 90 small repair stations like me. 17 miles to the west we have Collins. So, our technical schools, community colleges have programs specific for us.
"So, what we did is we went to our local Community College and created a very specific program that's not a two-year associates degree, it's an 18-month certificate program in sheet metal and composite repair. What's a seat — sheet metal and composite. So we've registered with the state as a formal apprenticeship like plumbers, brick masons."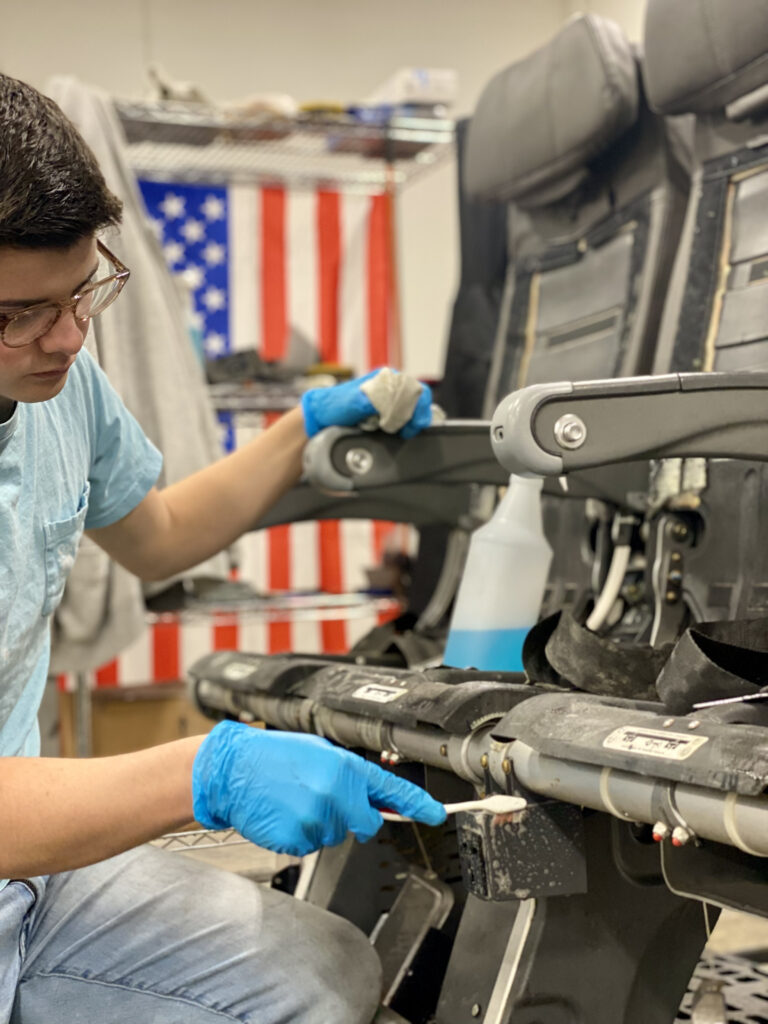 Unsurprisingly, Latitude Aero is now planning to grow beyond Greensboro. It is eyeing another refurbishment facility in the US, with Florida "a given" as a gateway to South America, said Boyette, and also internationally, likely in Europe.
Related Articles:
All images credited to Latitude Aero