Travelling on India's busiest air route between Delhi and Mumbai (BOM) gave me the opportunity to sample Premium Economy on board a Vistara Airbus A320neo.
Vistara, the Tata Sons-Singapore Airlines joint venture, is currently the only Indian carrier offering a Premium Economy cabin on domestic flights, though the seats are configured 3-3 (as also found in Economy).
Distinguishing the product from coach, Vistara pitches Premium Economy seats at 33 inches — four more inches than found down back — and offers 4″ of seat recline and a plusher seat.
The 24-seat dedicated Premium Economy cabin is situated just behind business class, which features eight large recliners in a 2-2- layout — similar to what one might find in US domestic first class. (Vistara also operates a cluster of all-economy A320s.)
Apart from the greater legroom and front-of-cabin seating, Premium Economy tickets include one checked bag which can weigh between 20kg and 30kg (44lb-66lb), depending on the ticket type, and a 10kg (22lb) hand baggage allowance.
Furthermore, a dedicated check-in lane and priority baggage handling add to the value proposition. All classes of service include onboard dining. 
On the day of travel, Delhi Airport looked festive, celebrating the Holi spring festival of colours.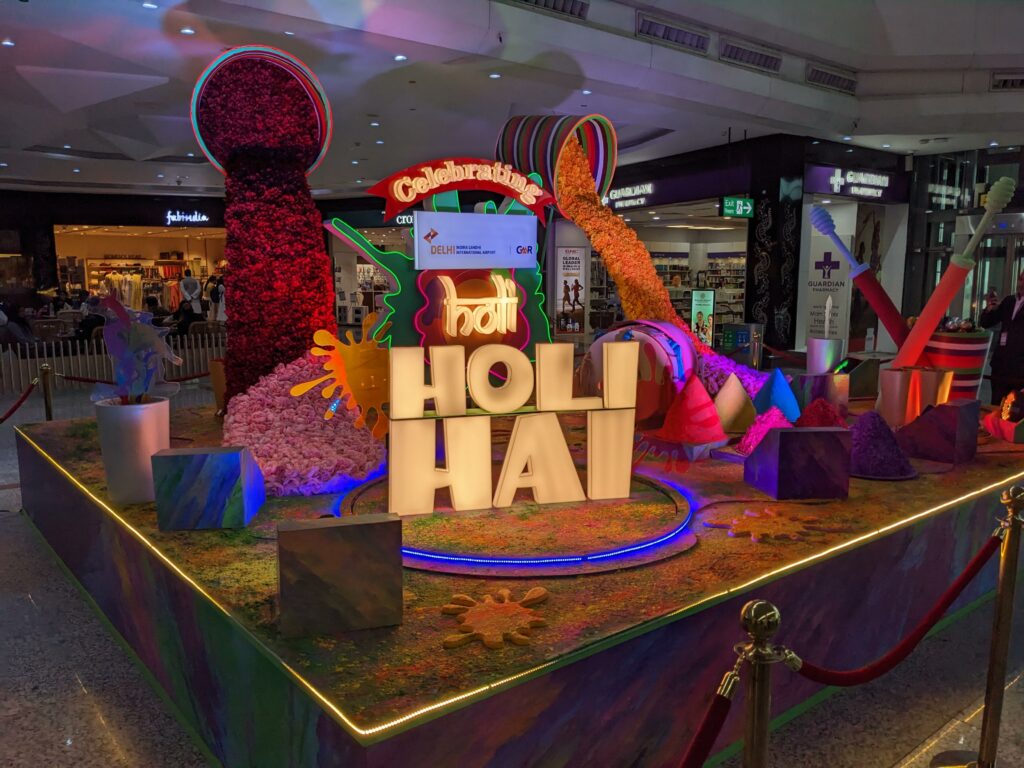 Boarding was handled efficiently for our 10.20 am departure. Interestingly, all of the ground staffers at Delhi wore badges from both Air India and Vistara as they are part of a ground operator shared by both airlines. With a merger in the works between the two airlines, this felt like a sign of things to come.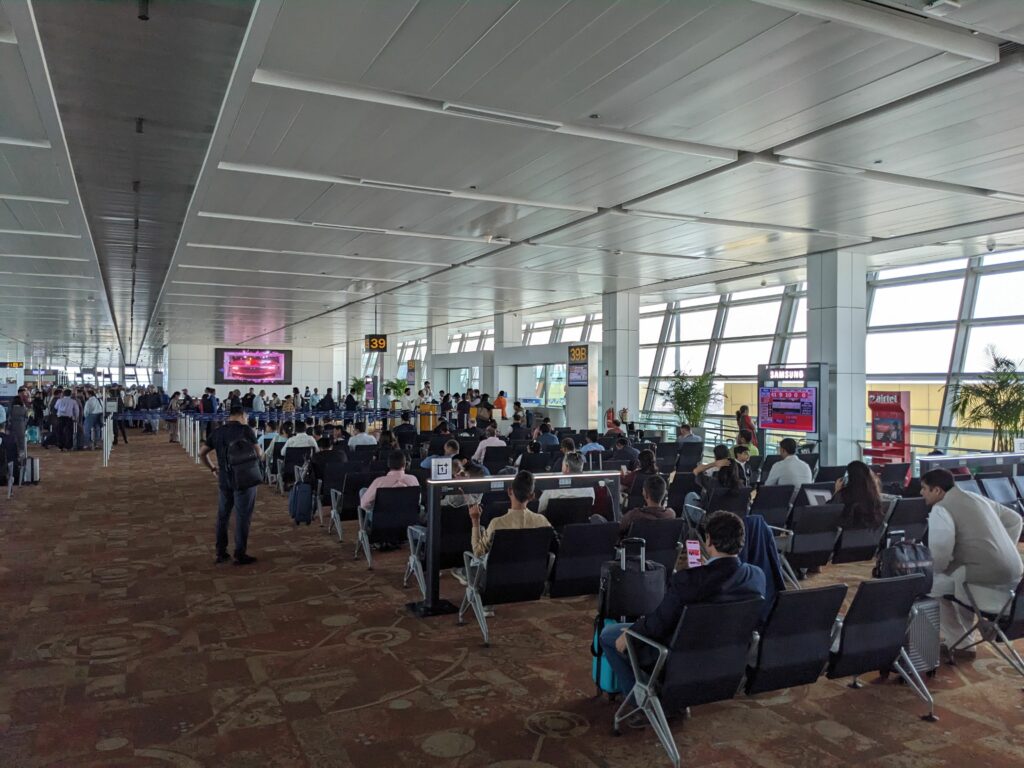 The well-oiled boarding process from Delhi's spacious and bright departure area meant that our A320neo pushed back from the gate five minutes early. And we were off to Mumbai.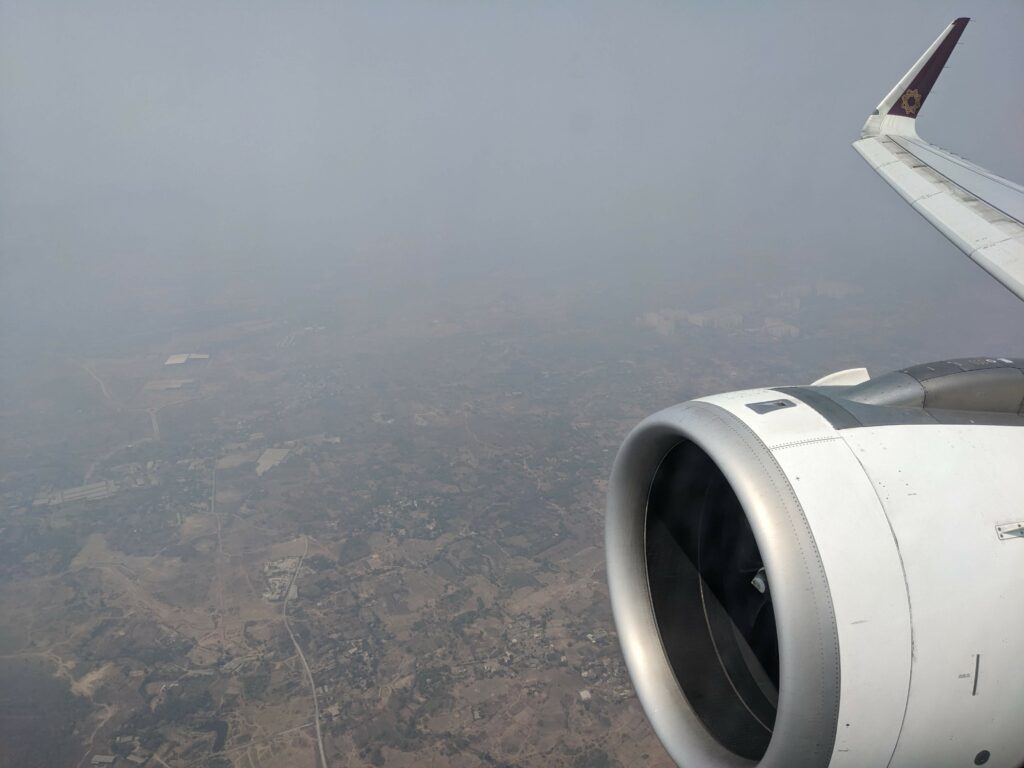 Vistara's Premium Economy seats are upholstered in dark purple and brown leather and feature winged headrests. It is evident that the airline has spent a lot of time, effort and money on its branding, from the aesthetic of its aircraft interiors to the music that greeted passengers as we boarded.
Getting into a comfortable position was easy. However, passengers in the first row of Premium Economy are faced with a class dividing bulkhead between Business and Premium Economy. As such, the tray table is built into the armrest, which slightly restricts seat width.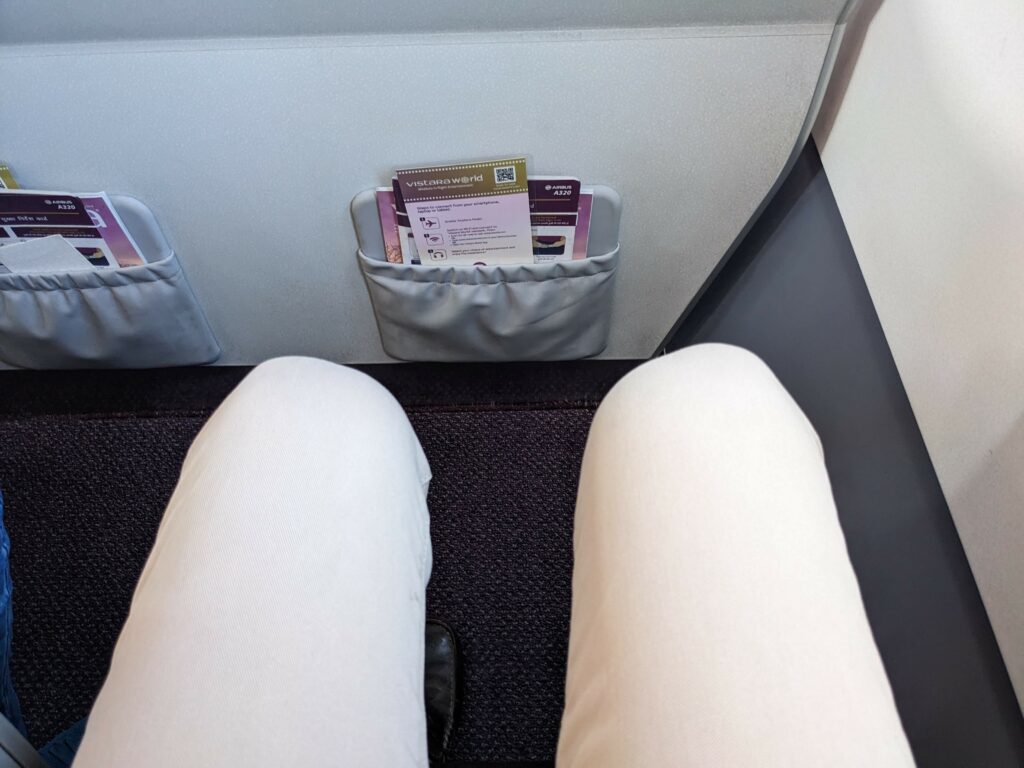 The bi-folded table in this row is small and barely sufficient for a food service or smaller laptop. Considering that work travel typically takes place on earlier morning flights in India, it was, however, pleasing to see full cabins at the front of the plane. Demand is certainly strong in the Indian aviation market with passenger numbers hitting new records in 2023.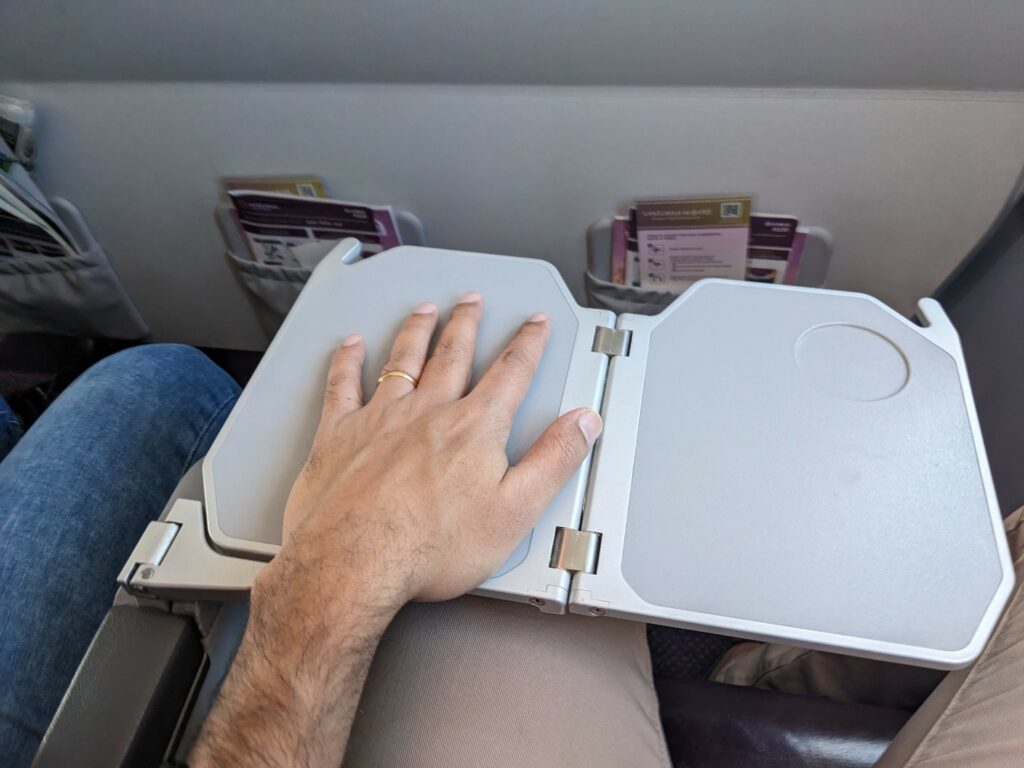 In my first row Premium Economy seat, I was unable to locate the USB power port.
While the carrier's Airbus A321 and Boeing 787 aircraft are equipped with built-in entertainment screens, Vistara offers wireless IFE on its A320s. A universal power outlet would be appreciated by passengers, like myself, who might want to stream the selection of movies and TV shows on a laptop. There is no Internet access on board.
Trolley service began quickly on our 105-minute flight. With just 24 seats in our cabin, a single flight attendant was dedicated to serving Premium Economy passengers. Vistara offers dining to all passengers, which is the pleasant perk of flying with a full-service carrier.
Flights are classified as breakfast, lunch or dinner services. Our 10.20 am departure meant that we were served breakfast with tea, coffee and non-alcoholic beverages.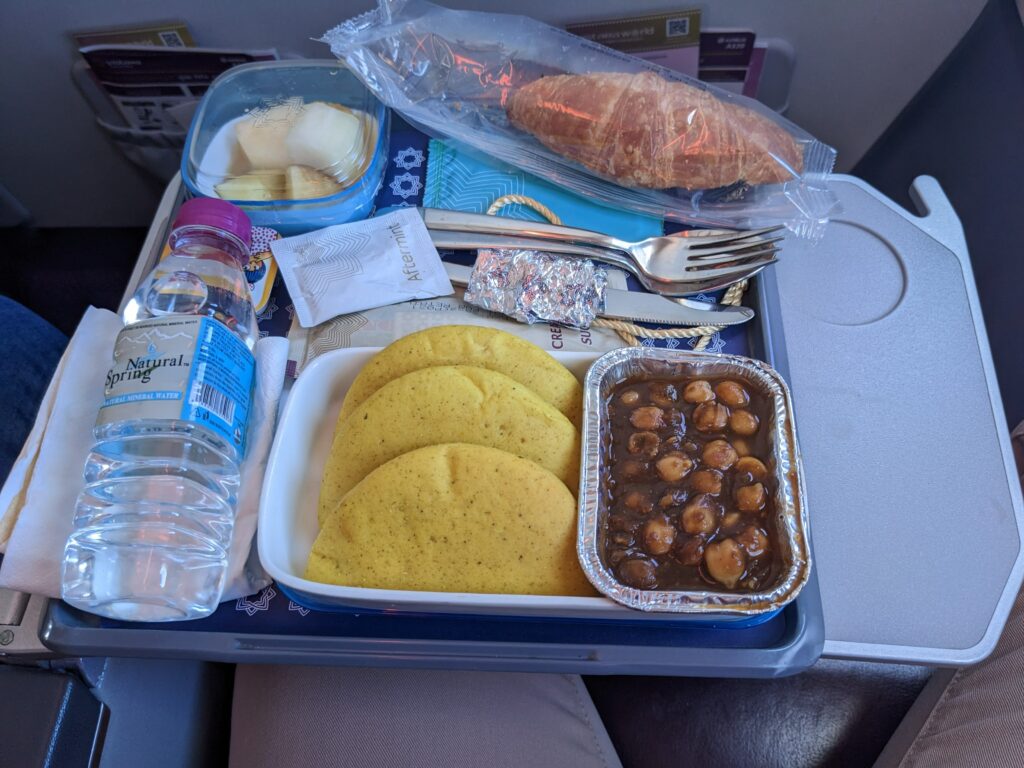 Hot drinks on board Vistara are co-branded with Starbucks. This is an obvious extension of Tata's ownership. Starbucks' India operation is a joint venture between the Seattle-based chain and the Tata group, which has a long history in the tea and coffee industries in India.
With service executed quickly, we had time for a refill of our drinks.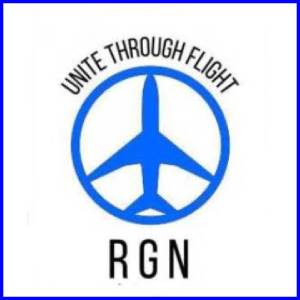 On the fleet side of the upcoming merger between Air India and Vistara, a big bonus is the commonality between their fleets. Both carriers operate A320 family aircraft, as well as the Boeing 787.
Coincidentally, both carriers chose CFM LEAP engines for their Airbus aircraft and GEnx engines for their 787s, engine families that have shown themselves to be reliable.
 Common aircraft and engine types will definitely help the two airlines merge their operations.
All in all, despite a few quirks, Vistara's DEL-BOM service highlighted why the airline has garnered a fan following, and a solid reputation for excellence with its three-class A320neo twinjets.
Related Articles:
All images credited to the author, Karun Mukhi