In 2015, Indian operator Vistara tapped defense contractor – and then would-be inflight entertainment provider – BAE Systems to install its IntelliCabin wireless IFE solution on Airbus A320 aircraft. BAE said at the time that the offering would ultimately include fully integrated Samsung Galaxy Tabs for business class customers. But the program, as described by BAE, did not come to full fruition. Head Injury Criterion (HIC) testing proved an early stumbling block to the integrated tablet IFE idea, and as it transpired, tablets "were distributed post takeoff and retrieved by cabin crew prior to landing", says Sanjiv Kapoor, Chief Strategy and Commercial Officer at Vistara (TATA-Singapore Airlines JV).
Now, over three years later – and with BAE decidedly quieter on the IFE front – Vistara has selected Bluebox's portable wireless IFE solution, known as Wow, to support the carrier's 'Vistara World' entertainment offering on its current fleet of 21 A320s. Why the pivot? Kapoor explains that BlueBox Wow is a lightweight portable inflight entertainment system which offers "cost and weight savings over traditional IFE systems; savings on installation and certification costs as the devices are merely placed on board; aircraft downtime costs are avoided as there is no need to ground the aircraft for installation; minimal maintenance costs of the traditional IFE system; and an easy path to replace or upgrade as offerings, technologies or requirements change."
He adds: "Unlike our previous offering, we will not distribute tablets … in any cabin class. Customers in all the three of our cabins will be able to stream the media content on their personal electronic devices such as mobiles, tablets and laptops through the 'Vistara World' app."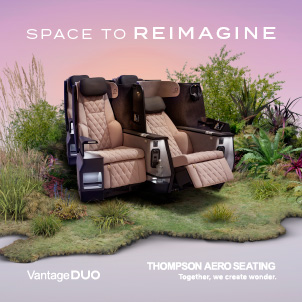 As part of a new fare families announcement yesterday, which will see Vistara offer a basic economy option to passengers, the carrier said 'Vistara World' will be offered for free, and will feature more than 70 hours of video and audio content. This includes "movies, music, short programmes of varied genres as well as a moving map and an eReader. This is the initial quantum of content for domestic services only. We will beef up the content library, as we grow and start international operations. Live TV and connectivity is not a part of this offering," says Kapoor.
Because Vistara is streaming content to passengers' own devices, it will not offer early window movie content. Studios continue to prohibit the streaming of EW to passenger PEDs. Bluebox head of marketing Catherine Brown notes that Indian Bollywood and Hollywood movies will be offered, as well as Indian and international short programs. A range of reading material, including Vistara's inflight magazine, will also be included. Global Eagle has served as content service provider (CSP) on the project.
Passengers will be required to download a Bluebox-built app in advance of their flight; the solution is not supported by browser-based DRM. "An app is required for now as it is [the] simplest solution to enable DRM content access on the vast majority of  passengers' devices," says Brown. "With the range of devices and variety of browsers and browser versions in use today, some might work app-free but some might not. At this point generally, app-free DRM – though technically possible with some specific browser versions – is not practical for wide deployments across a wide range of devices/browsers just yet."
Google Play has listed the Vistara World entertainment app, as first reported by Network Thoughts. The onboard offering is expected to go live in August, subject to final regulatory approval.
Bluebox has offered proven wireless and tablet-based IFE offerings for airlines around the world. The firm's tenure in the IFE market and its commitment to supporting customers throughout their deployment of Bluebox solutions are part of the value offered by the Dunfermline, UK-based firm.
Says Vistara's Kapoor: "With the introduction of wireless streaming of inflight entertainment content, we will deliver on a product that our customers said they desired, enhancing overall customer satisfaction and experience with an efficient and cost-effective IFE solution."
On the separate issue of IFE for Vistara's newly-ordered Boeing 787-9s, Kapoor reveals, "IFE offering for our B787-9 aircraft is still being reviewed hence unable to comment on specifics at this stage. We will, however, certainly have an enhanced IFE offering on our long haul aircraft, in line with customer expectations on long haul markets."
Additional reporting by Mary Kirby
Related Articles: