India's only private full-service carrier, Vistara, has taken delivery of the first of six Boeing 787-9 Dreamliners, and with it a carefully considered interior that is immediately eye-catching and impressive.
The 299-seat 787, configured in a three-class layout, arrived in Delhi on 2 March. While the twinjet is universally celebrated for its unique attributes – it features large windows and is pressurized to an altitude of 6,000ft, ensuring passengers experience fewer headaches and less fatigue – Vistara has taken the opportunity to go above and beyond the expectations of its customers.
It is the first operator in Asia, and second in the world after Lufthansa, to forge a partnership with Germany's jetlite to offer human-centric lighting to reduce travel-related fatigue and jet lag by adjusting light color and intensity throughout a flight.
"This will help us to take the Vistara flying experience to the next level for travelers," said Vistara chief commercial officer Vinod Kannan in a statement.
Speaking with Runway Girl Network, Vistara CEO Leslie Thng noted that the 787-9 is "designed to global standards and at par with some of world's biggest airlines".
He added: "Our Dreamliner also symbolizes the maturity Indian aviation has gained over the years on the global platform."
The airline selected Stelia's Symphony hard product for its 30 business class seats in 1-2-1 configuration, opting for the same solution as the regional seat used by Singapore Airlines, which together with Tata owns Vistara.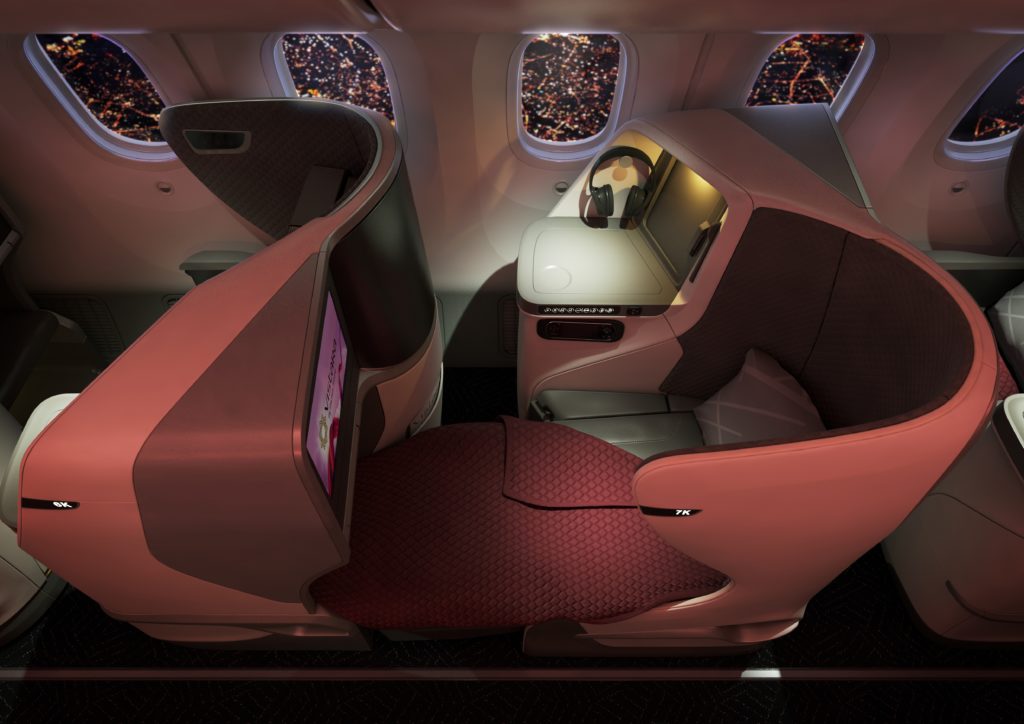 Tapis Corporation's lightweight and durable Ultraleather fabric covers each seat. Abhijit Choudhury, who serves as assistant general manager at Indian upholstery facility Epsilon Aerospace, explained to RGN that the advantage of using Tapis is the treatment of the product. The way in which these polyurethane materials are created ensures that "the spectrum of colors remains the same".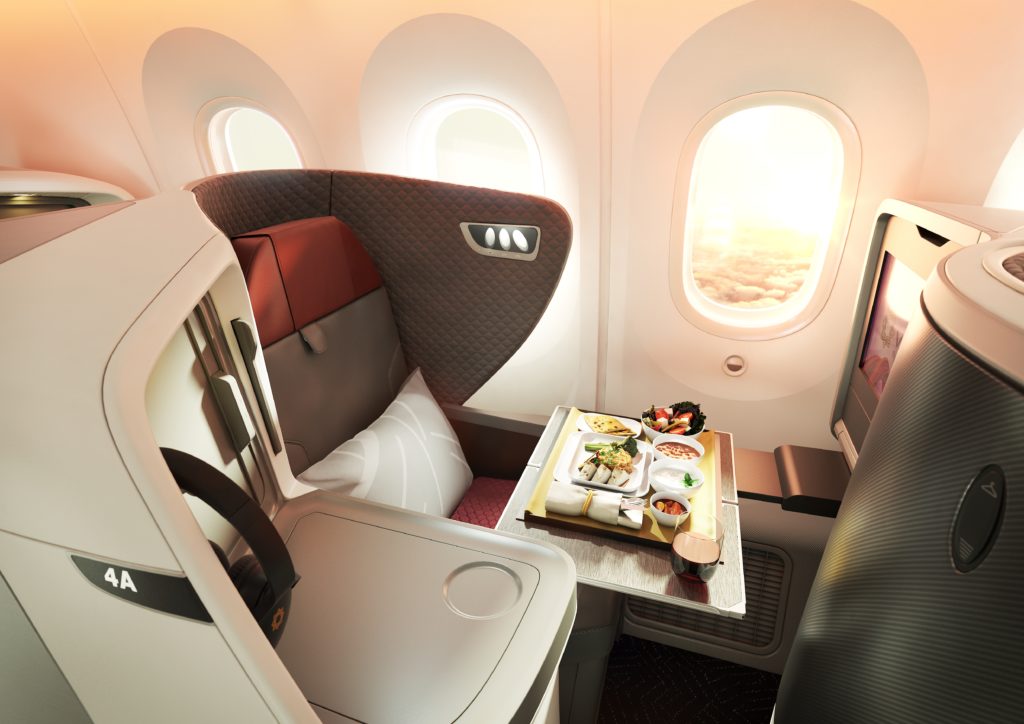 The seat also offers 18" HD touchscreen inflight entertainment from Panasonic Avionics, and a handset to navigate the system.
A total of 21 ergonomic PL3530 seats from Recaro Aircraft Seating comprise the premium economy class cabin. Configured in a 2-3-2 layout, the seats are described thusly by Recaro:
Its main comfort features include the individually-adjustable calf rest, seven-inch reclining backrest, and six-way adjustable headrest, which create a relaxed atmosphere for long-haul passengers. The large tray table, plentiful storage space, and integrated entertainment system also improve the overall passenger experience.
Each premium economy seat features a Panasonic 13" HD touchscreen IFE and a controller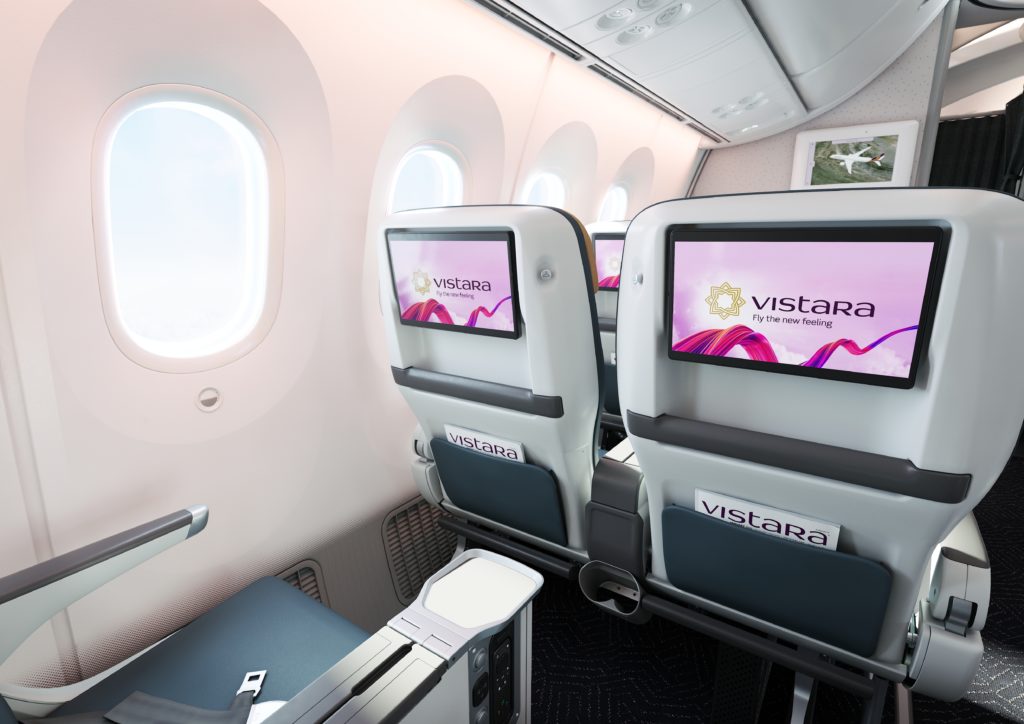 The remaining 248 Recaro CL3710 seats in economy have a 3-3-3 configuration, 31" of pitch and, like the rest of seats in the aircraft, USB ports.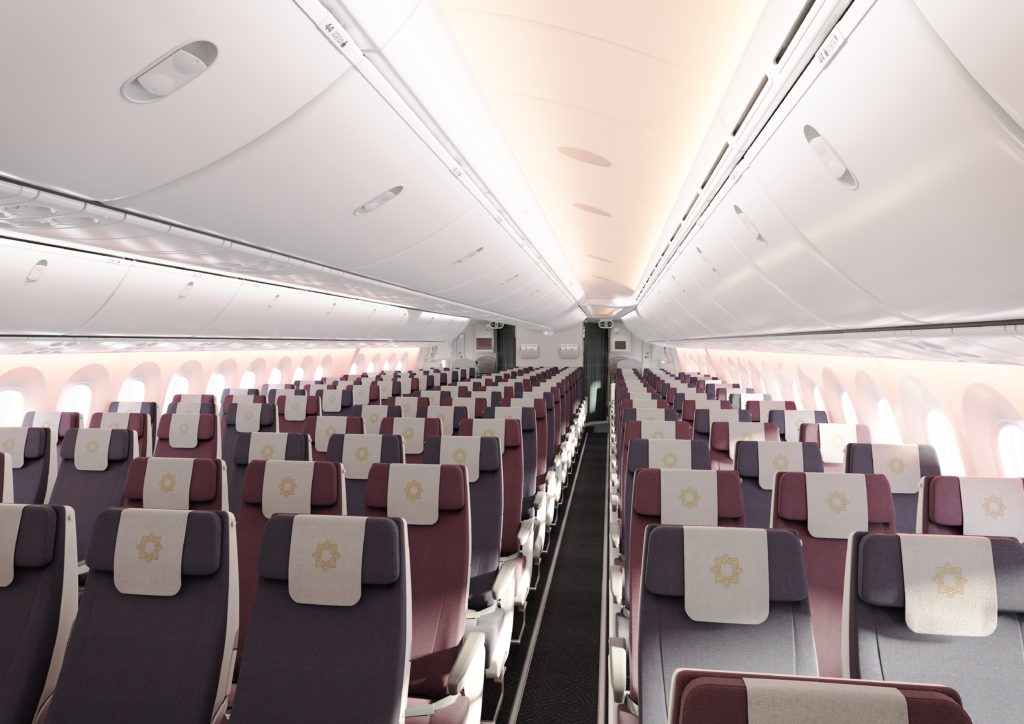 However, unlike the other two classes which have a regular three-prong power outlet at every seat, economy class passengers must share. Panasonic in-seat IFE can be found at every seat, however.
"We are delighted to collaborate with Recaro to bring economy and premium economy products of global standards on India's first Boeing 787-9 Dreamliner aircraft that further cement our proposition of offering a five-star flying experience to our customers," said Kannan.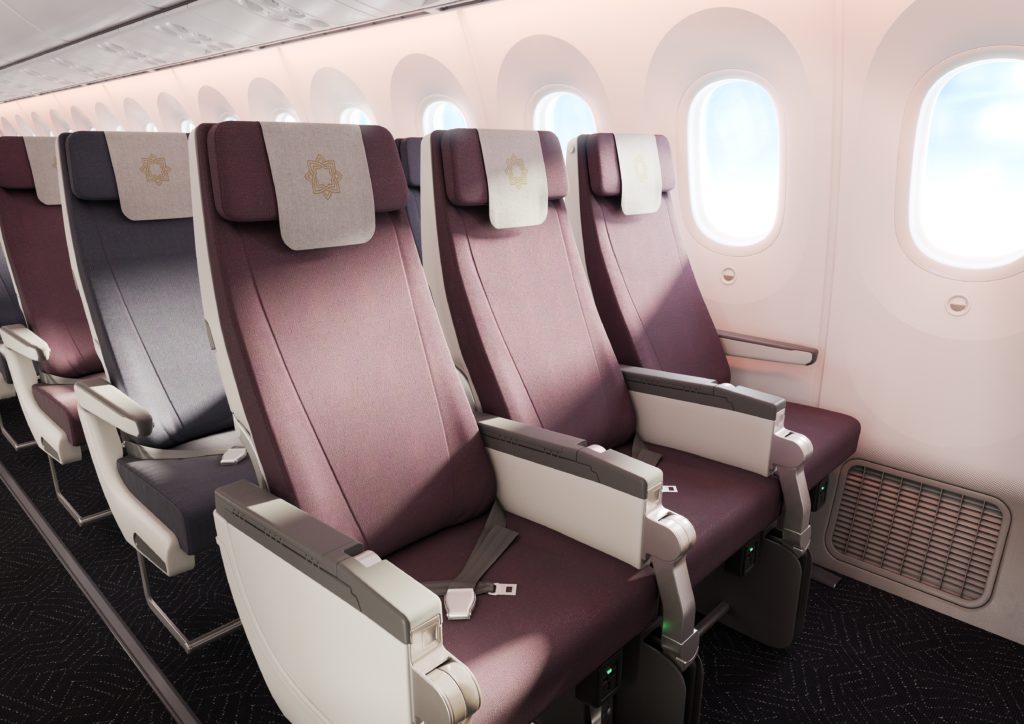 Vistara also embraced its distinctive aubergine, grey and gold colors on the 787, with Choudhury noting to RGN: "Generally airlines go for dark colors as they do not look dirty."
"Vistara has the best seats and cabin today in the Indian market that complements long-haul travel," he added.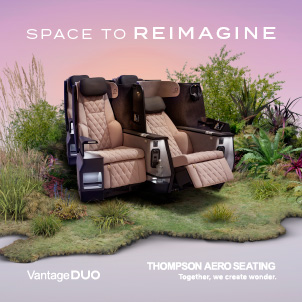 Vistara might wait until May to start 787 revenue flights, given the present COVID-19 challenges. The first flights will likely be to London or Tokyo. In the meantime, the airline will conduct trial flights starting mid-March to Mumbai and Amritsar – two Indian cities with high front-of-the cabin demand.
Choudhury warned that revenues could take a hit if the 787-9 flies too long in domestic skies. "If flying cycles are more than flying hours, this could result in more maintenance and faster devaluation of the aircraft. This is just [the] wrong timing given the medical crisis and nobody is to blame."
There are no crew rests in the first six 787-9s ordered, as the airline has no plans to fly ultra-long-haul initially.
The Tata-Singapore Airlines (SIA) relationship reverberates in the very core of Vistara, starting with service standards. Further, Vistara is in a position to tap into some of the negotiated contracts made by its mature family members.
Indeed, the Tata Group product influence is in every nook and cranny of the aircraft from the Starbucks coffee, juices and milkshakes served on board (and supplied by catering company TajSATS), to the planned amenity kits (which have not yet been revealed for business class but are likely to include Forest Essentials, the same products used in Taj Hotels, another Tata brand) to the inflight connectivity, which is being supplied under a partnership between Panasonic and India's Nelco.
As previously reported by RGN, all six of the 787-9s and roughly ten Airbus A321neos headed for Vistara will offer the Panasonic/Nelco Ku-band connectivity service. Use of mobile phones for telephone calls will not be allowed.
Vistara's first A321neo is slated to arrive in early April. It will feature three classes, and with Collins Aerospace seat variants from nose to tail. The business class will have the popular Diamond seat, while premium economy will offer a more upscale version of the Collins Meridian seat that will be used in the economy class. The aircraft is likely to initially fly to Moscow, RGN learned during its discussions with the Indian executives.
All images credited to Vistara
Related Articles: