Having implemented a comprehensive restructuring program in 2020 and returned to profitability in 2021, Lufthansa Technik has begun preparations for a possible change in its ownership structure. To that end, the maintenance, repair and overhaul giant has designated a team to explore the potential transaction, with an eye on its possible completion next year.
For years, parent Lufthansa Group has studied either selling a minority stake in Lufthansa Technik [LHT] to an investor or initiating a partial IPO. "The market is ripe, and it could be implemented in 2023," said LHT's outgoing CEO Johannes Bussmann during a media event to discuss the firm's 2021 financials and future business outlook.
Bussmann said LHT management has welcomed this strategic consideration for many years, as it would allow the firm to better exploit its potential.
That potential became even more apparent in 2021. Despite the ravages of the coronavirus pandemic on aviation in general and LHT in specific, the firm in 2021 increased revenue by 7% year-over-year and generated a positive adjusted EBIT of EUR 210 million as passenger traffic started to rebound, and industry saw an improvement in flying hours and aircraft capacity utilization.
Notably, external airlines accounted for about 80% of Lufthansa Technik's business in 2021. Over the course of the year, the sales organization won 42 new customers and signed over 620 contracts with a total volume of EUR 4.7 billion, including contracts with start-up airlines that launched during the pandemic. LHT is now supporting seven new entrants.
"Today we are better, we are more efficient, and we are more effective than what we were before the crisis hit us, and although the revenue is still about 40% below the pre-crisis level, despite a year-on-year increase, we have left the worst behind us," said Bussmann.
Those gains speak to the success of Lufthansa Technik's RISE restructuring program, which saw the MRO behemoth streamline its organization and close some MRO sites beginning in 2020. For instance, it closed six line maintenance locations in Germany and downsized in other areas. And it sold its Shannon, Ireland overhaul site to Atlantic Aviation Group, and will soon make a formal handover.
Without this restructuring, these financial results would not have been possible, said the Lufthansa Technik CEO.
"In general, we can look positively to the future, even if we don't know exactly how the war [in Ukraine] will affect our business in the long term. But the last few months in the last year showed us that we are recovering."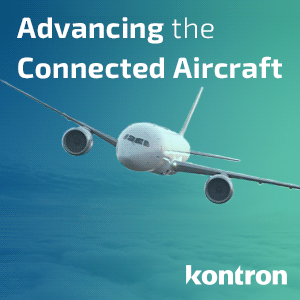 Indeed, the firm is now planning to increase its worldwide workforce by 1,400 employees, and is especially looking to hire in areas designated as prime growth opportunities. "We are looking for specialists, for example in data science or in sales and in areas where we believe we can grow tremendously. The market is recovering fortunately and there have been fewer airline bankruptcies than were feared," said Bussmann.
One area where LHT expects to see growth is in its AERQ joint venture with LG, which has developed an open IT platform for aircraft aimed at helping airlines digitize their cabins, drive ancillary revenues and improve the passenger experience. AERQ, said Bussmann, enables airlines to take a giant leap forward in digitalization and monetization.
Another growth prospect is LHT's work in installing the fuel-saving AeroSHARK surface technology, jointly developed by LHT and the coating division of BASF. AeroSHARK's launch customer is Lufthansa Cargo. Lufthansa Group carrier SWISS also recently decided to equip 12 Boeing 777-300ERs with the riblet films.
High oil prices highlight the benefit of aeroSHARK, said Bussman, who anticipates that airlines outside the Lufthansa Group will adopt it in the next 12 to 18 months.
But Bussmann is also clear that the developments of the last few weeks make it difficult to predict when LHT will fully return to its former economic strength. "Misery and pain in the Ukraine overshadows everything," he admitted.
Honoring EU and US sanctions on Russia, Lufthansa Technik recently suspended its services to its 12 Russian airline customers, including component and engine work. The move affects about 400 aircraft in total and a "EUR 240 loss of revenue", said Bussmann, noting that "this is, of course, completely secondary to the suffering of the people of Ukraine."
While LHT doesn't have any Russian aircraft in its hangars at the moment, "we have jet engines with us, but they are the property of lessors so they were used in Russian aircraft recently and we will hand them back to lessors", he said.
LHT also has a business relationship with Superjet International, the Italy-based marketing and sales joint venture between Leonardo and Russia's Sukhoi which was established to sell the Superjet 100. But LHT is not sending any parts to Russia or Superjet in Italy. "All of these business relationships are on a moratorium," said Bussmann.
Related Articles:
Featured image credited to Sonja Brueggemann/Lufthansa Technik AG