There has been a noticeable rise in the adoption of the dual-brand hotel concept, with some offering in-group duality while others feature totally separate hotel brands under the same roof but with complementary facilities. Two premium brands to pursue the former strategy very recently are the Marriott and Sheraton hotels, under the Marriott Bonvoy umbrella, which have combined assets at Frankfurt International Airport after a comprehensive three-year refurbishment.
Guests of both hotels can make use of the stylish spaces and public areas, which have been meticulously overhauled by leading international design houses. Together offering over 1,000 rooms, this is now the largest airport hotel in Europe. But don't for one minute think that this translates to a vast labyrinth of soulless corridors, bedrooms and meeting rooms. Far from it, as your author learned during a stay in December
Walking through Frankfurt's Terminal 1, I arrived at large glass doors through which I passed seamlessly from the commercial travel din associated with a major international hub that facilitates over 1,400 daily flights, into a refined almost boutique hotel vibe. Doors closed behind me and I could hear a pin drop; it was deliciously peaceful.
Welcome to Marriott's dedicated lobby with its soothing palette of earthy tones, use of dark woods, luxurious fabrics and private members club feel.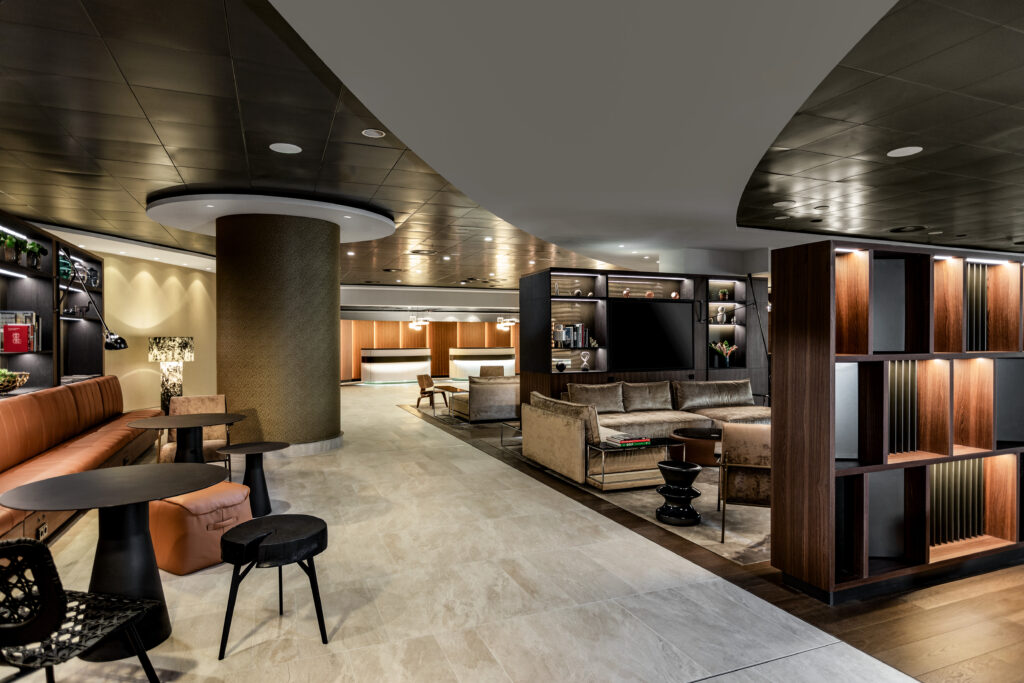 Efficiency and warmth greeted me and within a few short minutes I was in the elevator up to the 9th floor and in my room where the premium story continued with clean and modern furnishings and a 55″ TV screen.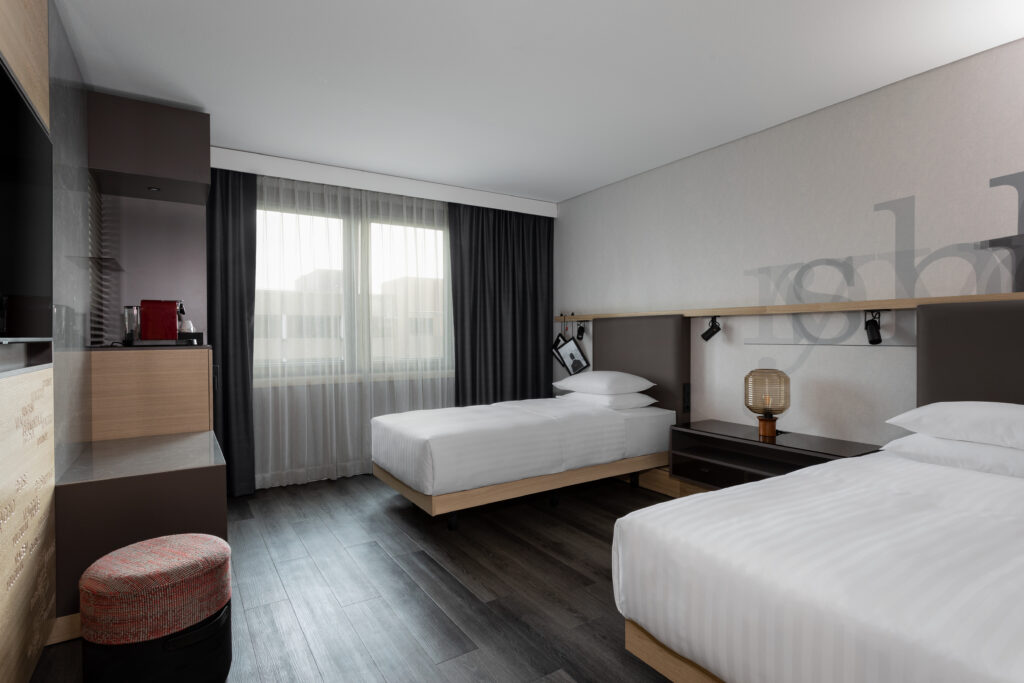 Beginning in the second quarter, the 9th floor serves as the location for the M Club, a sanctuary of its own.
"The lounge is for guests that book an Executive room and up such as the suites plus the Marriott Bonvoy Guests as of Platinum Elite Level," says a Marriott Bonvoy spokesperson.
Connecting the two hotel properties is a big, bright atrium, under which The Eatery can be accessed; its continental brasserie and elegant central bar offer a range of US-themed meals "from West Coast to East Coast".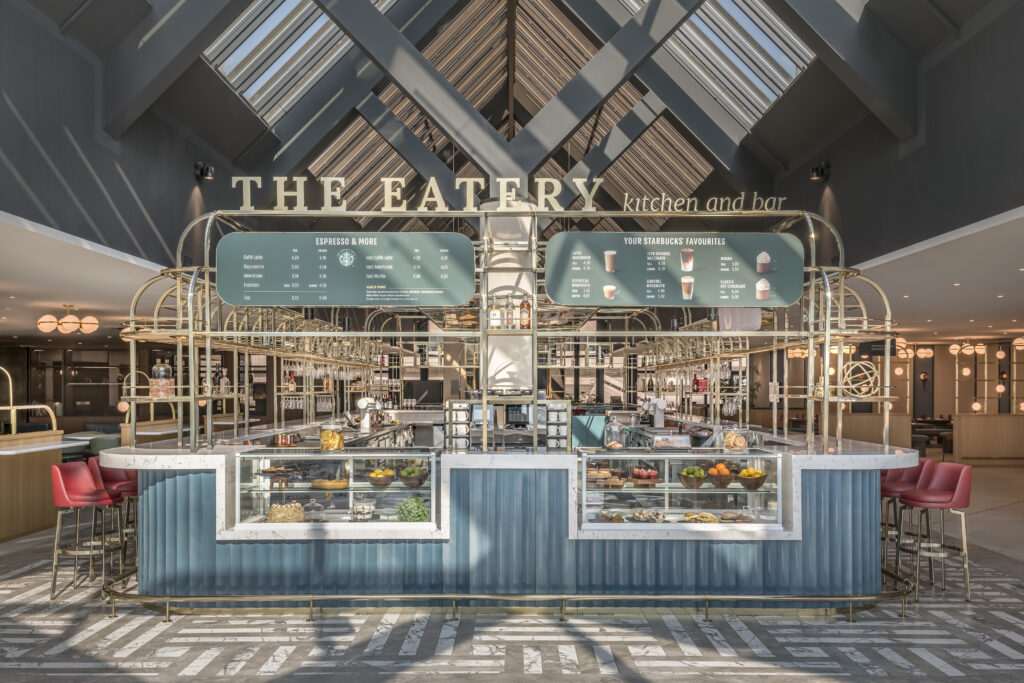 The Marriott would like you to enjoy The Eatery as a destination itself should you be a Frankfurt native. After all, it's just a short 20-minute train ride from the city.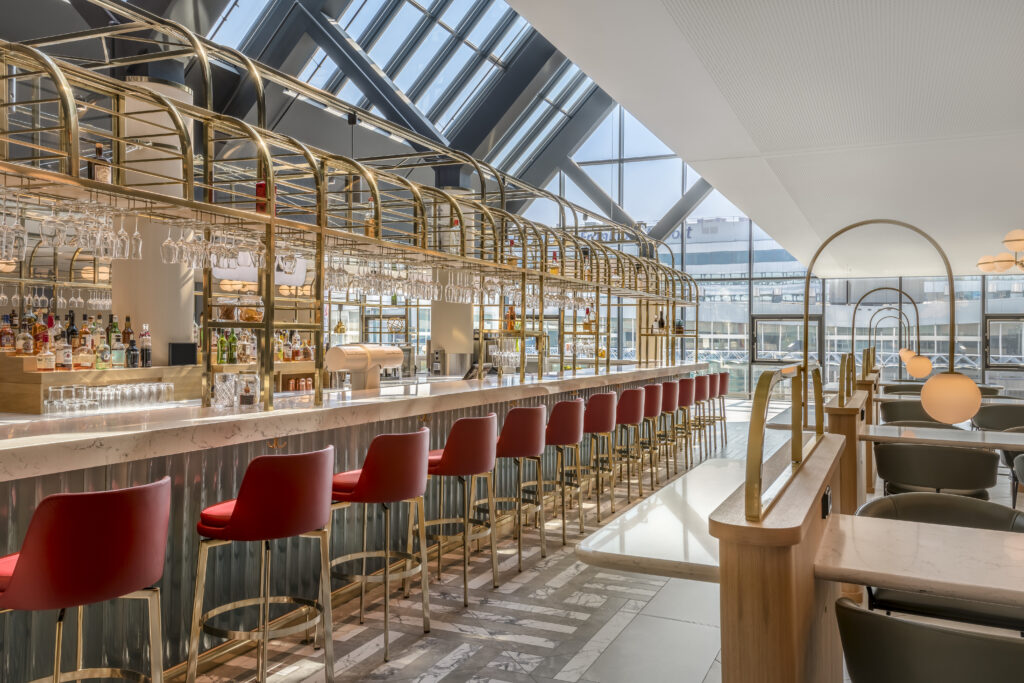 A few paces on and I'm at the Sheraton Hotel and Conference Centre lobby with myriad areas to relax and restore one's equilibrium including Flavors restaurant and a newly opened cocktail bar which sits comfortably next to the Davidoff cigar lounge.
Mirroring The M Club is the Sheraton Club, which provides its own unique brand and guest experience.
"The lounge is for guests that book Sheraton Club level and up such as the Junior Suites and Sheraton Club Suites plus the Marriott Bonvoy guests that have a status Platinum Elite and up. It is planned that guests at both lounges, at a later stage, can check-in and out at the reception areas of each lounge too," explains the spokesperson.
Accommodation rooms are well-appointed, and some offer views of the runway for a small price increase.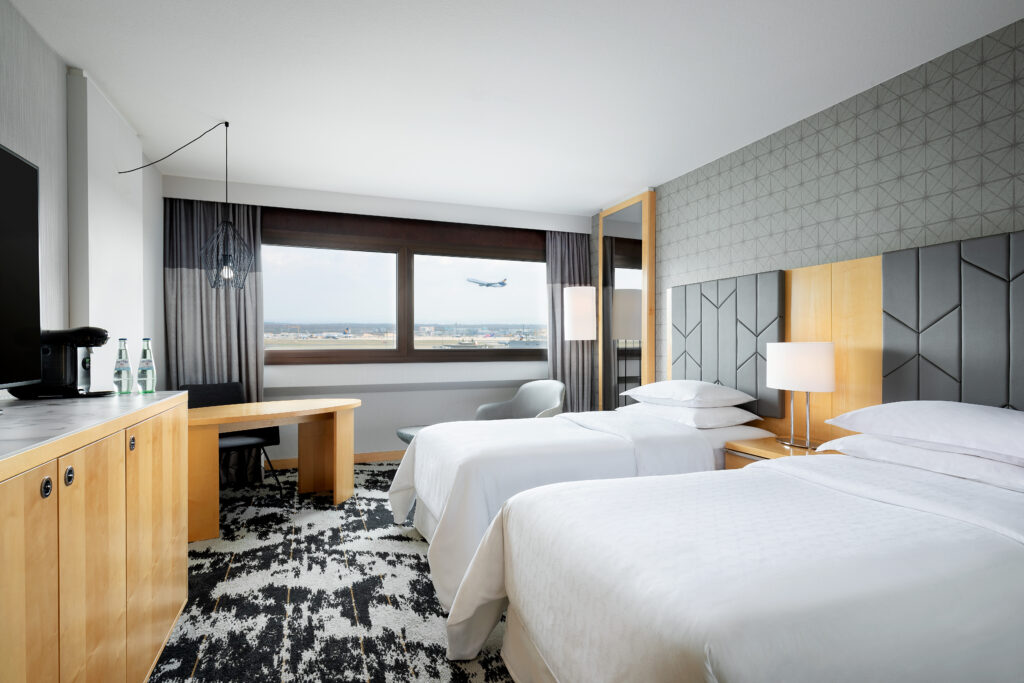 A unique selling point here are the eight family rooms which feature a king-sized bed and two singles — this is understood to be among the few airport hotels in Europe to offer this type of accommodation.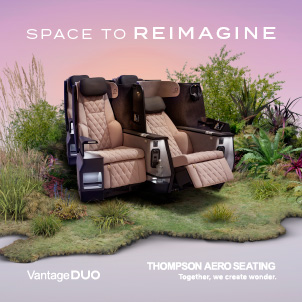 Frankfurt plays host to many events annually including the Book Fair, the largest trade fair of its kind in the world. In a stylish nod to the fair, typography is woven into the carpets on the accommodation floors, and compressed newspapers artfully cover the walls.
With 70 million travellers passing through Frankfurt International Airport annually for business and pleasure, this dual-brand concept hotel is well equipped to cater to the post-pandemic demands of travellers.
"With travel for both corporate and leisure poised for a resurgence, this is the opportune moment to highlight the dual-brand hotel to the market and we are excited to showcase our extensive and convenient facilities, such as our studios which are part of the Sheraton brand transformation, to our guests and loyal customers from all over the world," says general manager Ralf Stresing.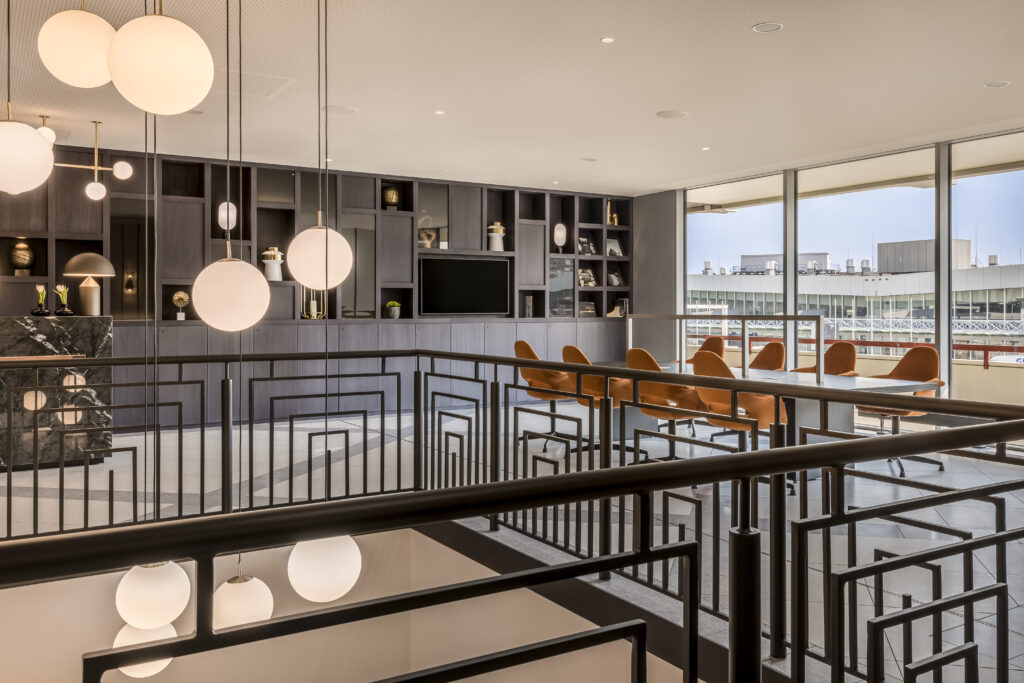 Victoria Macmillan Bell was a guest of Marriott Bonvoy at Frankfurt International Airport. But as ever, all opinions are the author's own
Related Articles:
All images credited to Marriott Bonvoy