"My favorite days in aviation are the initial meeting with the customer, where we spec out the entire job, and delivery day. I love the customer's excitement when we're bringing all the plans together almost as much as I love hearing their words of gratitude and enthusiasm over their new completion." So says Emilie Harbour, lead designer at West Star Aviation, which specializes in business aircraft modifications, among other work.
In an industry where customer expectations are sky high and only excellence will do, Harbour's expertise spans business jet cabin refurbishments and exterior paint design.
Studying architecture and interior design at Illinois State University, Harbour interned with Standard Aero in Springfield, Illinois during the summer of her junior year. "I started creating an aviation design portfolio. I always knew I wanted to design something that was outside the norm and while I had initially intended on joining an architecture firm, my passion for innovation directed me towards aviation," she tells Runway Girl Network.
"I learned a lot about the aviation industry during that internship and began cultivating relationships with customers and colleagues. West Star Aviation hired me as their Lead Designer straight out of college. I was beyond ecstatic."
At the start of her career, Harbour was deeply rooted in the same office area as West Star's engineers, "so we grew to understand each other's roles quickly", she explains.
Her work involves applying design vision and a spectrum of materials to the exact engineering and confines of an aircraft cabin, always uniquely and according to the client's requirements. It can be a difficult balancing act.
"It's about communication and understanding customer expectations, but also the limits that we're held within," she says. "I'm here to educate the customer on their options and help them understand that their plane has a different set of rules than their home or office."
The design element is more complex. "Understanding this type of design takes time, it's so vastly different from a building and you have to spend lots of time familiarizing yourself with each airframe," says Harbour. "A [Bombardier] Global provides a very large canvas, for example, but you have to balance out the starkness of its huge periphery panels with materials that provide pop and color to the seats and carpet.
"A Falcon 50 or Citation has a smaller cabin, so you're trying to keep it as light and bright as possible to help make it feel larger and more open. The same can be said for exterior paint. It's understanding how to capitalize on the airframe and make it look as sleek and modern as possible to capture what the customer is seeking in the design."
The West Star executive's friends and family have a general idea of what she does, but she reckons: "This is an industry where unless you're in it, I don't know if you'll ever fully grasp it."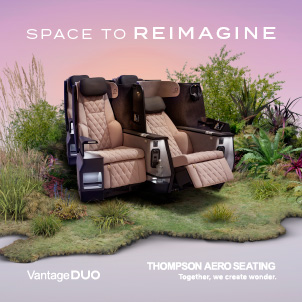 Earlier in her career, it was made clear that 'aviation is a man's world'. "As time has gone on, I'm proud to see the growth and change regarding gender diversity. Recently, I sat in a customer in-briefing where the project manager, aircraft inspector, interior sales and designer were all female. We're seeing women in pivotal roles for the success of our projects and company," she enthuses. 
Looking ahead, Harbour is waiting for 'the right kind of customer' to propose a few new ideas. "I work with a lot of creative liberty, but I can't make any of it a reality without ensuring my ideas fully captivate my customers and their expectations."
Having said that, she is looking forward to rolling out several complete refurbishments towards the end of 2022. "They are beyond gorgeous!"
"I love what I do, and I'm blessed to be part of an industry that allows me to travel the world and meet interesting new people every day. No two days are ever the same and I wouldn't have it any other way," she concludes.
Related Articles:
Featured image credited to West Star Aviation