Acro Aircraft Seating is perhaps best known in commercial aviation as a purveyor of sturdy yet lightweight slimline economy class seats that manage to create room for knees and shins even in dense cabin layouts. Its client roster includes low-cost carriers — Allegiant, Condor Airlines and Frontier to name a few — as well as legacy operators like Finnair and Etihad. And the wins keep coming, with Acro announcing this summer that flyadeal, the new LCC owned by Saudi flag carrier SAUDIA, has selected the popular Acro Series 6 slimline for a 5,670-pax order.
But Acro is not resting on its laurels. It continues to innovate, and revealed the fruits of that labor — in the form its new Series 9 seat platform — at this year's Aircraft Interiors Expo (AIX) in Hamburg. The show created an excellent opportunity for airlines to get up close and personal and explore the unique features and comfort of what is now Acro's new flagship product.
"The key attributes of lightweight robust comfort are readily understood and the promise of a pax weight from 7.5kg created huge buzz in the marketplace," company CEO Neil Cairns tells Runway Girl Network. "AIX23 will again offer airlines the ability to spend some time with our Series 9, with both fixed back and recline variants planned for the stand and, since 'seeing is believing', we're looking forward to showcasing our game-changing new design again and also showing a new variant of Series 9 as well as a brand new product at the show in 2023."
But just how is Acro achieving these weight savings on the Series 9, and what's next for the UK company, which is owned by China's ZTC? We put the questions to Cairns in the following one-on-one interview.
RGN: The new Series 9 is billed as giving more "lightweight, comfort, robustness and exceptional living space" to operators and their passengers. How was this achieved by your engineers?
Cairns: The industry wants a cost-effective, lightweight, robust and comfortable seat which delivers exceptional living space even in high density cabins, so that became our goal. No shortcuts. No compromises. We were clear about what we wanted to achieve, and we got there by applying the Acro 'constant questioning' ethos to every feature and every component: can we make it lighter … more robust … better value… more comfortable, with more living space and yet more style? Delivering individually on each of these measures of success is relatively easy, but the real genius of Series 9 lies in combining those optimized attributes as a single, lightweight, comfortable, spacious, supremely stylish and hard-working seat.
Behind this amazing innovative design lies a great deal of hard work from an inspired team of designers and engineers with unique forward momentum. Constantly committing to our objective of 'relentless innovation whilst we strive to deliver the absolute optimum in seating isn't easy, but then 'if it was easy everyone would be doing it'.
RGN: Is Acro using any special or new materials in the Series 9? Anything on the sustainability front that we should be aware of?
Cairns: In common with all Acro seats, the Series 9 makes extensive use of high-grade alloys and carbon fibre composite components and we continuously evaluate our products to identify new opportunities to enhance sustainability.
By focusing on achieving simple and efficient design solutions we directly reduce environmental impact by reducing raw material consumption, environmental impact of processing those materials, and in manufacturing them into component parts. The move into our new headquarters has given us a superb opportunity to create 'from ground zero' a manufacturing environment suitably aligned to support the core principles of environmental sustainability; Reduce, Reuse Recycle.
Given that the biggest contributor to carbon emissions in airline operations is weight, and in particular seat weight, our Series 9 champions airlines' operational sustainability due to its particularly low pax-weight. At AIX22 we also drew immense interest from airlines for a Series 9 variant which offers 100% recyclable parts.
RGN: Acro is offering several comfort options for the Series 9; what options do you reckon will prove to be the most popular with airlines as industry accelerates out of the COVID-19 crisis (PED holder, USB power, antimicrobial solutions, etc)?
Cairns: We set our sights so much higher than merely creating a 'pick & mix' of popular options! Our seats are, famously, as versatile and unique as the airlines which choose them. It is only by building a genuine understanding of the very different requirements of each and every customer that we can create and deliver seating solutions which are perfectly in tune with their requirements and their business vision. That ethos requires considerable flexibility and agility on our part, but it is at the heart of everything we do and reflects the level of passion which everyone at Acro brings to the business.
RGN: Does Acro offer a standard PED holder, or is it offering several variations?
Cairns: We're flexible and agile with every element of design and, when it comes to PED Holders we offer airlines a wide range of solutions, from the traditional variants to some novel and ingenious innovations for both high level and tray mounted.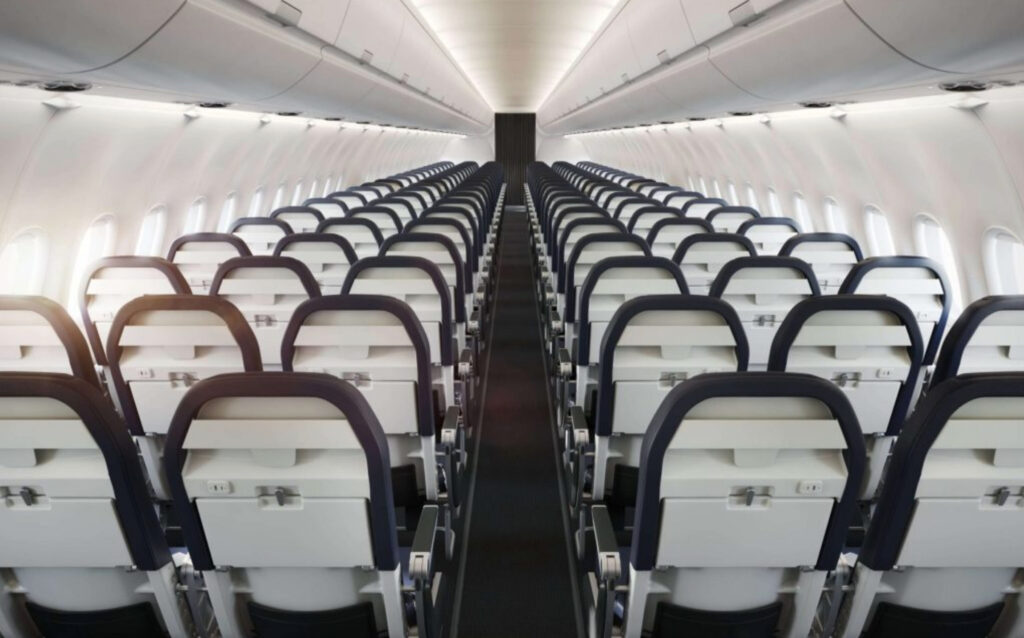 RGN: Do you think the pandemic has shaped some of the interiors decisions being made by airlines (for instance, do they see a greater need to power passengers' devices given our need to be always connected; do they request antimicrobial solutions more often)?
Cairns: Yes to all of the above!
Connectivity continues to be a priority for all passengers and airlines, whether we're talking about a high level businessperson or a toddler with a tablet, so facilitating the use of PEDs is now, and will remain, a key issue within seat design.
Antimicrobial solutions are obviously of more interest and relevance today than pre-pandemic, but airlines are also increasingly aware of the sanitizing/maintenance benefits which come with sleek design and lower part count.  As they struggle to balance the commercial requirement for high density cabins with passengers' reluctance to jostle with their neighbours, airlines are also seeking solutions which maximise living space. This is an area of particular strength for Acro with its legendary living space and, with the Series 9, the delivery of truly exceptional personal space even in those high density cabins. Class-leading pax width has been achieved without compromise to either armrest or aisle width, making travel more comfortable, providing passengers with outstanding stretch-out legroom even at a reduced pitch.
RGN: How is Acro delivering an antimicrobial solution for the Series 9 (can you share specifics about what this solution entails)?
Cairns: Customers make their choices from our range of cushion covers which include materials with proven antimicrobial technologies, for example ELeather Essence which incorporates the latest antimicrobial tech from Addmaster as well as Promessa from Tapis.  In addition, we offer antimicrobial solutions for every touch point on the seat, including plastics and paint.
RGN: Airlines will no doubt celebrate the reduced part count and lower maintenance of the Series 9; can you share any details about the difference in part count from, say, your prior generation seats, and why the Series 9 is easier to maintain?
Cairns: Our core philosophy has always emphasized simplicity of design and execution, delivering form and function without the proliferation of trim panels which add unnecessary layers — and therefore weight — to more traditional seats. Our approach creates seating with sophisticated contemporary visual appeal within an uncluttered environment. It also delivers quantifiable maintenance benefits. Spares inventory is substantially reduced and, should a component require replacement, that can be achieved quickly and efficiently. Post pandemic, another key benefit of lower part count lies in speedier turnaround times for the vigorous sanitization required between flights.
RGN: Would the Series 9 make sense for Eurobusiness-type applications (with the comfort options) and can Acro offer middle seat divider/drinks solution or akin to accommodate such?
Cairns: Series 9 is an exceptionally versatile platform, with real opportunity to customise to meet the specific needs of individual airlines, reflecting not only their comfort priorities but also their brand image. Customising options include the possibility of feature enhancements specifically suited to Eurobusiness applications with a Centre Console, additional stowage solutions and 4- or 6-way Headrests. With the underlying seat architecture already offering outstanding pax width and knee-room, the Series 9 is a great foundation on which to build additional features.
RGN: Does Acro offer price savings to current Acro customers that might want to upgrade to the Series 9 from prior gen Acro seats? (Anything special for your current clientele?)
Cairns: It is fast becoming the Acro mantra; agility and flexibility …  not only in terms of product design and manufacture, but also in the way we do business.  We're about finding the right product and perfect spec for each individual customer rather than invariably focusing on 'trading up' … although, if an existing customer wants to consider the new Series 9 as a way forward we'll be more than happy to talk business!
Acro is of course committed to maintaining and growing our existing customer base so we're always open to any conversation from an airline regarding our full range of lightweight, comfortable and robust products each of which delivers a myriad of quantifiable benefits to an airline.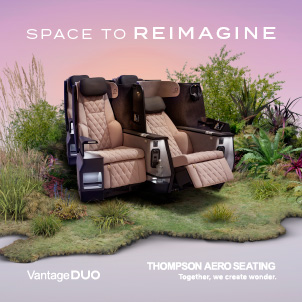 RGN: Are you seeing increased take-up for the Series 7 domestic business class product? Are any updates planned for this product? And is Acro working on any other premium seat platforms (whether for domestic business, long-haul premium economy or indeed long-haul, lie-flat business class)?
Cairns: Yes, there has been a noticeable increase in interest in the Series 7 and we have some exciting feature updates in the pipeline to enhance the product and maintain its freshness and relevance, in particular improved stowage, significant comfort enhancements, augmented privacy options and changes to power and IFE options.
As for other developments, we can't say too much at this stage but we were blown away by the response to the launch of Series 9 at AIX22, and we're predicting a similar level of excitement for AIX23 with new Acro products set to create similar buzz. We'll formally launch an extension to the Series 9 platform in the form of a new and innovative variant specifically designed for a different value stream for airlines, plus we'll unveil an entirely new product at the show …. but there'll be more on that closer to the time. When it comes to innovation, there's always more from Acro.
RGN: More broadly, as industry works to recover from the pandemic, what are the biggest trends you're seeing in aircraft seating?
Cairns: Against a backdrop of post-pandemic recovery, economic recession, labour shortages and rising fuel prices, 'caution' has become the watchword in aviation. As a result, when airlines choose to invest in seating, we can expect them to be more demanding and more rigorous in their review of options than ever before. This may be a challenging marketplace, but we believe that it is one that is markedly open to innovation.
As the industry eases back to confidence, Acro is ideally positioned to deliver on those tough new demands. We are agile, financially secure: a growing business comprised of talented engineers and disruptive leaders with a firm focus on success, today operating from a stunning new facility at Crick in Northamptonshire as well as planning to start operating from our brand new facility in Shanghai during 2023.
At Acro, rather than being held back by traditional orthodoxies, our mindset is firmly focused on delivering success via creative customer relationships. We recognize that airlines want more than a 'one size fits all' seating solution and we have responded with flexible, versatile seats with variable options to suit short-, medium- and long-haul. Crucially, our approach is to work with our customers, creating seating which is perfectly tailored to meet their commercial objectives and match their brand attributes.
All images credited to Acro Aircraft Seating