Air Canada has announced the launch of a range of new amenity kits for its premium cabin customers. From November 2022, Air Canada Signature Class customers on all international flights will be presented with elegant amenity kits from Acqua di Parma.  
The iconic Italian Maison brings their modern elegance and authentic Italian style to the collaboration with Air Canada, in a partnership created by Buzz.  
Designed to be a functional and reusable amenity travel bag, the elongated-shaped travel case features Acqua di Parma's signature yellow color.
The kit contains luxury Acqua Di Parma bath and body products including, Colonia Hand Cream and Lip Balm for inflight hydration. Also provided are an oversized eye mask, socks, dental kit, glasses cloth, and 3M earplugs for additional comfort and personal care.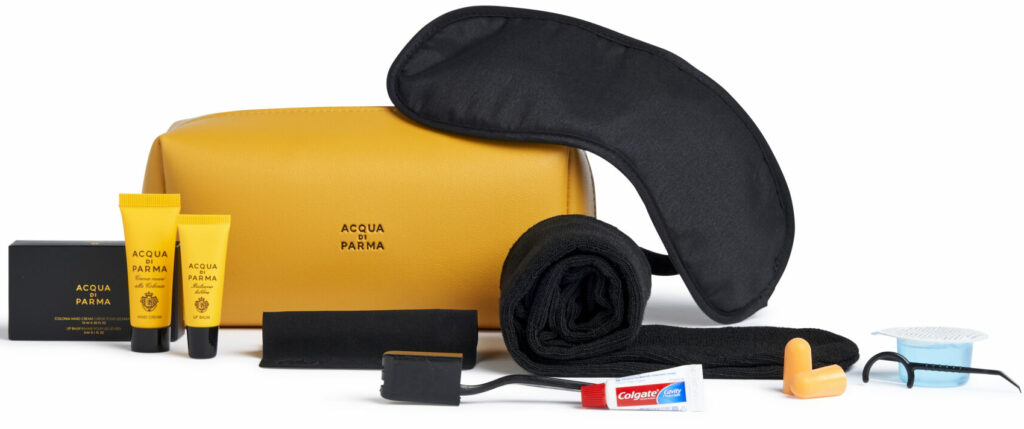 Guests in International Premium Economy and North America Signature Class overnight flights will also receive upgraded kits. They will be provided a functional, reusable amenity tote bag containing an eye mask, socks and dental products providing for a more refreshed journey. 
The black tote bag is presented folded up and housing all amenity items. Made using 100% recycled material, the tote is a useful post-flight accessory for packing personal items, shoes, or as shopping bag.  
With sustainability in mind, the new line of amenity kits and totes have been purposefully designed to significantly minimize single-use plastics including the elimination of plastic wrap. Wherever possible, paper packaging has been used including the use of 100% FSC paper packaging and soy-based inks. The dental kit also includes a toothbrush made using cornstarch blend and the Premium Economy tote bag is made using 100% recycled materials.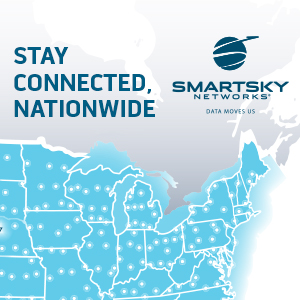 "We're delighted to present Acqua di Parma's iconic, sophisticated and refined items to our global customers as part of Air Canada Signature Class, our end-to-end premium travel experience featuring exclusive products and services," said Jacqueline Harkness, Senior Director – Product, at Air Canada. 
Enrico Sorenti, Acqua di Parma International Sales Director said, "We are delighted to partner with a world-leading airline like Air Canada, renowned for their premium service and inflight experience. This is a collaboration of value that allows us to bring Italian warmth and refined lifestyle all over the world." 
About Air Canada 
Air Canada is Canada's largest airline, the country's flag carrier and a founding member of Star Alliance, the world's most comprehensive air transportation network. Air Canada provides scheduled passenger service directly to 50 airports in Canada, 47 in the United States and 69 internationally. It holds a Four-Star ranking from Skytrax. Air Canada's Aeroplan program is Canada's premier travel loyalty program, where members can earn or redeem points on the world's largest airline partner network of 45 airlines, plus through an extensive range of merchandise, hotel and car rental rewards. Its freight division, Air Canada Cargo, provides air freight lift and connectivity to hundreds of destinations across six continents using Air Canada's passenger flights and cargo-only flights with its fleet of Boeing 767-300 freighters. Air Canada has committed to a net zero emissions goal from all global operations by 2050. 
About Acqua di Parma 
Acqua di Parma is a symbol of excellence, craftsmanship and Italian lifestyle. The Maison started over one hundred years ago in 1916 with COLONIA, its iconic fragrance, celebrating a passion for beauty, attention to detail, an essential and bright elegance, and a contemporary interpretation of the genuine Italian style. Acqua di Parma has been part of the LVMH Group since 2001. Over the years, the Maison has gone from strength to strength with the creation of other Colonie, the Barbiere, Le Nobili, the Blu Mediterraneo line, the Signatures of the Sun line, and the Home Collection. The Italian style of Colonia and Blu Mediterraneo returns in the Hotel Line, distributed in the most elegant hotels worldwide with recycled plastic packaging. All of the lines are rigorously manufactured in Italy and distributed in Europe, Asia, the United States and the Middle East. Acqua di Parma promotes Acqua di Parma Futura, an environmental and social policy set up within the criteria of the LIFE initiative – LVMH Initiatives For the Environment. Acqua di Parma Futura organises and broadens its commitment to art, culture and the natural world in Italy, which the Maison has followed since it was founded.  Acqua di Parma Futura's environmental and social policies involve five areas: Products, People, Climate, Processes and Community. This holistic view aims to preserve the art of Italian living for future generations. 
About Buzz 
Buzz creates thoughtful products that enrich the journey for travelers. For over two decades, Buzz has partnered with world-leading airlines, hotels, cruise, and rail brands to reimagine travel. Buzz creates luxury collections that are a warm welcome for guests and an exciting chance to indulge in new rituals with notable brands.
All imaged credited to Air Canada