When you board an aircraft and sink into your seat, you probably don't think too much about the seat cover unless it is stained or askew. Sure, a visually appealing design might catch your eye. And if the material is soft and supple, it could warrant a moment of notice. Otherwise, the humble seat cover doesn't generally garner too much attention.
But that is starting to change.
One driving trend is that airlines are increasingly using contrasting fabrics to change the real and perceived value of different sections of economy class. By simply changing the color, trim and finish – and, of course, by adding extra legroom –  United Airlines is able to differentiate Economy Plus on its new Bombardier CRJ550s from the regular economy section, as seen below.
That's the sort of thinking that gets Tapis Corporation excited, and indeed is the type of innovation that the New York-headquartered firm has been displaying on #PaxEx exhibition show floors.
Under the guidance of long-time president and CEO Karen Caputo, Tapis serves as the global distributor of fabrics for Ultrafabrics Holdings, a Tokyo-based mill which uses proprietary 'Takumi Technology', inherent in the creation of polyurethane materials, to deliver an experience that aims to change the expectations for performance fabrics.
During the Aircraft Interiors Expo earlier this year in Hamburg, Tapis  strategically collaborated with the latest generation of seat suppliers to show how Ultrafabrics' materials, especially its leather alternative, Ultraleather, can transform #PaxEx.
Among the seats on display, Molon Labe's much-ballyhooed side-slip seats were configured in two rows to delineate economy plus and economy.
Tapis explained the difference thusly: "The economy plus row is upholstered in a beautifully streamlined laminated seat cover made from Ultraleather Brisa and Ultraleather Ultratech in the headrest. The Ultraleather Brisa has breathability and comfort attributes that exceed those of many fabrics. The visual aesthetic quality of the headrest is manufactured in a style that mimics the look and feel of [a] comfortable pillow for maximum comfort. The second economy row is trimmed in a baseline style with Ultraleather Promessa and Ultratech Cora to accentuate the middle seat and the additional space that it provides. The innovative use of contrasting fabrics breaks up the appearance of the cabin, making it look and feel more like a residential interior."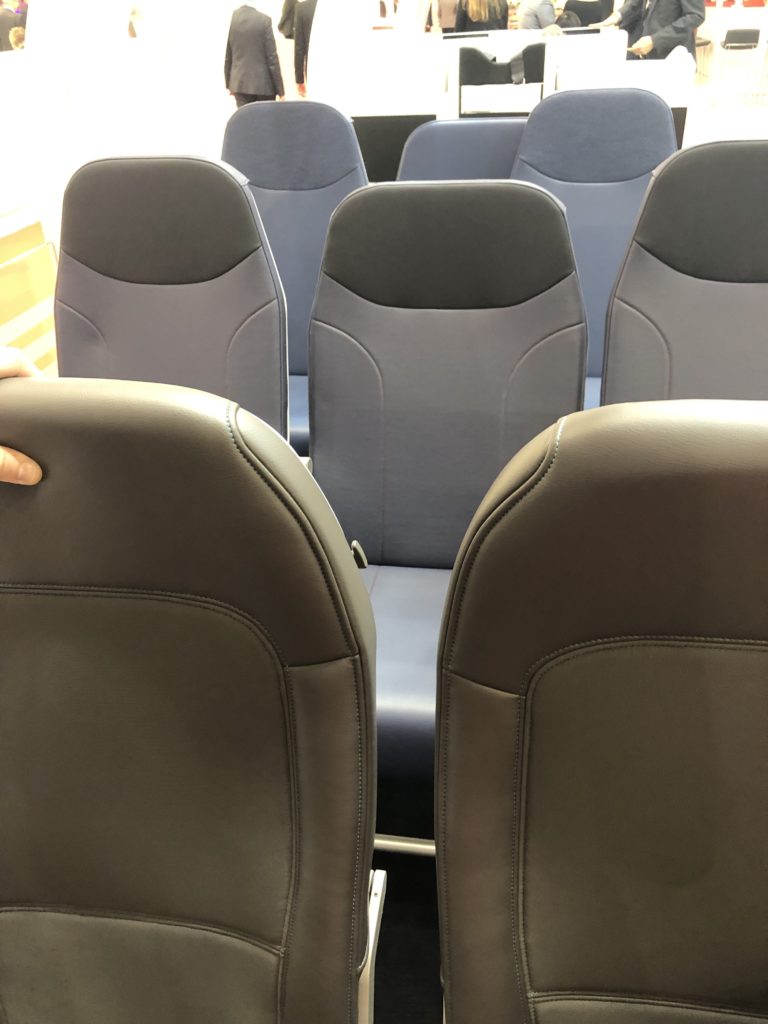 Tapis also showcased the Butterfly single-aisle-lie-flat (SALF) seat, with a seat shell liner upholstered in pliable, stain-resistant 'TapiSuede' recycled polyester to highlight how a simple contrast of color and texture can create a boutique luxury experience.
Your author indulged in the show-floor #PaxEx for a spell, and then sat down with Tapis sales director Matthew Nicholls to learn more about the firm's trajectory in aviation.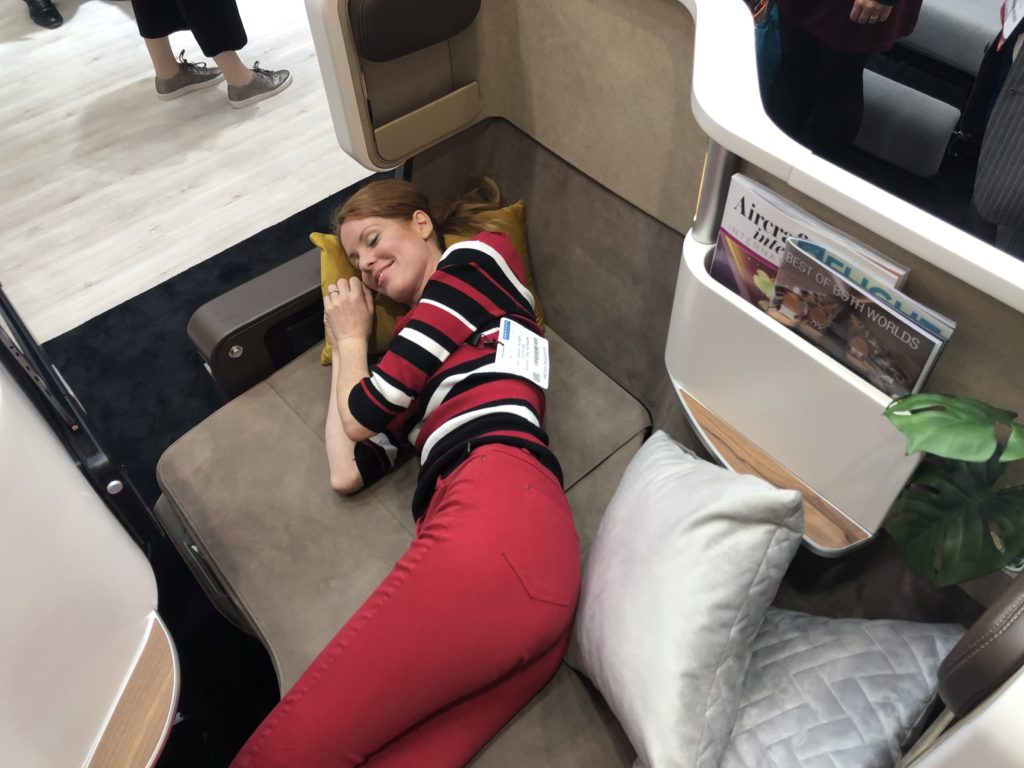 Firstly, some key stats: Tapis boasts several customers in the United States, including JetBlue Airways, Spirit Airlines and Allegiant, and is "fleet-wide" with United Airlines.
Moreover, Tapis has long-term contracts with a number of seatmakers – Recaro and Safran, to name two – and has been added as a new baseline supplier for Acro Aircraft Seating. It is also a catalogue supplier to Thompson Aerospace, and to Italian seatmaker Geven, for which Tapis is "offerable with basically everything with them", said Nicholls.
"So we are kind of sort of all over. And like the unknown, well lesser known."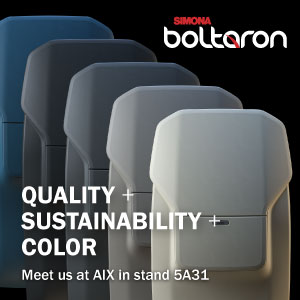 But do airlines acquire seat covers directly from Tapis, or do they simply select the fabric but acquire it as part of the seat architecture from these seatmakers?
"It depends," explained Nicholls. "So, some companies will, some companies don't. So, take Delta for example, Delta is a big, big fan of BFE [buyer furnished equipment] components. So, they'll go and buy the fabrics themselves and even buy the seat covers themselves and the cushions themselves and they will drop ship them into Safran or Collins or whatever because their theory is 'we get a better deal for that because we bought those products. We may pay a little bit more on the asset but when it comes to spares we are going to have much lower pricing all the way through.' So, I know that Safran now has launched a new group to deal with spares to be much more competitively priced, quicker, faster lead times. So I think that is probably a good thing, but it's a big bugbear for the airlines about sparing from all suppliers really. It takes too long, it's too expensive and all those kind of things. So, I think Safran, in particular, is making some really big inroads and it will be really interesting to see what they do."
Also on display at the Tapis booth was Safran Seats' Slim Plus seat, which is billed as being a "standard-bearer for regional seating for Embraer and Bombardier". In the iteration shown in Hamburg, the seats were upholstered in a mixture of what's called "Promessa AV" and "Ultratech Metrotech".
PromessaAV is "kind of like a natural leather replacement type of product, very high-tech, very high performance, very, very lightweight. It weighs 460gm per meter which is half the weight of leather. Leather is around 950-1000gm per meter. Our competitor products, other synthetic leathers – things like e-leather – typically weigh 500-550gm so we are lighter than them. But this is our heaviest product. So, we go even lighter," explained the Tapis executive.
"It also has what we call our four-layer construction which is the Takumi Technology … What we do is we start with a substrate, which is basically our fabric layer. That goes through a system of baths of liquid polycarbonate resins. We only use polycarbonate for the same reason that TUMI makes very, very expensive cases and their best seller is a polycarbonate suitcase. It's a very, very high-quality product. So, it is really high performing but lightweight. So all of those are liquid resins, they go through a bath process, they come out the other side …"
The benefit of that process, he said, is that no adhesive is used. "There is no bonding and there is no laminating used. If there is no laminating, we can't delaminate so it is absolutely 100 percent impossible for our products to delaminate. And that's a really big problem in the industry. A lot of people are having delam issues. So it's pretty nifty."
Indeed, RGN has observed many problems of delamination in industry, particularly on premium aircraft seats.
Though Tapis offers various aircraft seat covers using fabrics from Ultrafabrics, one common theme is that none of them need to be dry cleaned. "So, you might have fabric performance but you don't have fabric cost associated with it. Because normally the fabric seat cover, every three to four months, you have to take the seat cover off, [and] send it to dry cleaning. There is a cost involved with that, there is a time element involved in it," said Nicholls. "You don't have to do that with any of our materials."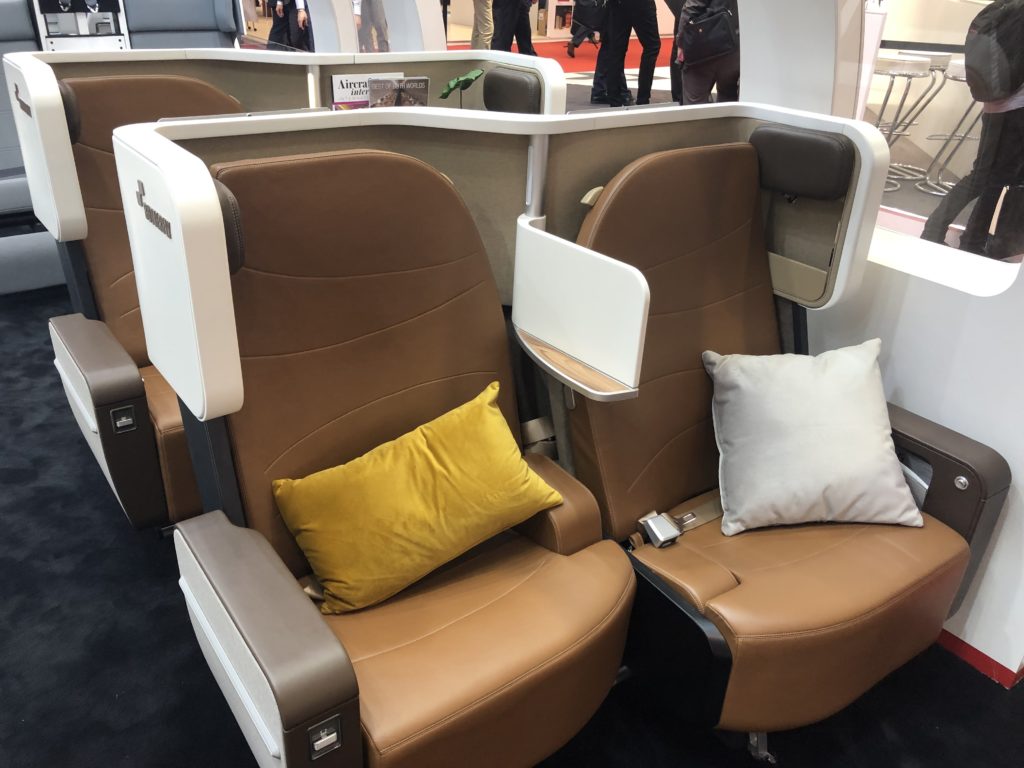 A key consideration for Tapis when designing any new seat cover is meeting strict flammability requirements. But that's where the firm's 38,000 square foot Dallas facility is nicely positioned; it is dedicated to flame-treatment and quality control, and according to Nicholls, ensures every seat cover is airworthy.
Having a Texas facility might be particularly handy given Tapis' growing list of US airline customers, which Nicholls revealed to RGN now includes American Airlines for its Boeing 787s.
Related Articles: