With galley and cabin arrangements to suit two-star Michelin chefs on every flight, Privajet's BBJ 1 – exclusively marketed by boutique business aircraft charter company Vertis Aviation – offers what it believes is an unmatched inflight fine dining experience.
The concept arose from a chance meeting on a plane. An employee with Privajet struck up a conversation with a chef specialising in improving airline food. "We invited the chef on a flight so that he could understand the requirements for take off and landing, security, storage and so on," says Privajet accountable manager and general manager Christian Weber. "He came back to us and said: 'I understand your framework, but I want those ovens moving, I don't want the doors here…'"
The company realised that the cabin and galley were key elements in the dining experience and introduced a chef into the mix of a full cabin refit in 2014.
"So now we have a steam oven that'll cook pretty much anything, including eggs, fish and meat – of course we don't have pans," says Privajet commercial director Jérôme Franier. "We made major modifications to improve the dining arrangements from the low table and trays we had before to a new table and seating. We saw no point in serving fine food on beautiful plates in the old arrangement.
"At the same time, we rearranged the galley and certified all the new equipment. We changed everything, spending time with the flight attendants and chef to choose cutlery and crockery to a standard you'd expect in a two-star restaurant, but a little heavier and more suited to an aircraft environment."
Such was the detail in Privajet's vision that it even involved the chef in defining tableware functionality. Weber recalls: "We went to the shop with the chef so that he could advise on the correct shapes to avoid sauce spilling for example, while the design also had to suit his expectations and presentation style."
Chefs, judging by those we meet through reality TV, often seem to be high-strung, passionate and somewhat forceful personalities. Privajet took the seemingly brave decision to take professional chefs and train them in regular cabin crew duties, particularly safety functions. It means the chef is part of the crew, rather than a flight attendant doubling up as chef, but personalities were carefully selected to ensure success in the tight confines of the galley.
The food itself is prepared from fresh ingredients wherever possible and purchased by the chef on stopovers during multi-leg flights. He takes a realistic view on how best to meet customer requirements, be they religious, cultural or simply the whim of fancy, but is also happy to suggest menus based on the best ingredients available locally. And because Privajet employs two chefs, one is always working and refining his experience on the frontline in a top restaurant kitchen, while the other is flying.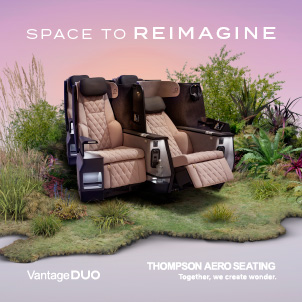 Aurélien Misse and Benjamin Laffineur, from the kitchens of Belgian chef Yves Mattagne, share duty aboard the Privajet BBJ, which recently flew its 1,000th hour since the chef service began.
Since there are limitations to how much preparation is possible onboard, the chefs arrange access to hotel kitchens, preparing what they can and moving it to the aircraft – refrigerators and a freezer were part of the 2014 refit.
The proof of the pudding is literally in the eating. Customer feedback has been extremely positive and Weber notes in particular the comments of a passenger who asked if she could continue using the chef after her flight. "I think she can use him as much as she likes," he jokes, "but only with the aircraft."