LONG BEACH — Shirley Chisholm, who in 1968 became the first black woman elected to the United States Congress, famously said: "If they don't give you a seat at the table, bring a folding chair." I thought about Chisholm's quote this week when the Airline Passenger Experience Association honored inflight entertainment industry veteran and thought-leader Michael Childers with an APEX Lifetime Achievement Award in Long Beach, California.
Many people in aviation and entertainment know about Michael's storied career, including his work as a content distribution executive who oversaw the international IFE release of movies like When Harry Met Sally, Four Weddings and a Funeral, and The Shawshank Redemption. And it's no secret that Michael has played a pivotal role in helping to craft key inflight entertainment content delivery standards for APEX and its predecessor organization, the World Airline Entertainment Association. His precise and visionary work has had a material and lasting impact on the passenger experience.
But I'd like to tell you about another facet of Michael Childers; for years, he also worked as a meticulous and respected journalist who consistently made room at the table for other scribes, including yours truly. Many years ago, when I was a junior reporter seeking to understand the intricacies of content licensing and its role in shaping the evolution of IFE, Michael took time out of his busy schedule to help educate me, though I worked for a rival publication. When I later set out to launch Runway Girl Network, he offered encouragement and moral support — when many others were, candidly, dismissive.
My experience is not unique, however. Another Mary in industry, NetForecast director of aviation development Mary Rogozinski has worked with Michael through WAEA and APEX for over 20 years. "I am always in awe at the depth of Michael's knowledge and his understanding of the IFE industry. He has been a great mentor and friend for many years and has contributed so much to our industry," she tells RGN.
In presenting the APEX Lifetime Achievement Award on the evening of 26 October, APEX/IFSA chief executive officer Joe Leader shared a similar sentiment, lauding Michael for his mentorship. Following Michael's touching acceptance speech, the audience rose to its feet in a standing ovation.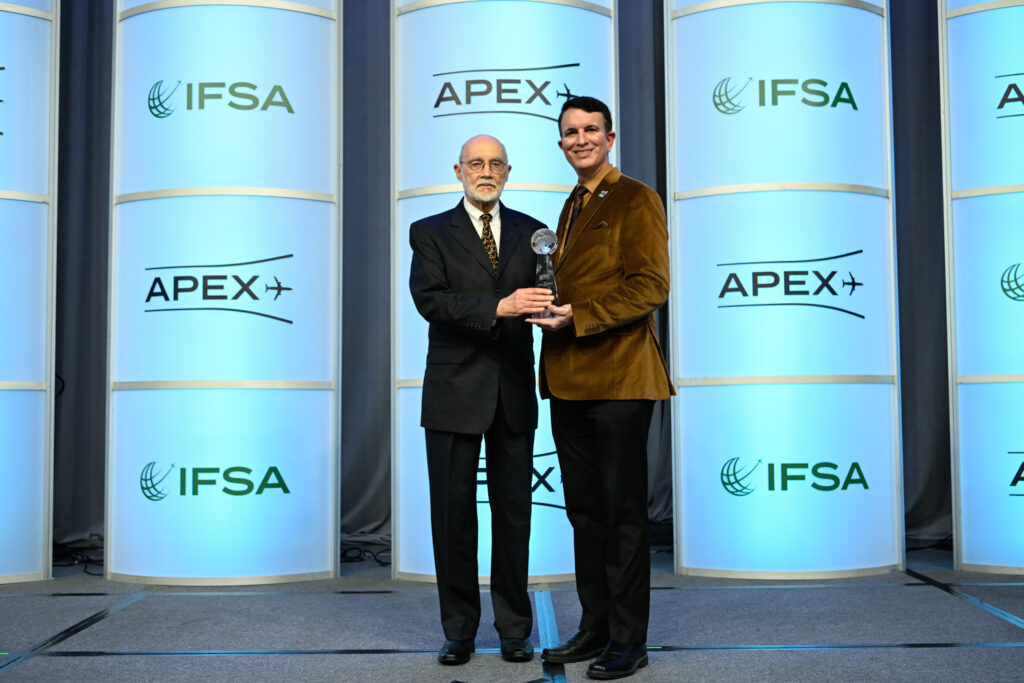 It's not difficult to understand why. Michael has dedicated countless hours to educating, informing and fostering collaboration, including during his remarkable nine-year stint as chair of the APEX Technology Committee.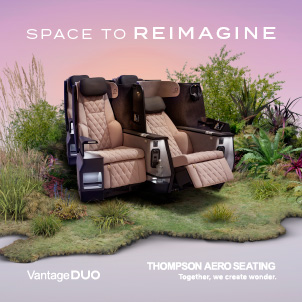 A visionary in the IFE space, he nudged the industry's move to the cloud, and is widely regarded as a champion of transparency and positive disruption.
On these pages, we talk a lot about the importance of improving gender and racial diversity in aviation through education and mentorship. And we recognize the individuals who seize the chances presented to them in life or, in the absence of opportunity, create their own, as Shirley Chisholm would advise.
But we must also take time to recognize those veteran allies who don't force a gal to bring her own folding chair to the table, but who instead pull out a chair and slide over to create space. Michael Childers is one such individual, and I know I'm not alone in thanking him for that.
Related Articles:
Featured image, from left to right: Jeffrey Goh, CEO of Star Alliance; Rich Salter, IFE consultant at The Salter Group; Michael Childers, chief consultant, content and media strategy at Lufthansa Systems; and Mary Kirby, editor and publisher of Runway Girl Network. Embedded image: Michael Childers accepts the APEX Lifetime Achievement Award from APEX/IFSA CEO Joe Leader. All images credited to the Airline Passenger Experience Association