The industry buzz — and media reportage — around KLM's refit of its Boeing 777-200ER economy cabins has generally ignored one key aspect of the change: a 3-4-3 seating layout that makes the twinjet among the most cramped in the sky.
KLM PR has quite cleverly accomplished a spin on the move as a boost to legroom, with media reporting an increase from a 31" pitch to 32" despite the fact that the airline's own seat map quotes an average seat pitch of 31".
But even taking KLM's 32" assertion at face value, with the reduction in width from the 18.5" seats in a 3-3-3 row to 17.2" seats in a 3-4-3 row, the actual facts of this refit are that KLM is reducing each passenger's seat footprint from 574 to 550 square inches.
Yet the 10-abreast problem is actually even worse for passenger experience than the numbers themselves suggest.
In addition to the extra, undesirable middle seat, the constraints of the 20'4" (6.2m) fuselage and 19'3" (5.9m) cabin width mean that window seats are pushed closer to the cabin walls, with less flat space for passengers' feet.
Aisles are narrowed, and real-world passenger experience on 10-abreast 777 products consistently shows that standard airline sized rollaboard carry-ons are too wide to be wheeled down the aisle. Look out too for wide-hipped passengers, busy flight crew and the ever-present trolley.
And this is all in the context of a population that is growing broader in the shoulders and wider in the waistline.
Clothier Brooks Brothers' sizing guide for its original fit polo shirts lists a 17" shoulder span for its Extra Small size. Even 18" rates a Small.
Take a tape measure to an average 18-year-old man: 17" is simply not wide enough to fit this new generation of traveller, if it was ever wide enough for previous generations.
Seat maker Recaro bills its CL3710 product — launched by KLM and one of the new generation of fully featured slimline economy seats — as having "exceptional comfort" and "generous living space". But what is the comparator for these claims? AirAsia X, a long-haul, low-cost carrier operating nine-abreast A330s with fares a fraction of KLM's?
It's clear KLM is prioritizing cost over passenger space, like myriad other 777 operators that have chosen 10-abreast configurations for the twinjet. "With less than 12 kilograms, the Recaro CL3710 is the lightest product in its class. By retrofitting the aircraft with this seat, weight savings of up to 1,000 kilograms per aircraft can be achieved," says Recaro.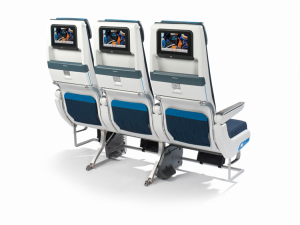 In essence, despite the entertainment options on the CL3710, KLM is continuing to rule itself out of being a carrier of choice in economy class.
Passengers are increasingly aware of the options they have, and passengers who have experienced 10-abreast economy once are often wary of being subjected to it again. Flyers are mobile, vocal and social. People have Facebook, Twitter, Tumblr, and blogs.
Aunt Raelene's Facebook photos of cousin Lee having to sit side-saddle on the plane, or of a thin person across the aisle practically doubled up, isn't a great look for any airline.
Services like SeatGuru and Routehappy (disclaimer: the author of this piece previously worked at Routehappy) are the first port of call for many experienced travelers. Routehappy's scores, which includes width and the number of seats abreast, are already appearing on Expedia, and the company is also partnering with SkyScanner and Serko.
As KLM installs its B/E Aerospace Diamond fully flat bed in World Business Class on these aircraft, yet extends the 10-across layout in its extra-legroom economy product (Economy Comfort), the carrier  – like so many others, including Emirates below – seems to be ignoring the profitable middle cabin segment of passengers who want a less awful experience than economy but who don't have the travel budget for fully flat business.