Even as some Covid restrictions are eased, flying internationally is far more stressful than it used to be. During a recent trip to the AvGeek holy land — St. Maarten and Maho Beach — I got to see firsthand how JetBlue is managing the paperwork and document checks required at both its New York JFK hub and St. Maarten's Princess Juliana International Airport (SXM).
Many airlines responded to the Covid paperwork explosion with online tools to make the check-in experience easier for passengers and reduce the burden on their airport staff. Some even developed homegrown solutions, while others contracted out to external vendors.
JetBlue, however, does not have a system for most of the paperwork checks. In fact, most of the carrier's post-purchase email communications include the text "You're all set to jet" when that is, in fact, untrue.
Even though I was unable to submit proof of the required documentation to JetBlue for entry into St Maarten, the airline allowed me to checkin and even issued a mobile boarding pass for my flight out of JFK. This came as a relief since it would allow me to tackle the document checks airside, rather than having to battle the crowds landside at the always busy Terminal 5. Our TSA PreCheck credentials ensured we could navigate the checkpoint in a few minutes with a short line, while a massive crowd waited to clear regular security.
While my travel companion went off to acquire some much needed coffee, I proactively took our passports and Covid documents over to the customer service desk in the main hall. The checks took a few minutes and we were good to go. I wasn't sure what JetBlue's process entailed for passengers who didn't do this, but I can only assume that the gate agent has to handle it one-by-one before boarding. Whatever the case, boarding actually began early and I observed no issues along the way.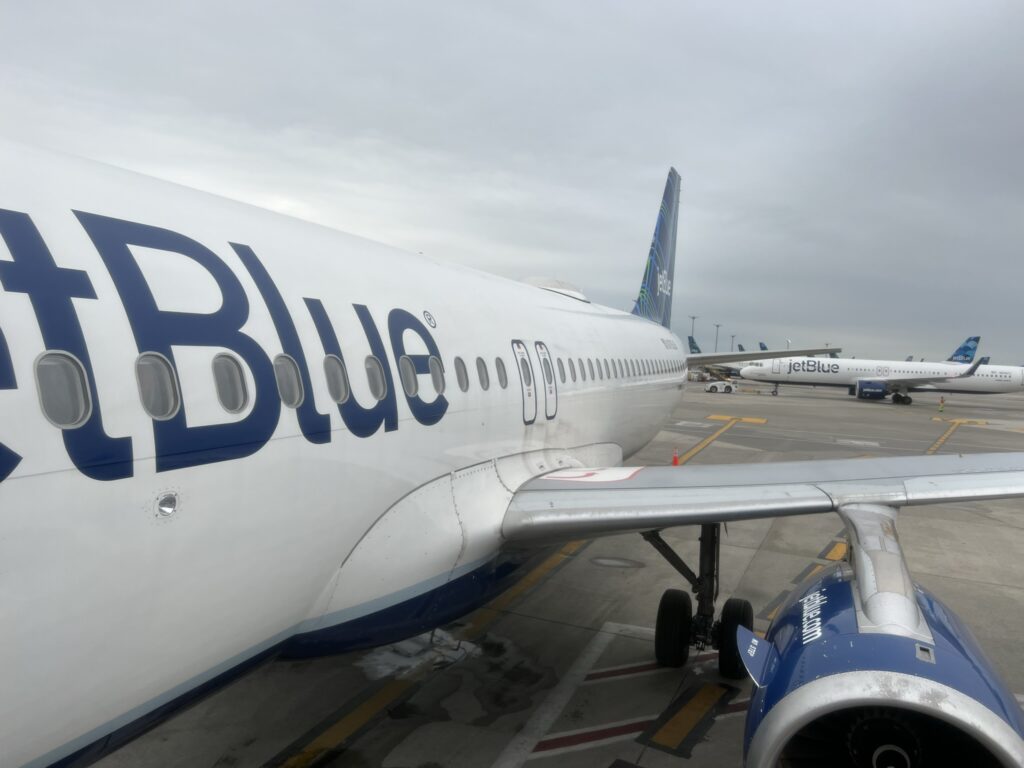 Both flights on this roundtrip were operated by JetBlue's "Phase 2" restyled Airbus A320s. I'm a big fan of this long-overdue cabin overhaul, which features ample legroom, AC power and USB ports at all seats, and a great Thales AVANT entertainment system loaded with plenty of content.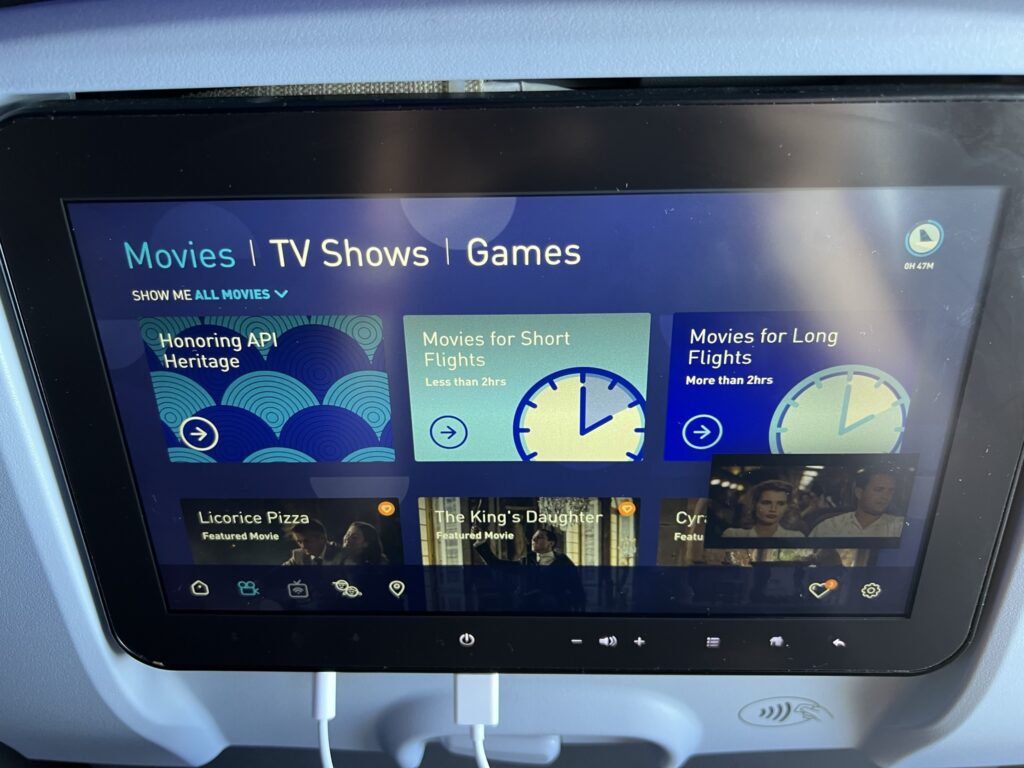 Unfortunately, the screen doesn't get quite bright enough to overcome ambient light on the sunny side of the aircraft, a problem hardly unique to JetBlue's IFE system.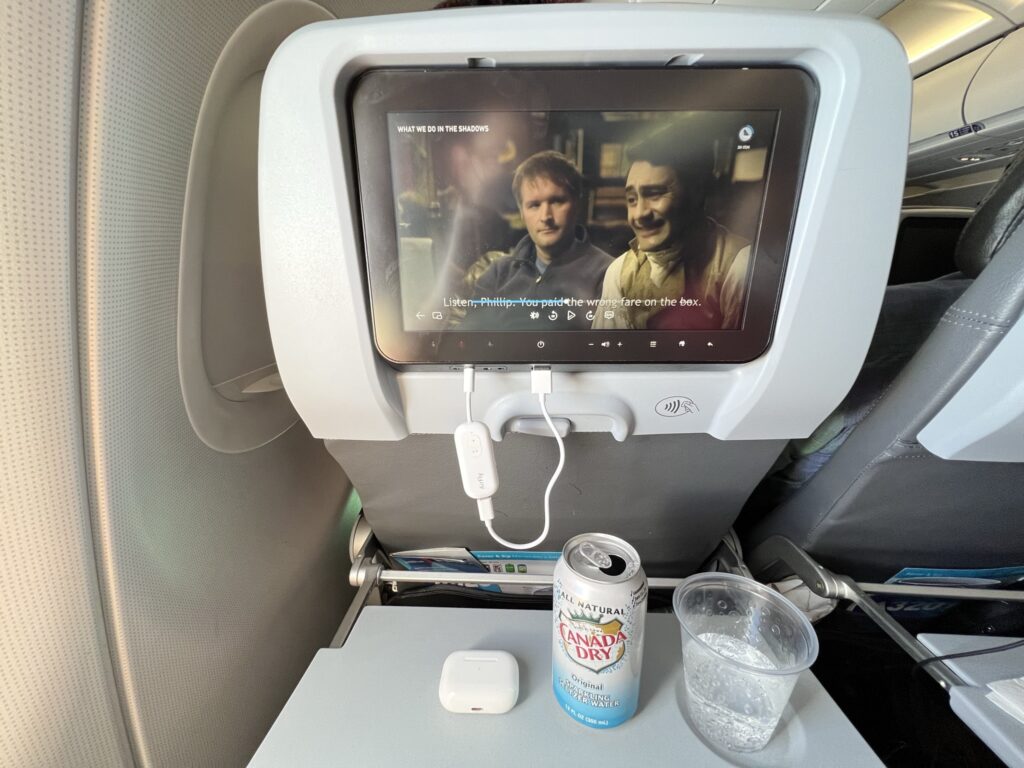 My only real complaint with the "Phase 2" retrofit concerns the Airbus Space-Flex v2 rear galley configuration. One of the two lavatories shares a door with a flight attendant jump seat attached. It is so difficult to actually identify as a lavatory door that the crew on one of the flights placed a handwritten sign on it, pointing passengers to the handle.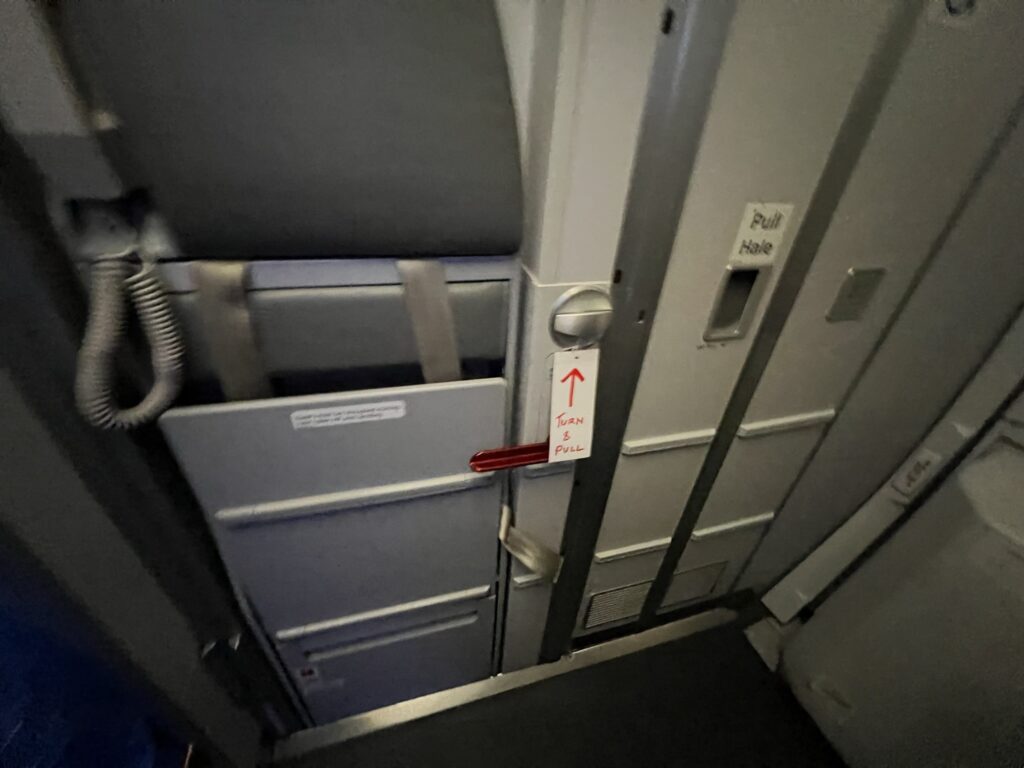 Phase 2 A320s also sport an upgraded Viasat-powered satellite Wi-Fi kit that works on routes over the open ocean, something the original kit — supplied by Thales — did not do. I experienced no connectivity issues on either flight. Speeds were sufficient to stream video in HD with some buffering, and it truly worked gate-to-gate. A frequent traveler cannot ask for more from this free Internet offering.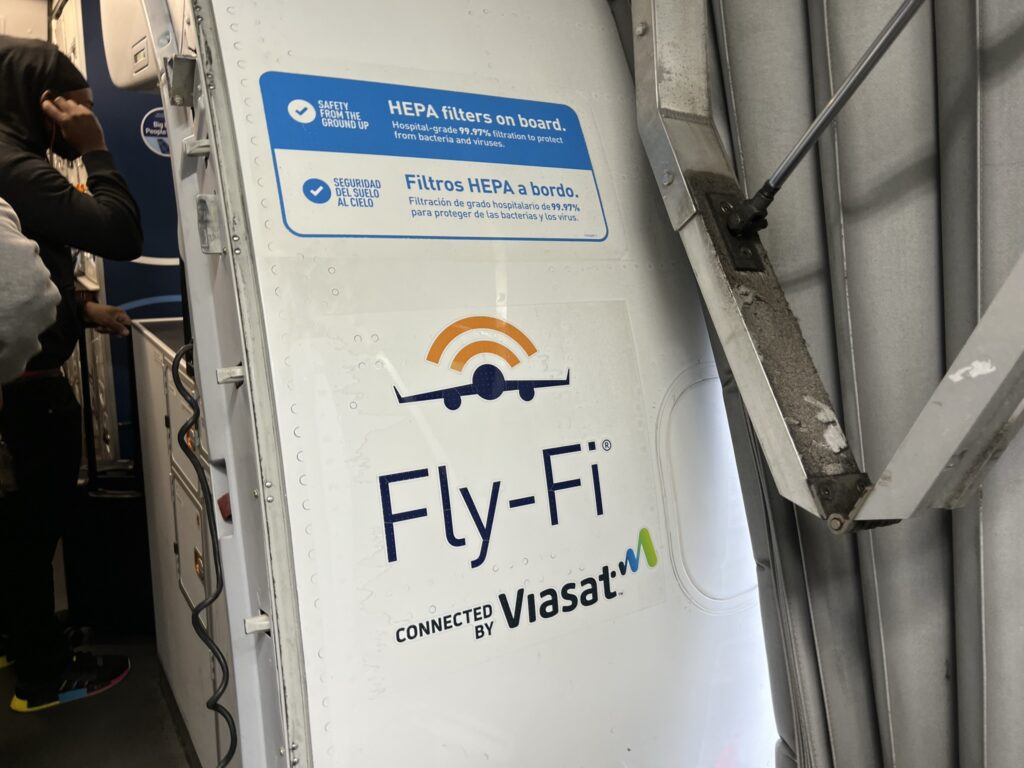 JetBlue has started offering its onboard EATUP Café once again after a years-long pause during the worst of the Covid crisis. The airline offers it on "select flights longer than 3.5 hours", but doesn't actually specify which flights qualify outside of an indicator in the booking flow. The New York JFK to St Maarten flights were listed as offering fresh food items but unfortunately the airline failed to stock any of those items on both flights.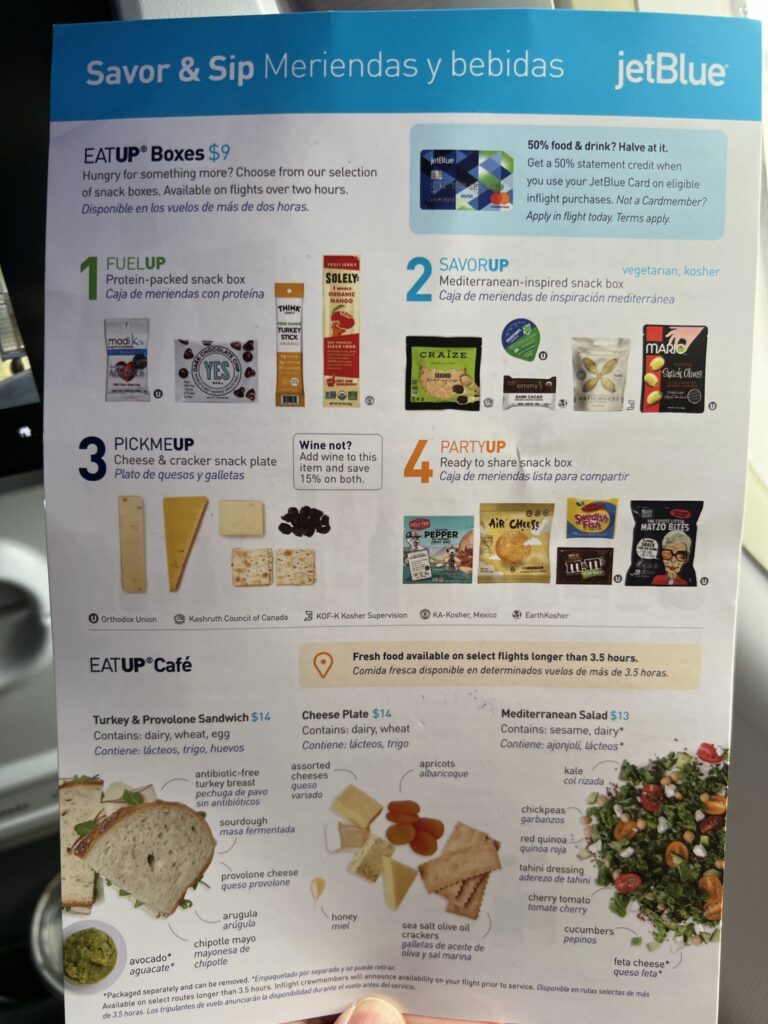 Also missing was the Lime Bubly sparkling water, even though it's a featured item on the printed menu. The lack of fresh food was disappointing but not unexpected, so we ate before the flight and made do with the regular snacks on offer.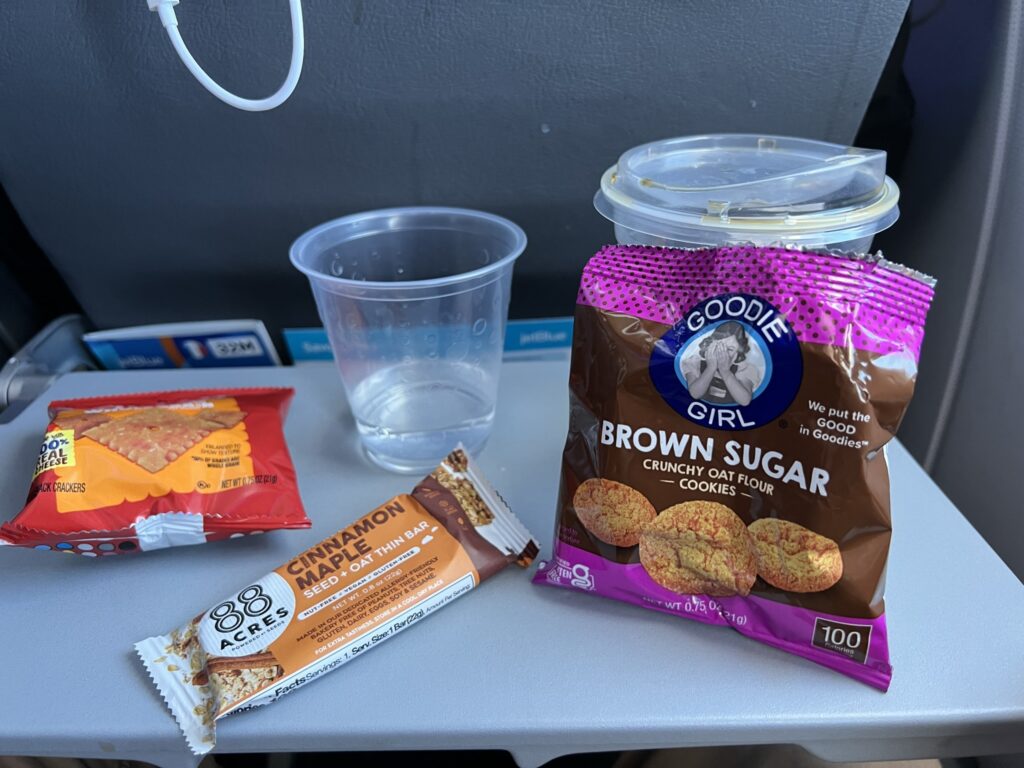 For our departure out of St Maarten, JetBlue emailed passengers to digitally complete the necessary attestation form for entry to the US online, something that certain other airlines often require to be done in paper.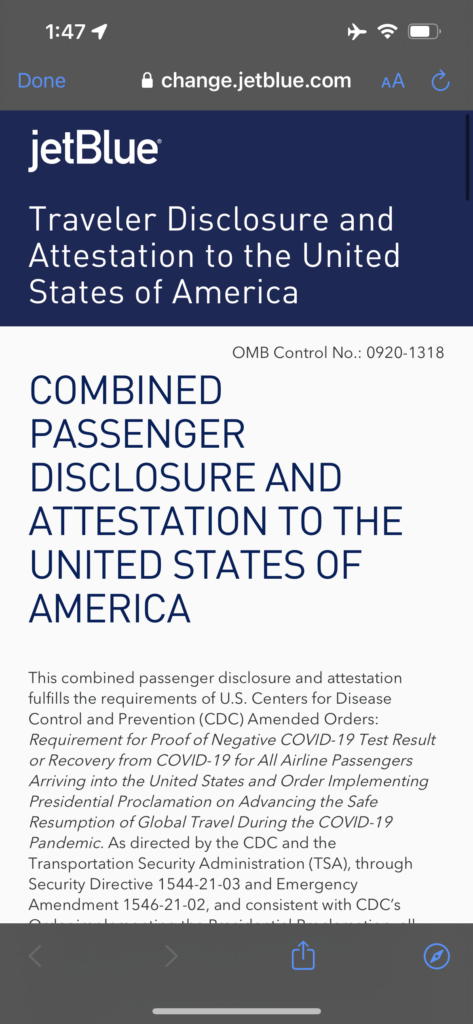 Passengers looking to checkin at SXM weren't allowed to enter the line without showing a screenshot of this completed web form. This protocol, combined with a very healthy staffing level at SXM's checkin desks, made the manual verification of our required Covid tests much smoother than expected.
I would still prefer to complete all Covid verifications online and before arriving at the airport. Even so, the airport experience was smooth, though it was likely aided by the fact that this was the only departing JetBlue flight during that time of day.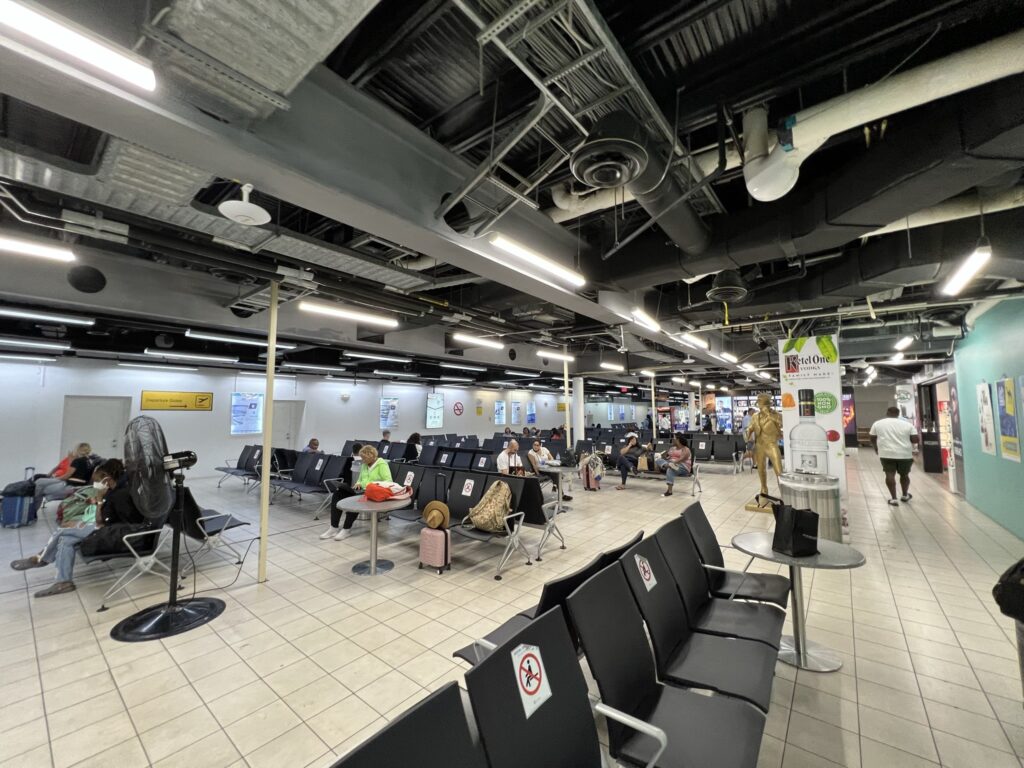 St. Maarten Princess Juliana International Airport is still rebuilding from the massive damage inflicted by the Category 5 Hurricane Irma in 2017, with the airport still largely under construction but totally functional at this point.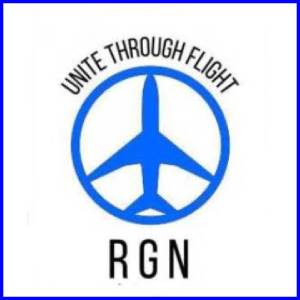 Most jetbridges are still missing and the airside departure hall is now just a small gate hold area, but there are a good number of open food vendors.
Our flight departed at a quiet time but I imagine the space could get quite cramped when the widebody European departure bank hits.
Overall, JetBlue's decision to not offer any sort of online Covid documentation check proved to be a non-issue this time, but not everyone will be that lucky. Hopefully this problem simply goes away shortly, but will JetBlue be ready for it if and when there is a next time?
The rest of the JetBlue experience, aside from the missing catering items, was excellent and even on-time.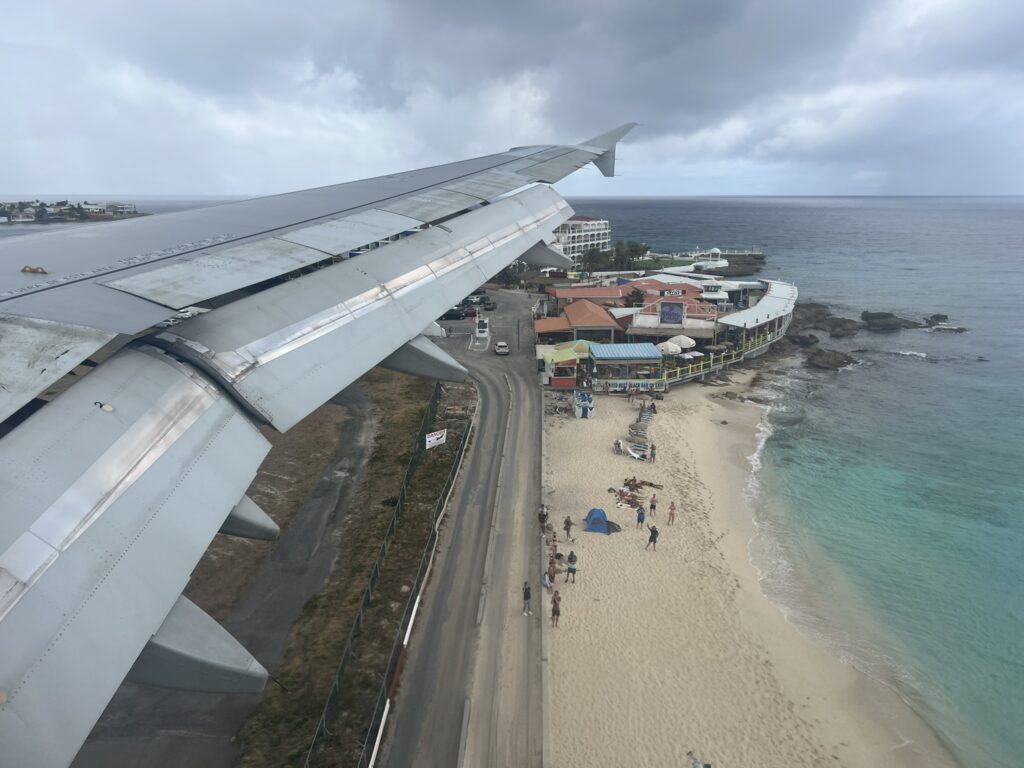 Related Articles:
All images credited to the author, Jason Rabinowitz