A new tool that facilitates the sharing of screen and video content with passengers on business aircraft and charter flights without the need for onboard connectivity has attracted initial customers, reveals its creator, software developer IdeaNova.
Having long embraced the free and open-source WebRTC project, which supports video, voice, and generic data to be sent between peers, IdeaNova recently launched its so-called Intouch Nearcast tool, which aims to "meet the unique requirements of the aviation industry to screen share and video share content with passengers" by bringing the functionality to its Intouch web conferencing platform for aircraft.
The solution "has been trimmed down to run on very a small hardware footprint without the use of Internet – using [a] local Wi-Fi network only", explained IdeaNova in a statement, adding that Intouch Nearcast is delivered on a scalable and portable docker configuration, suitable for quick installation.
Runway Girl Network reached out to IdeaNova to learn more. A company spokesman explained that the firm anticipates the main use cases for Intouch Nearcast "will be in business aviation and charter flights — flights with a purposeful destination to many if not all passengers."
Some use cases include executives working on a presentation, sports teams rehearsing their preparation for the next game, students traveling on a school trip or tourists visiting a destination with a subject matter expert providing further information about the places they are going to see.
The IdeaNova spokesman revealed that Intouch Nearcast has already been deployed and used commercially on one Airbus aircraft and will be used on a Boeing aircraft in September. "The customer would like to remain unnamed."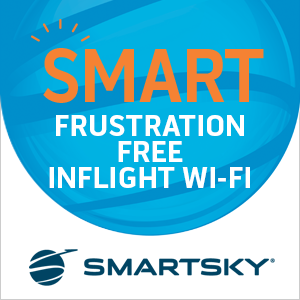 IdeaNova's portfolio also features an advanced content packaging and playback solution, which provides passengers with access to DRM-protected inflight entertainment content, and has been adopted by United Airlines and rolled out by integrator Thales for clients worldwide.
In recent months, the firm has also worked with additional IFEC firms, "mainly Inflight Dublin, TEAC and Bluebox. Others remain to be either undisclosed or we have not received permission to speak to them. We are also hopeful that our partnership with SmartSky will be leveraged for Intouch Nearcast deployment," said the company spokesman.
Other industries outside aviation are likely to take advantage of this product, suggested the firm.
"Any event venues or government/military organizations that either do not have access or limited Internet access can benefit from Intouch Nearcast."
Related Articles:
Featured image credited to IdeaNova