When broadband Internet is available onboard aircraft, passengers show a penchant for streaming subscription video on demand services. But even some high-capacity inflight connectivity systems can face bandwidth constraints if many passengers seek to stream at the same time. And that doesn't begin to address the cost incurred by airlines of providing the necessary bandwidth.
Enter digital media solutions provider IIM+, which has devised an innovative signaling server technology that supports multicast streaming onboard, giving passengers the ability to view or purchase premium and live content through their existing subscription video on demand (SVOD) services and access the content on their own devices.
Founded by Images In Motion, a leading content service provider in Asia, IIM+ boasts that its patented technology yields bandwidth and data savings of roughly 98%, making Live TV and Live Radio streaming more affordable for airlines.
Crucially, while the service requires that onboard connectivity be present, it does not require additional hardware or software, ensuring an easy integration with current IFC systems, according to IIM+.
Runway Girl Network reached out to the Singapore-based firm to learn more. Company chief content officer Christopher Schmidt tells us that no compression technology is being employed. "[T]he key to our patent is the ability to multicast the encoded feeds in such a way that the onboard Wi-Fi reception only takes in a single feed per channel, which all passengers can use simultaneously," he explains.
In IIM+'s view, one of the key game changers of its technology is the elimination of traditional content licensing fees. "Broadcast feeds will be securely parsed to the IIM+ signaling servers in Singapore in order to achieve the substantial bandwidth and cost savings that airlines are striving for," notes the firm.
But does such a solution fall afoul of any content rights? Back in 2015, APEX Technology Committee chair and long-time industry veteran Michael Childers sounded the alarm about the content licensing challenges that emerge if one tries to either bring an OTT media server on board or seeks to capture the signal of a SVOD service and redistribute it over a separate and more robust Wi-Fi network than the one providing the connectivity.
RGN put the question to Schmidt, who explains that IIM+ is not capturing anything for redistribution. One important aspect of its solution is that it only works for live channels/stations and live events and not for VOD libraries.
"Capture, redistribution, [now defunct] Aereo, onboard intranets: All of these do not apply in our scenario. Rather than a different network, we are more like Wowza or Brightcove but instead of using e.g. Wowza to stream their feed over the Internet the broadcaster is using IIM+," he says.
Regarding public performance rights, he continues, "We have spent a great deal of time with IP lawyers and researched a number of aspects … IIM+ is solely being employed on passenger-owned devices and not integrated in any embedded in-seat set-up. Thus, no public performance takes place."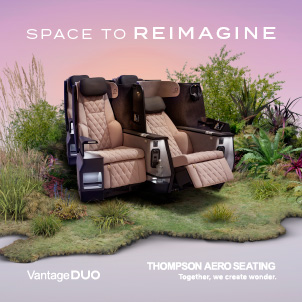 IIM+ doesn't necessarily need to establish arrangements with the OTT providers, but Schmidt says it is beneficial to forge relationships all the same.
Indeed, the firm is already working with partners. "For Live Radio e.g. we could in theory just link to the existing Internet feeds but by working with the stations we are also getting their metadata feeds including album images, track info, etc. which is of course, a much better user experience," explains the IIM+ executive. "Our key aspects are the bandwidth reduction and the ability to set the ISP on a per-flight basis which is essential to cover specific territory rights that exist."
Content contracts nearly always include these limitations: the rights granted (the audience), the territory in which the rights may be exploited, the term (length) of the agreement, and the means of distribution, as Childers previously noted. "If the authorized means of distribution granted in the contract is limited to the Internet, and the actual means of distribution onboard the aircraft is an intranet, it must be presumed that no rights have been granted for the latter means of distribution. Onboard connectivity services provide access to the Internet; onboard intranets bypass the Internet."
According to Schmidt, the contracted territory issue is straightforward for IIM+, which addresses the issue via a unique feature. He explains:
Based on international air laws that were established at the Chicago Convention in 1944 an airline territory is defined by the registration of the airline. To use an example, JAL is registered in Japan and therefore, any content that has been licensed for the territory of Japan can be shown on board regardless of where the flight operates (domestic destinations, international destinations, etc.). In fact, when you are on a JAL flight from Tokyo to Los Angeles you are technically/by law in Japan until you clear US immigration and customs at LAX.

When it comes to onboard connectivity there has been one caveat that currently makes streaming content impossible under the above definition namely, the setting and recognition of the ISP on board. Under existing systems, the ISP providing the connectivity does not necessarily recognize the territory of Japan as its origin and/or it may change during the flight based on how the company provides the signal. However, this is one of the unique features of IIM+, our platform can set the ISP on a route-specific basis. Therefore, all JAL flights would have a Japanese ISP recognition in line with JAL's registration as being the territory of Japan and any subscriber of a current Japanese SVOD service could log in to their account for the duration of the flight.

It is fascinating and you can see by the current explosion in onboard connectivity upgrades and expansion that things will change.
As previously underscored, the bandwidth reduction is not based on compression but on the fact that multiple passengers watch the same content. That is why the IIM+  solution does not work with VOD content but only with live broadcasts and live events such as sports.
"At present anybody logging into the onboard Wi-Fi could watch YouTube or log into their personal Netflix account all flight long but the bandwidth usage would be too high for both the airline and the passenger. Eventually, everything will go the same way as it went with your domestic broadband and cell phone data (remember the days when data cost a fortune and you could only send an email but now I have 1TB of data per month for free at home). But judging by the domestic experience, this ideal world is probably still 10 years down the road. That's where IIM+ comes in at present," suggests Schmidt.
IIM+ sees itself as IFC technology agnostic, meaning it is able and willing to work with any inflight connectivity provider.
"Aside from the obvious direct airline clients, we view collaboration with connectivity providers as an important aspect since IIM+ allows them to offer more of a 'product' rather than just selling bandwidth to airlines," says Schmidt. "Also, with most airlines upgrading their connectivity and more companies entering the connectivity provision space it will become a competitive playing field over the coming years."
The company's ambition is for its solution to be globally recognized by airlines and connectivity providers as the vehicle of choice to deliver live broadcasts to passengers. It is currently in discussions with a number of airlines in Asia and the Middle East as well as a couple of aero ISPs and SVOD platforms, the IIM+ CCO reveals. "On the Live Radio side we have concluded agreements with two major media groups but I can't mention the names yet as we are still drafting joint statements with them."
From a PaxEx standpoint, IIM+ wants to ensure that passengers have complete flexibility to watch and listen on their own devices in a no-touch environment.
"Covid stunned the airline industry and created an opportunity to rethink IFE. IIM+ has changed the game. With content now readily available on demand as a result of technology advances and end device capability, a successful entertainment strategy for an airline can no longer be merely access to movie and TV libraries that provide some marketing volume but have no attractiveness for passengers," says IIM+ CEO Ong Yong Beng in a statement.
"When travel opens up, innovation will be key. Live TV and Live Radio offer airlines the opportunity to meet passenger expectations and reduce costs – a rare combination."