SmartSky Networks says it is presently working with its value added reseller (VAR) partners as well as software company IdeaNova Technologies to ensure operators have access to a suite of entertainment and productivity tools that will be enhanced by its high-throughput connectivity to and from aircraft.
To that end, the nextgen air-to-ground (ATG) IFC provider, which counts Honeywell and Avionica as VARs, early this month announced plans to offer IdeaNova's Inplay and Intouch services, and with them the capability of providing passengers with access to DRM-protected inflight entertainment content and secure, bandwidth-optimized web conferencing, respectively.
For the uninitiated, Inplay is an advanced content packaging and playback solution. Available on the market today, Inplay has already been adopted by United Airlines and rolled out by integrator Thales for clients worldwide, according to IdeaNova, which has long specialized in IT security and secure video streaming.
With Inplay, operators can choose to adopt a lightweight onboard server loaded with DRM-protected content, plus a host of other features including an IFE portal that gives passengers the ability to download and set their watchlist before getting onto the aircraft, and a 'WeWatch' feature that allows passengers to watch content together and chat about their favorite scenes.
But IdeaNova has also deployed Inplay in the cloud and that is compelling for SmartSky, whose low-latency connectivity pipe can easily upload updates to an onboard library in scenarios where hosting content onboard is deemed advantageous for the operator. Moreover, explains SmartSky vice president, marketing and partnerships Britton Wanick, IdeaNova's IPTV solution — Inplay Live — can stream live content to passengers via SmartSky's network.
IdeaNova has relationships with content service providers for both video-on-demand and live content. And its new offering, Inplay Bash, allows passengers to seamlessly transition between chat, video chat, WeWatch, and even a web conference.
"Coupled with SmartSky's unparalleled connectivity, customers can truly feel as connected in the air as they do on the ground," says Wanick.
There is also a dynamic advertising element to Inplay, but its role has yet to be defined for SmartSky's customers, with Wanick telling RGN. "The outcome of our testing, feedback from customers, and collaboration with IdeaNova and our value added reseller partners will define which services are best enabled for business and commercial aviation. This is the work we are undertaking now."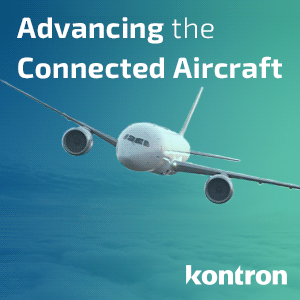 Intouch, meanwhile, is a customizable web conferencing solution capable of delivering 4K video quality, multi-camera views, and enhanced security.
"Through our value added resellers, customers are able to control the performance of these types of services and Intouch is specifically designed to support these type of controls in aviation connectivity," says Wanick.
SmartSky's IFC service is now available for both business aircraft and regional aircraft operating in CONUS.
The company's network coverage is on track for roughly 80% of flight hours by the end of 2021 and full CONUS coverage is expected in the first half of 2022.
Related Articles: