SmartTray® International, LLC, announced today the launch of its patent pending QR code encoded ads (QRADS) on its PED-friendly patented seatback and in-arm-rest mounted tray tables, including headrest mounted PED holders.
SmartTray holds twenty granted utility patents in the USA, UK, Germany and France covering a broad range of integrated PED holder solutions in passenger seats and tray tables for use in aviation, rail, bus, automotive and marine transportation. 
SmartTray's integrated PED holders facilitate hands-free use of smartphones and tablets, significantly enhancing travelers' entertainment experience onboard. There is no pain or muscle fatigue from holding PEDs.
Replacing food tray tables with SmartTray's patented, multi-function, tech-friendly tray tables provides lowest cost options to upgrading passenger seats without a disruption in service or vehicle downtime.  
"SmartTray QRADS subsidize costs of maintaining and replacing food tray tables turning cost centers into profit centers," said Nick Pajic, Founder, President & CEO of  SmartTray International, LLC.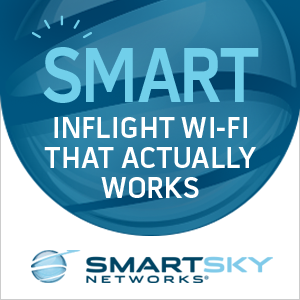 SmartTray markets and sells non-intrusive ads to loyalty partners and blue-chip advertisers. Loyalty partners and advertisers benefit from exposure to affluent business and leisure travelers in a captive environment when undistracted with nothing to do and nowhere to go, yielding unprecedented dwell time with advertisements.  
"Ad messaging in QRADS is touchless and reduces spread of COVID 19 and other infectious diseases," said Pajic. "SmartTray does all work from marketing to sales, to QRADS printing, installation, maintenance, and removal, and shares operating profits with participating airlines, rail, bus, and cruise ship operators," he added.
To support its aggressive and accelerated deployment of SmartTray patented tray tables and QRADS globally, SmartTray will be opening offices in Europe this summer and has entered into agreements with seasoned and experienced business development executives based in Germany and Portugal.  
SmartTray will have on display its patented tray tables at the Aircraft Interiors Expo 2022 next month in Hamburg, Germany, June 14-16, in Aerofoam Industries' booth 5A50. Aerofoam designs and manufactures a full suite of plastic products, including turn-key back shrouds, single leaf and bi-fold food tray tables, foam arm-caps, armrests, and other interior parts from their 150,000 square foot manufacturing plant headquartered in Lake Elsinore, California, USA.  
"Searching for the best cabin solutions can be complex and time consuming," said Pajic. "With decades of industry experience, expert technical insight, and extensive network of seasoned partners worldwide, SmartTray can help select most practical solutions for using and charging PEDs onboard, identify cost effective on-board entertainment products, systems, and services efficiently and quickly for all types of cabins."
ABOUT SMARTTRAY 
SmartTray® International, LLC, collaborates with airlines, seat OEMs, MROs, IFE/IFC providers, aftermarket suppliers and FAA/EASA Part 145 authorized repair stations around the globe to integrate and deploy SmartTray patented PED friendly tray tables for use in aerospace, rail, bus, automotive, and marine transportation. SmartTray mobile-device friendly tray tables facilitate hands-free use of portable electronic devices without taking up usable space on tray tables. SmartTray® tables provide enhanced ergonomics, better space management, better entertainment experience and improved comfort and convenience over conventional food tray tables. SmartTray® International, LLC, is privately owned. For more information, please visit: www.thesmarttray.com. 
LICENSING 
SmartTray International, LLC, is the owner of all granted utility and design patents including pending patent applications in USA and internationally. SmartTray® patented tray tables have been deployed on major airlines in North America, Central America, Europe, and Asia including Princess Cruises trains in Anchorage, Alaska, and the largest social media employee bus fleet in the US. SmartTray is actively pursuing licensees for aviation, rail, bus, automotive and marine transportation applications.  
Featured image credited to SmartTray