What better way to return home from an event like Cranky Dorkfest, a gathering of AvGeeks from all over the country, than to fly on one of the newest widebodies in the world. That was my plan, at least at one point, to fly with United from Los Angeles to Newark on board its Boeing 787-10.
I took advantage of United's flexible change policy to switch from JFK to Newark for the 787-10, but a few days before the flight United swapped the aircraft from the -10 to the shorter but more premium heavy -9 variant. While United did not notify me of this change, the Flighty app did and I was able to re-secure a window seat after being moved to a dreaded middle seat.
TSA PreCheck at LAX Terminal 7 was a breeze, and my travel companion and I went right to the United Club to use expiring day passes. The lounge was completely renovated in 2016 and still looks quite fresh. Even at 7am the lounge was busy, but not overwhelmingly so.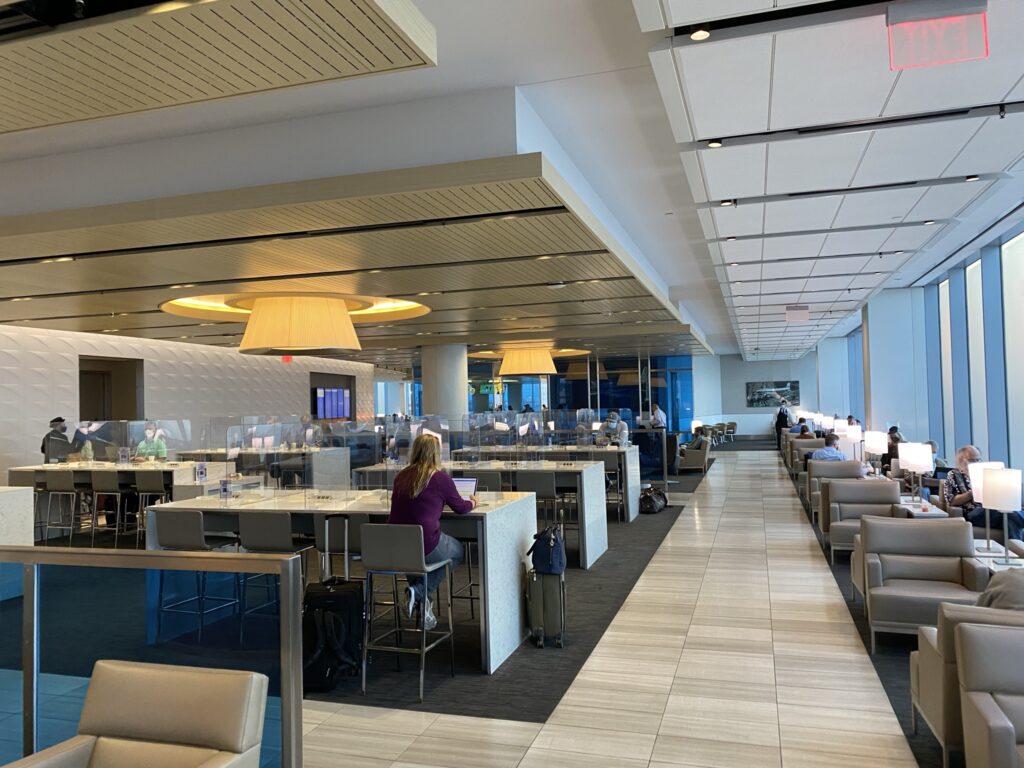 I did a quick assessment of the food on offer for breakfast and was initially disappointed. To my relief, however, hot breakfast sandwiches and oatmeal were later brought out.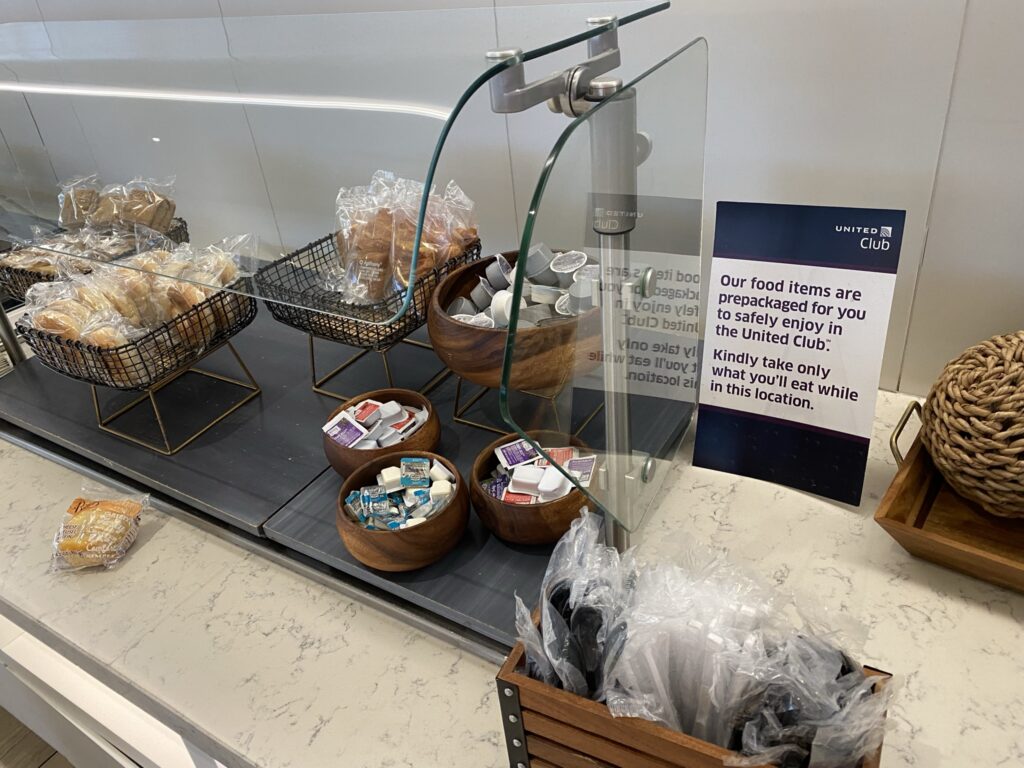 I was also quite excited to see that United has an outdoor terrace at the lounge, providing sweeping views of the T7 ramp and surrounding area. I could have very happily spent hours there.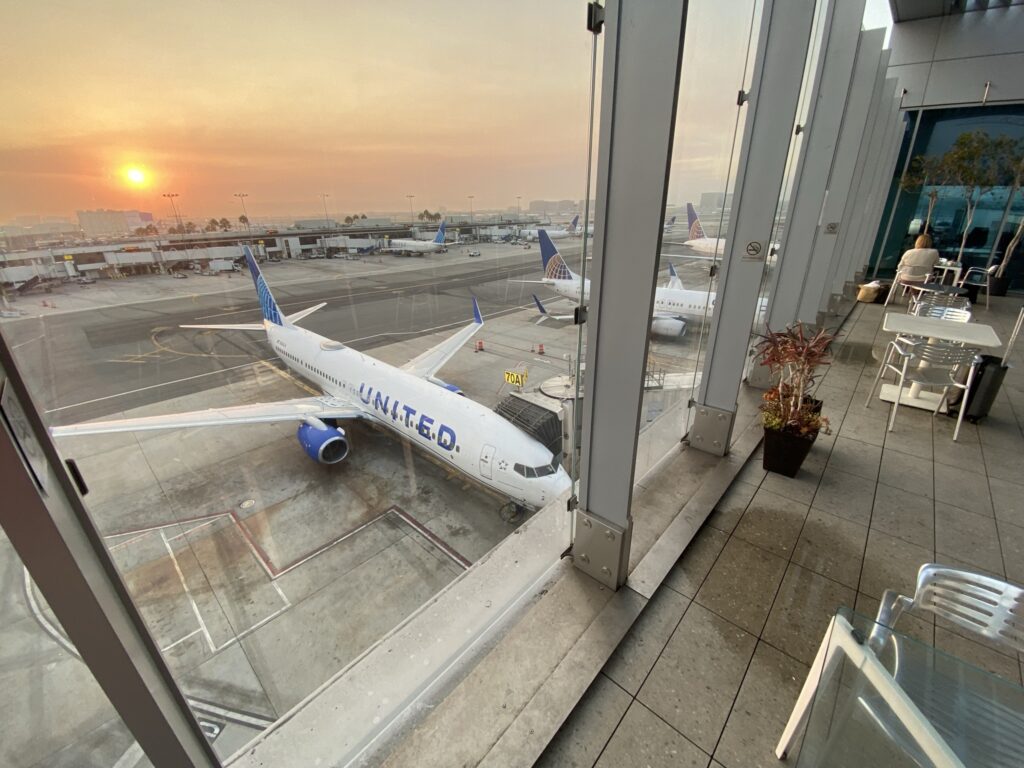 Boarding went without issue, as domestic flights operated with widebody aircraft cut down on the need to gate check carryon bags.
Upon entering the aircraft I was handed a sanitizing wipe and settled into my seat in the back of the 787-9. The aircraft had spent the better part of a day sitting at LAX before my flight, so the interior was spotless and appeared to be as clean as could be.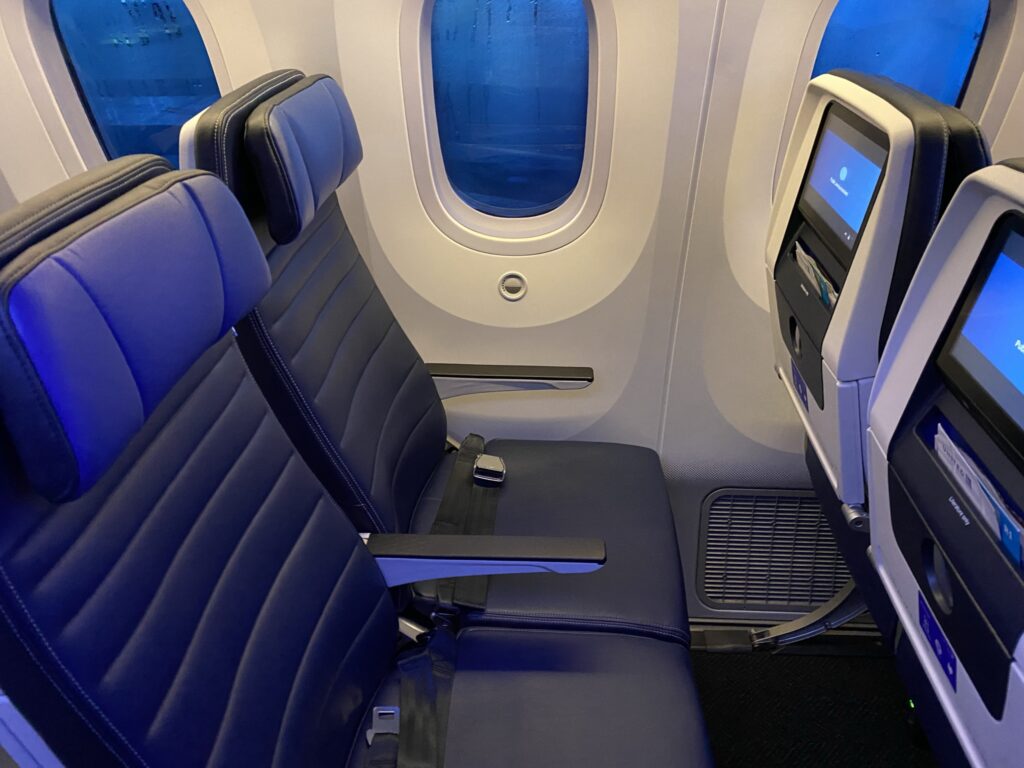 The electrochromic windows on the 787 were partially dimmed during boarding, but thankfully the flight attendants did not lock the windows in that state.
While the attendants did set the windows to maximum dimming later in the flight, they did not lock them so I could partially un-dim my window. I've had a gripe about locked windows in the past with various 787 operators, but thankfully United did not make the same mistake.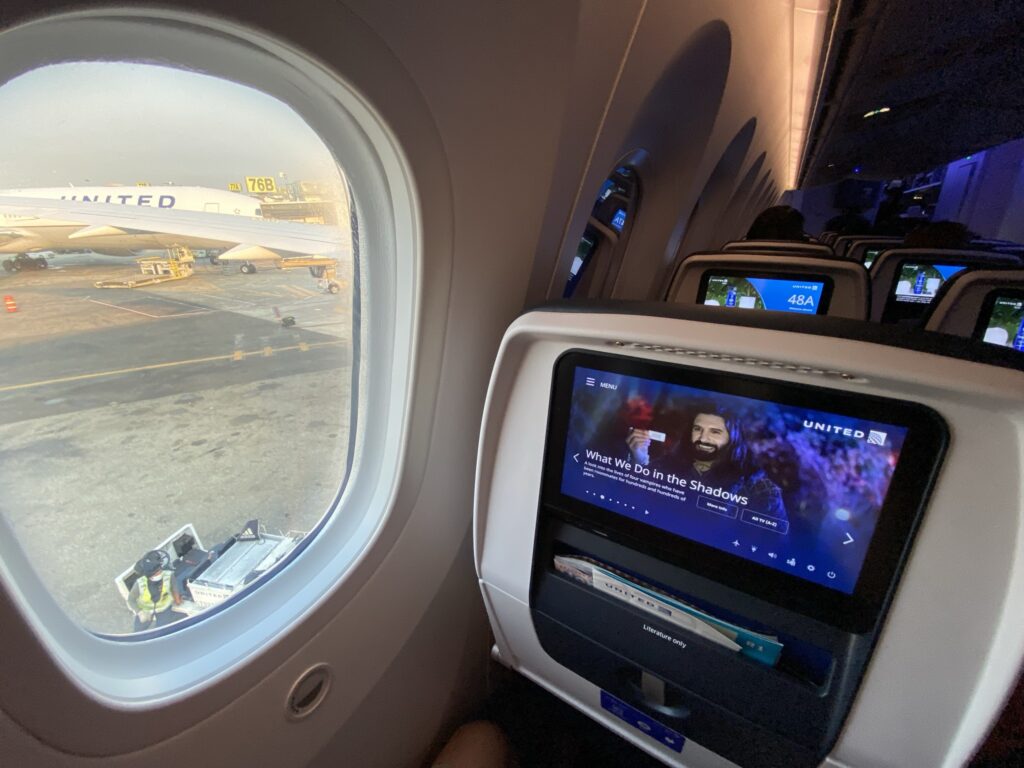 United offers 31" of pitch on this variant of the 787-9, down from 32" offered in the 787-9's previous pre-Polaris configuration.
For my frame, 31" of pitch was sufficient, and I did not feel cramped. But if I was flying ultra-long-haul — as the 787-9 is fully capable of doing — the space might start to feel a bit tight. That would be especially true for passengers with even longer limbs.
Seat width was the typical squishy 787 affair, though since I was traveling with a companion it mattered less on this occasion.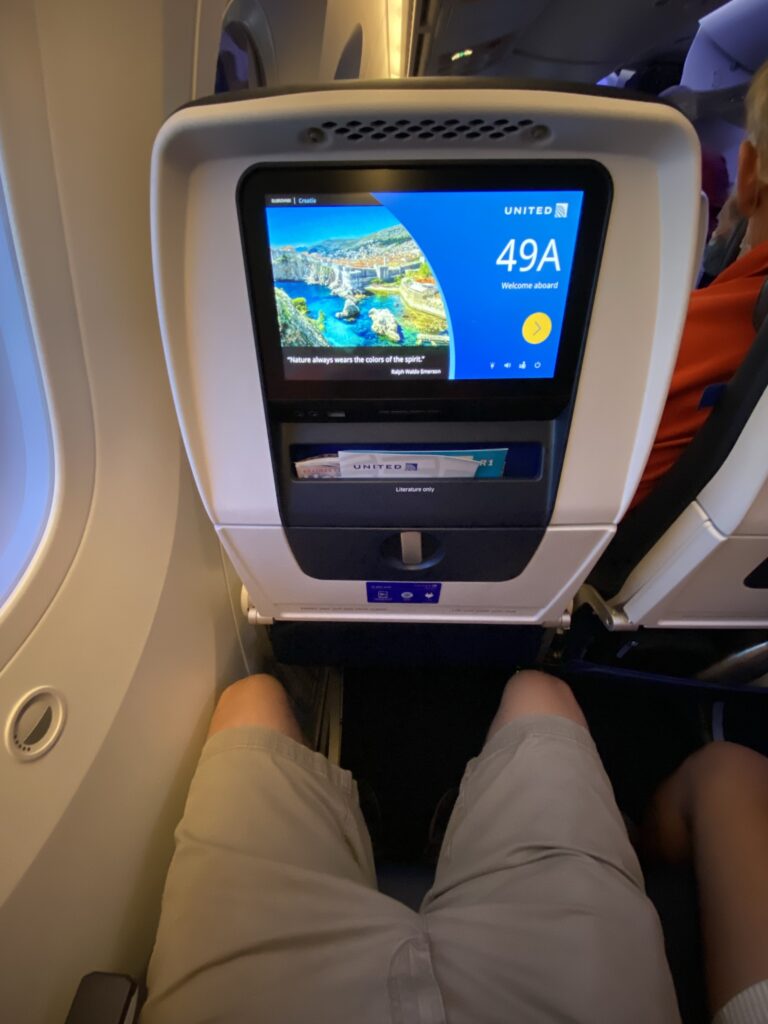 This particular 787-9 featured one of United's latest generation Panasonic Avionics-made entertainment systems. The user interface was slick and well polished, if not a tiny bit too slow for my liking, but highlighted the available content quite well.
Some of the more thoughtful features of the IFE system include the ability to star content to quickly get to it later on in the flight, a split-screen option to view the moving map next to your content, and suggestions for movies similar to the one a passenger has just finished. The system also suggests content that can be completed before the end of the flight.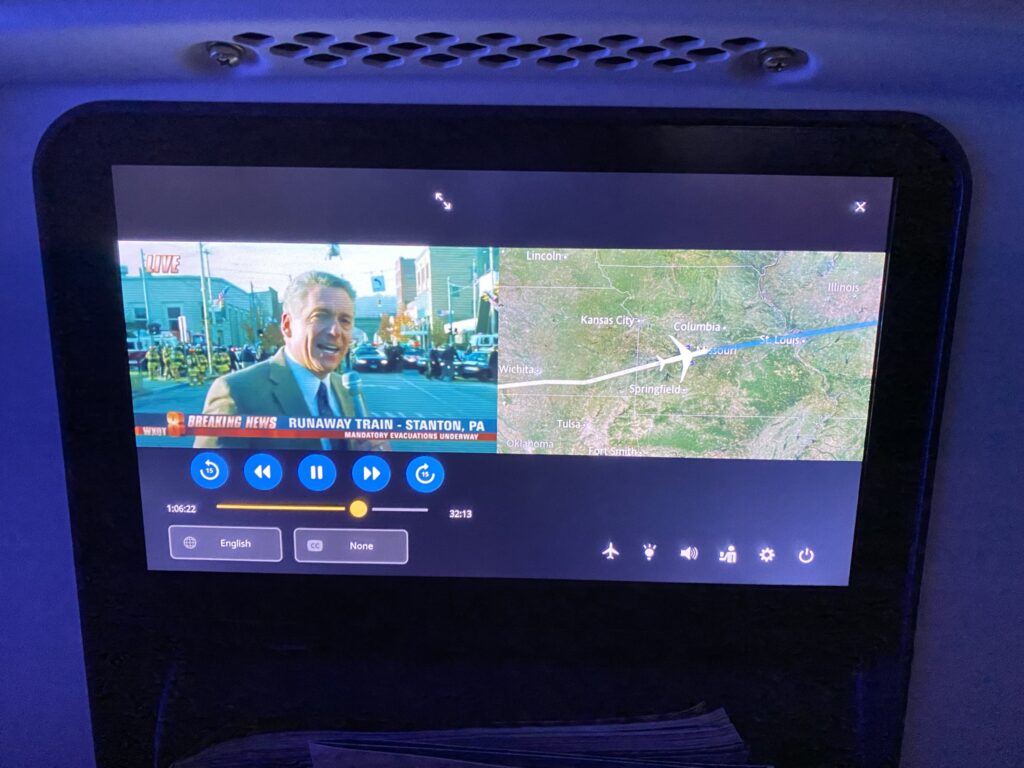 I especially enjoyed "Relax Mode", which lets the passenger select one of a few relaxing videos with their choice of background music. I paired the sea turtle video with lo-fi beats towards the end of the flight. The only thing missing was Bluetooth capabilities that United is rolling out on its new and refurbished narrowbody fleet.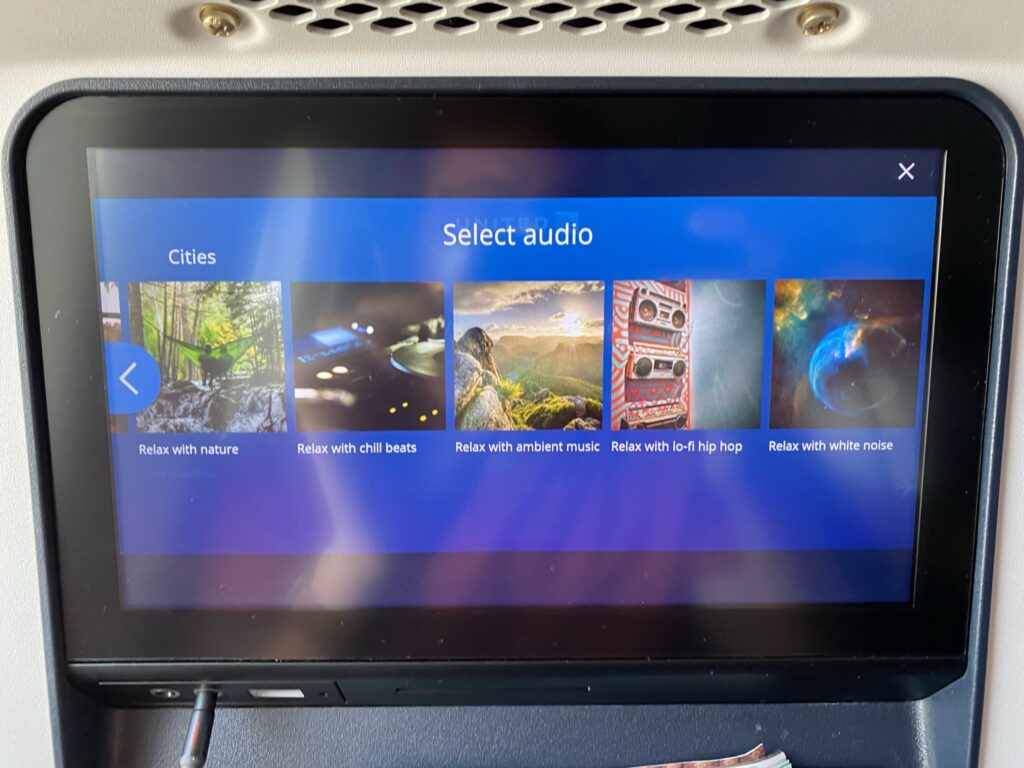 While the seatback entertainment system impressed, the screens of several passengers around me locked up and went completely dark, having to be manually reset by the crew.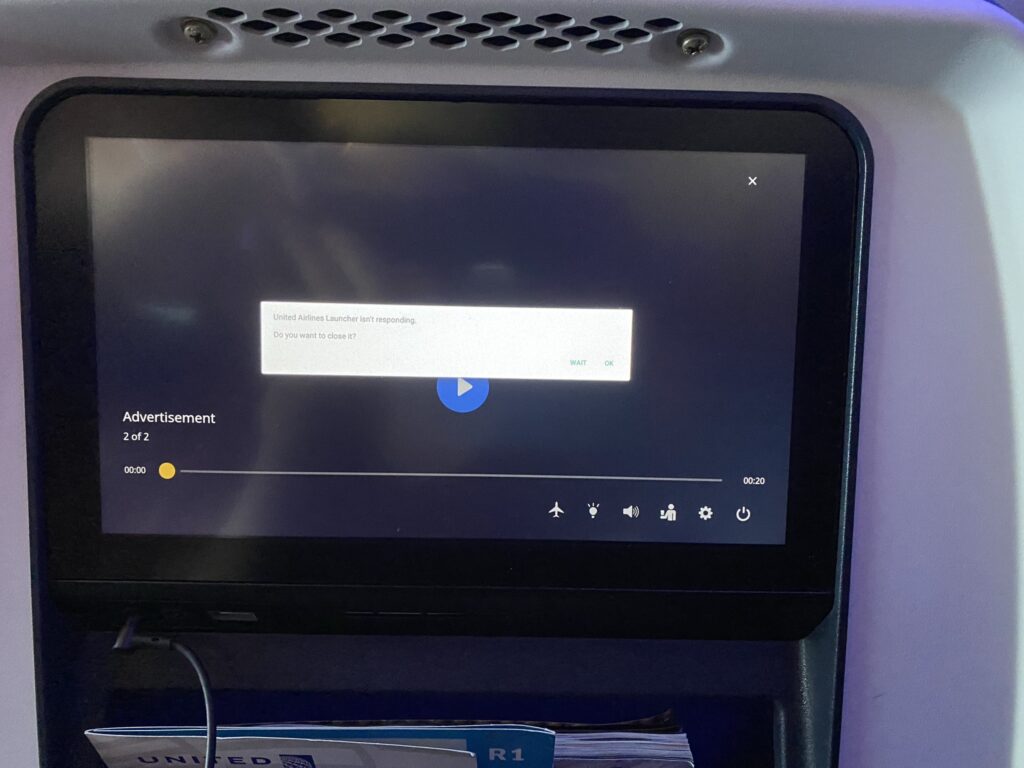 Additionally, the Panasonic Ku-band Wi-Fi system was completely down for the entire flight, with the portal only presenting an error message. The crew knew about this issue during boarding as I overheard some chatter about it, but I don't recall an announcement being made nor did United alert passengers via email as it has been known to do in the past.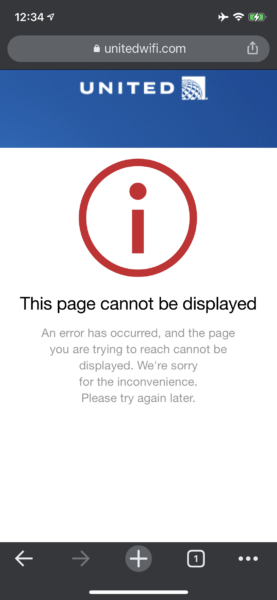 Almost all airlines cut back catering services during the coronavirus pandemic, so I was thrilled to see that United had resumed a buy-on-board program just days before my flight.
The menu wasn't exactly robust, but some quality items were available. This morning flight offered a chia seed pudding or bacon, egg and cheese spiral croissant, each for $8.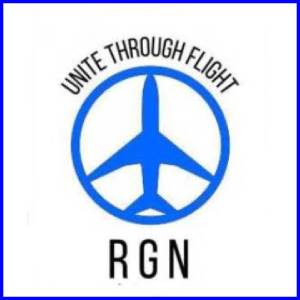 Since I was sitting towards the rear of the aircraft and United wasn't yet taking pre-orders for food, I was concerned that crew would run out of the croissant before hitting my row.
As expected, the flight attendants on my side of the aircraft ran out of croissants before my row, and I asked another crew member if there were any in the galley. Sure enough a few minutes later he returned, but unexpectedly he handed me the beef butter cheddar burger from the lunch/dinner menu. I was just happy to get something hot.
The chia seed pudding was a small portion and should sell for half of what United is charging. My travel companion described the offering as "sad". The burger, on the other hand, was served piping hot and was quite tasty but seems to have lost its pre-COVID toppings. The burger is no longer served with lettuce and tomato, ketchup and mustard (possibly due to it actually being a breakfast flight) or a bag of chips. It is simply a cheeseburger with pickles between two buns. A good potion for $8, but I miss the toppings.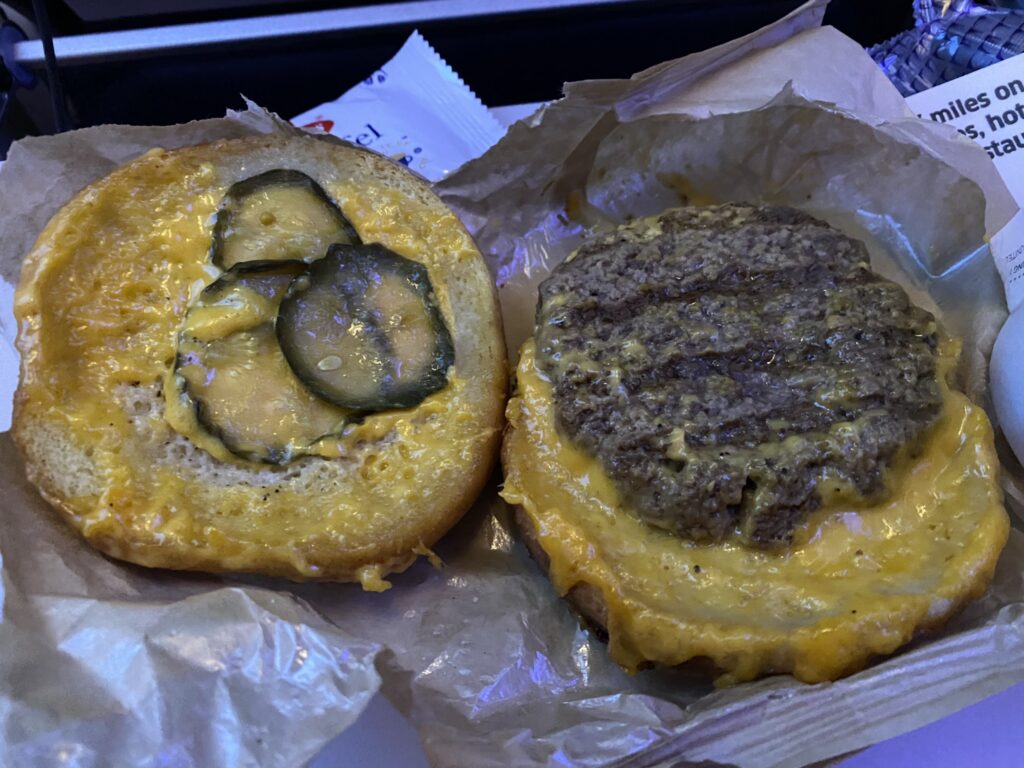 All in all, United features an extremely impressive passenger experience on this premium transcon route. Its competitors have yet to resume proper catering in economy and that gives United a real edge in my book, especially when paired with an international widebody.
Related Articles:
All images credited to the author, Jason Rabinowitz