New high throughput satellites with capacity targeted at the inflight connectivity market are under consideration at China's APT Mobile Satcom (APSATCOM), Runway Girl Network can confirm.
"There is room to grow satellite and add more capacity. The key is getting the service launched and building passenger confidence," said an APSATCOM spokesperson in reference to the company's plans.
In addition to supporting widebeam Ku-band satellites, APSATCOM operates the new high-capacity, high-throughput APSTAR-6D Ku satellite, which boasts 500 MHz in each spot beam that covers the mainland and the east coast of China.
News that the satellite operator is considering launching more capacity, including for the mobility vertical of IFC, comes as Chinese stakeholders advance their plans for bringing 5G air-to-ground (ATG)-based IFC to airlines.
ZTE general manager of ATG Product Liu Weiwei has informed his social network that China Telecom expects to complete deployment of a commercial 5G ATG network in China in the third quarter of this year, and that Chinese A320 family operator Loong Air has signed on as a launch customer for the inflight connectivity (IFC) service.
"The system will combine aviation spectrum and terrestrial 3.5G band. There are 457 sites of base station that can support [the] whole country sky thanks to maximum 300km radius coverage capacity for one NR cell," enthused Liu on LinkedIn.
Liu previously confirmed to RGN that ZTE will provide the ground 5G NR base station, core network and airborne hardware, while defining the antenna to be produced by industrial partners.
ZTE is a credible provider of cellular technology and certainly has the capability to develop an ATG network for China. And the company is already reportedly running pilots on three domestic routes out of Beijing in partnership with China Telecom.
As in all IFC rollouts, however, several key challenges must be overcome, and certifications obtained.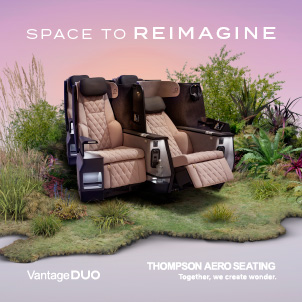 China Telecom and China Unicom received 100MHz allocations of new spectrum for 5G, while China Mobile received a 260MHz allocation. But if one of these operators wishes to utilize a portion of their 5G allocation for IFC they must receive approval from the regulatory body, MIIT.
"Everyone is waiting for the final airworthiness certification for airborne equipment," Liu told RGN in mid-May.
Whatever frequency is ultimately allocated to ATG, it must be divided and allocated in blocks to avoid cell site interference. "The amount of frequency available per ATG cell site would be dramatically lower than claimed," suggested David Bruner, an IFC satellite and ATG veteran, who is active in the development of IFC in China.
Bruner noted: "Because ATG antennas are 'pointed' upward, the radio waves can travel over 330 kilometers, there is significantly greater opportunity for interference than standard cellular service. Significant actions must be taken to encode and protect the ATG transmissions and block out noise from other ATG cell sites and terminals, as well as other users of adjacent spectrum."
Fiber for cell sites in China will eventually extend everywhere, though it could take many years. This is the reason why satellite is considered so important, particularly in mountainous Northwest and Southwest China.
Certainly, aircraft flying neighboring countries over water will be better served by satellite. Panasonic Avionics, alone, boasts Air China, China Airlines, China Eastern, China Southern, EVA Air and a raft of other Asian opertors as customers for its Ku-band inflight connectivity. The APSTAR-6D satellite, jointly designed by APSATCOM and Panasonic, can provide capacity over China and high-density routes around East Asia, including Tokyo, Seoul, Beijing, Shanghai, Hong Kong, Malaysia, Singapore and Indonesia.
APSATCOM believes that ATG and satcom will ultimately complement each other in China, including via potential hybrid ATG/satcom IFC solutions for airlines. "We have always believed there will be multiple frequency bands providing IFC service and ATG," said the company spokesperson. But initially, the satellite operator reckons that satcom will take the lead.
Related Articles:
Featured image credited to istock.com/onurdongel