With the introduction of two of Recaro's latest economy class seat types on its newest Airbus A320, TAP Air Portugal has clearly decided that it has found success in the new kind of narrowbody hybrid layout in the European shorthaul context. And it's with more seat part commonality than ever before, in what may well be a harbinger of the shape of European full-service carriers' passenger experience choices over the short and medium term.
Down the back, the aircraft features more basic slimline seats in the part of the aircraft always dedicated to economy class passengers.
Towards the front, fuller-featured economy seats are installed, where they can serve either Eurobusiness passengers, the ancillary revenue option that the airline brands as either EconomyXtra or "Preferential Area", plus also as a perq for some TAP frequent flyers.
(We should note that this hybrid configuration is for TAP's shorthaul narrowbodies that max out at Eurobusiness, not its longer-range A321LR aircraft that feature proper Thompson Vantage fully flat business class seats up front.)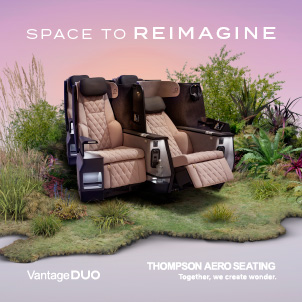 It's interesting to note that even the new basic slimline on TAP offers a full six-way adjustable headrest and 5" recline: most carriers are at this point going for very basic non-reclining seats down the back, especially where pitch has been reduced under 30" — as TAP does at a kneecrunching 28" on these aircraft.
But what's new compared with the previous generation? Recaro notes that "to ensure seamless integration, TAP chose to select Recaro's new SL3710 economy class seat for the front of the aircraft, and outfit them "in the same colors as the Recaro BL3530 and SL3510 aircraft seats that are currently flying on TAP aircraft".
Here's where the detail gets complicated — not least because of Recaro's letters-and-numbers product/generation names.
To decode those numbers, first split them up between the two letters and four numbers in the format XLNNN0. Each model always ends in the number 0, and the second letter is always L.
The first letter is either:
B, for "basic"
S, for "short", but still fuller-featured
(C, for "comfort", usually seen on longer-range aircraft but not relevant here)
The first number in economy is always 3 (premium/recliner is 5, flatbed is 6), and then the next numbers are generational, with the previous generation being 5 and the current generation being 7.
So SL3710 decodes as short-economy-latest generation, and the BL3710 — which will be down back on TAP's newest A320 — decodes as basic-economy-latest generation.
Moving back to the previous generation, TAP was using the SL3510 up front and the BL3530 down the back.
Why change? Well, for a start, the newer seats are lighter: just 8 kilos for the fuller-featured SL3710, says Recaro, which is impressive. But in addition, says the seatmaker, "the BL3710… shares spare parts with the SL3710, which minimizes maintenance downtime and costs".
And it's the kind of customised but modular family approach that seatmakers have been talking about for a while now.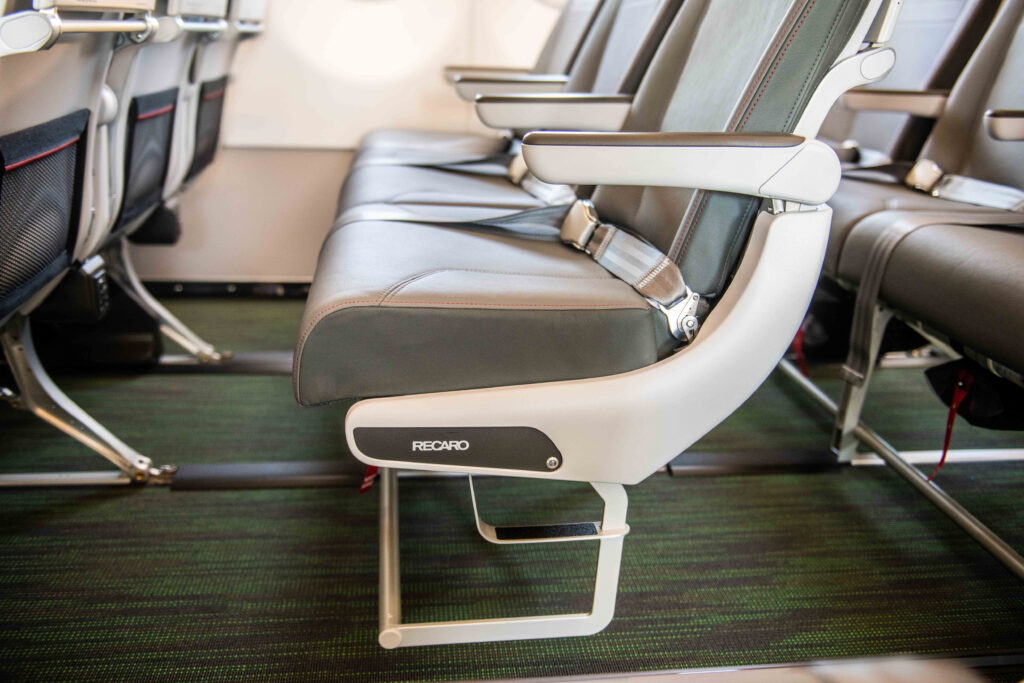 It will be fascinating to see if Recaro matches its success with the fully-featured longer haul CL3710, seen everywhere from flydubai's 737 MAXes to Japan Airlines' domestic A350s, with this new combination, or whether airlines decide that a split approach, like Geven's new SuperEco sitting below its previous Essenza, is more attractive.
Related Articles:
All images credited to Recaro Aircraft Seating