With Stelia's Opera outward-facing herringbone looking set to be a major part of the narrowbody longhaul future, the company is drawing on a wealth of design experience, including from its abandoned mid-2010s Comet widebody herringbone proposal, as it develops the product.
Over the past twenty years, vice president of sales and marketing for cabin interiors Emmanuel Regnier tells Runway Girl Network, "we have seen many herringbone models succeed and fail, many concepts being tested. With this vast knowledge, we are able to draw conclusions from past experiences and design better ones – lighter, with a composite structure instead of an aluminium one, and providing more private passenger experience, with doors on each seat."
The changes start at the very beginning of the design process, and how seatmakers begin to approach the product. "Today our main focus is on its functionality and how it can serve the passenger," Regnier tells RGN. "We don't only consider what seems to be the easiest solutions to implement. This is why ergonomic studies and Perceived Quality processes are present from the beginning of the conception."
"We also engage frequent flyers in the process and, drawing on their feedback, we improve the design." In addition, he explains, "we are constantly in search of new materials – new leathers, fabrics, patterns – to make our seats as soft and luxurious as possible to enhance the passenger experience for our business class travellers."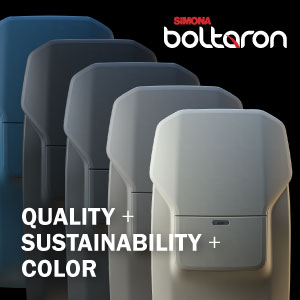 Seatmakers are also using virtual reality to display, collaborate and iterate options with airlines. As this technology has improved, it's no more the early '…and this is what your cushion would look like in red' sort of choices: rather, it's around amenities, customisations, shell shape, and the CMF — colour, material and finish — of the entire product.
The technology within the seat, too, is developing ever more swiftly. Beyond bigger and better screens, Regnier says, "we also want intuitive technology in the aircraft, such as inductive charging and NFC payments, which is getting onboard business class now as well."
Adding these options is not the headache it might once have been, thanks to the smaller footprint-per-screen-inch of newer and more miniaturised flatscreen monitor panels, and simplified ventilation systems.
With all this has come changes in certification and regulation, both in complexity and in familiarity. "Herringbone seats are considered under special conditions by the regulators, which makes the certification process more complex and the design constraints more significant compared to staggered seats," Regnier says. "This discrepancy is becoming more significant over the years. There have been some positive regulation changes as well — the best example from the past years is a green light for the three-point seatbelt to replace a more costly, heavier and uncomfortable airbag belt."
Of course, Opera isn't Stelia's first herringbone. Back in 2015, the company — then the newly named result of the merger between Sogerma and Aerolia — showed off Comet, a spacious herringbone that was, a year later, paused.
"The Comet concept was a significant innovation for Stelia – it was our first herringbone design, allowing different configurations with the same seat, during TTL versus cruise," Regnier says. "All the experience and knowledge which our teams have built on Comet have since been applied to Opera. It enabled us to make an incredibly fast start in the design process, because we already knew and had already tested which solutions would work and which would not for a herringbone seat — the withstanding challenge was to adapt it to a single aisle aircraft."
Half a decade ago, Stelia was spun out from its Airbus parent. In April, Airbus announced its intention to spin it back in again as an integrated aerostructures assembly player. There is, nonetheless, a fascinating and very valuable section of seat expertise at the company, and it would behove Airbus to ensure that the organisational changes enable further design innovation in the future.
Related Articles:
Featured image credited to Stelia