As the business aviation sector shows strong signs of recovery from the COVID-19 crisis — aircraft utilization is returning to 2019 levels and BizAv flying is attracting new first-time users — Collins Aerospace has observed that "connectivity is more important than ever" to operators, and that its LuxStream Ku-band tail-mount IFC solution, delivered in partnership with SES, is seeing market traction.
Collins launched LuxStream in the fall of 2019 and announced Dubai-based Vista Global as a launch customer. During a virtual EBACE media briefing on 11 May, the company revealed that a total of 18 aircraft were certified and flying with LuxStream as of that date, and most of them, 14, are based in Europe.
That's a worthy boast given that many installs were accomplished amid the pandemic, and that certain competitors have sought to frame the LuxStream narrative as being largely a US-centric solution.
With STCs secured by a cluster of MROs for the entire Bombardier Global series (VistaJet operates a fleet of Globals), as well as the Gulfstream G350, G450, GV and the G550 aircraft, Collins anticipates having about 40 LuxStream installs completed by the end of 2021, said Nancy Welsh, director, marketing, Information Management Services.
Not all of the 40 aircraft are VistaJet's. Collins has US-based customers, as well as other European-based customers flying with LuxStream.
"It has proved to be a very popular solution for us, and customers have given us very good feedback through the LuxStream installation," she said, noting that Collins offers a number of value added applications and services for connectivity customers, including a portal where they can log in and manage their account.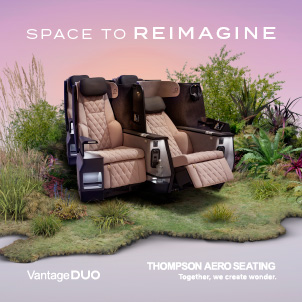 Committed to investing in technology that will revolutionize flight planning and how passengers stay connected, Collins will share more details at this year's NBAA show about how it is aggregating data, integrating it into operations and "synchronizing" with the flight deck for customers.
Asked if Collins intends to offer connected-EFB and Pro Line Fusion avionics applications with the high-bandwidth solution, management confided that the firm is indeed exploring how LuxStream can benefit the cockpit. As long as safety-critical items transmit over approved pipes, Collins is at liberty to explore "different bandwidths for different purposes".
Though Collins is enthused about LuxStream, the firm prides itself in offering customers a choice. It is also a VAR for Inmarsat's GX Ka-band-powered Jet Connex (JX) as well as Iridium solutions, and recently shared an update with RGN about its work on Iridium Certus satcom systems for BizAv and commercial.
Earlier this year, JX terminal provider Honeywell revealed that it has over 1,000 Ka systems in BizAv today, so Collins has some catching up to do with its later-to-the-scene LuxStream. Each service has a unique value proposition. But, according to Collins, Inmarsat JX demand continues to be equally as strong as LuxStream.
New BizAv users include passengers who, pre-pandemic, flew business and first class on commercial aircraft, but who have made the switch to corporate flying for safety and comfort. They will all expect to be connected.
Strong demand for inflight high-speed Internet is also translating into more business for Collins' cabin solutions, according to Peeter Sööt, who serves as senior director, avionics marketing. He said the company's popular Venue cabin management system — one of the most fielded systems of its kind in the industry with 1,500 installs — was fitted to aircraft as part of "40 full cabin upgrades" last year.
A new and improved Venue graphical user interface (GUI) is now available for aftermarket installations, simplifying cabin controls and offering commonality of interfaces across cabin touch panels and the system's mobile device app.
Now that BizAv is quickly recovering, including in fractional ownership and charters, Collins is seeing more activity for retrofits of interiors. And it expects that aircraft build rates will inch closer to normal in 2022 and beyond, especially in heavy jets. Collins' content will feature on Dassault's new 10X bizjet.
Related Articles: