KLM Royal Dutch Airlines is now offering Viasat's high-speed inflight connectivity service to passengers on two Boeing 737-800s and will fit another 16 737-800s with the system by the end of the year. The installs are part a larger agreement with Viasat that will also see 21 of KLM's Embraer E-195 twinjets equipped in time.
Installing a broadband IFC system onto any aircraft is always a notable occurrence. After all, onboard Internet is considered a key amenity for modern travelers. But installing a system amid a global pandemic — and factoring in lockdowns, travel restrictions and the winter holidays — can add material complexity to the equation.
Viasat's airline customers handle the installations, whether in-house or via their select MRO partners. The company's high-capacity Ka-band satellite solution takes roughly three days to install on a 737, inclusive of the antenna install atop the aircraft fuselage.
Don Buchman, Viasat's vice president and general manager, commercial aviation, tells Runway Girl Network that the Carlsbad, California-based satellite operator and aero ISP was able to support KLM throughout the process, remotely.
With several years worth of history and knowledge in Ka-band satcom installs, the process went "almost perfect", confides Buchman. "We can do most of it almost entirely remotely from a support perspective."
He adds:
They can do it almost on autopilot.
All KLM aircraft earmarked for the Viasat IFC system operate European flight routes only. Having provided the Internet service free-of-charge starting 22 April for a week, KLM will initially offer three inflight connectivity packages — messaging, surf, and stream — on all Viasat-equipped aircraft, which transmit data over Viasat's high-capacity KA-SAT satellite.
The messaging option will give all passengers 30-minutes of free text messaging via WhatsApp, Facebook Messenger, and WeChat, while the higher-bandwidth surf and stream options can be purchased, though we await clarity on the price points for KLM's short-haul operation.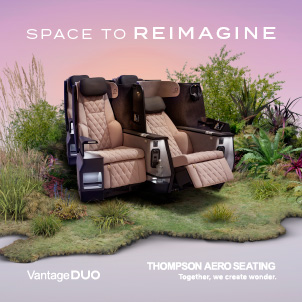 Offering three tiers of connectivity service, including a free messaging tier, is intentional, and brings a level of consistency to passengers. While the Air France short-haul fleet offers Global Eagle Ku-band connectivity, Air France-KLM's longhaul operation has been installing Gogo's 2Ku broadband connectivity solution to Airbus A330s and Boeing 777s.
Nearly 80 widebodies are understood to have been fitted with Gogo 2Ku to date. And these aircraft offer three tiers of Internet service to passengers.
Notably, given that Air France-KLM's Boeing 787s are fitted with Panasonic Avionics' eXConnect Ku-band connectivity service, the airline holding company now technically has knowledge of no fewer than four inflight connectivity systems.
"Being Internet connected when on-the-go is a top priority for our customers. That's why we're working with Viasat to specifically define and tailor an inflight Wi-Fi approach that meets current and future IFC requirements on short- and medium-haul European flights," says KLM executive vice president, customer service Boet Kreiken in a statement.
"We believe this new collaboration will enable us to deliver more memorable connected experiences when passengers fly on Viasat-equipped KLM aircraft."
As passengers return to the skies, "they'll come back to this great new service", notes Buchman to RGN.
Related Articles:
Featured image credited to KLM