NXT Communications Corporation has made strong headway in its development of a modular phased array antenna for airlines. But the commercial aerospace markets are presently taking a back burner to pressing defense initiatives, NXTCOMM chief commercial officer Stephen Newell tells Runway Girl Network.
The company, which collaborated with Georgia Tech Research Institute to use GTRI's patented fragmented aperture technology, is gunning to commercialize the technology to revolutionize connectivity in aero and other mobility markets with affordable products.
In anticipation, it has successfully validated its flat-panel Ku-band antenna design with Georgia Tech. "The demonstration array was a fully functioning transmit array sufficient in size to test out beamforming, combiner networks, digital control of the RFICs and effectively all the items of the full-scale products, albeit in a smaller form factor. Satellite transmission was not part of this first test regime," explains Newell of the testing
"The subarray efficiency exceeded 87% aperture efficiency, measured in an anechoic chamber, as compared to an ideal antenna of the same size dimensions. In the future we expect this efficiency to mirror our 90% projections as the relative size of the aperture itself decreases overall efficiency as compared to our standard 25x25cm subarrays. All in all, the demonstration array performed as expected, and we couldn't be happier with the results."
Next up, NXTCOMM will build the full-size subarray prototypes and test them in the spring. "Once the subarrays are complete, we will fashion four subarrays into a 50x50cm array. We won't start the detailed design of the AeroMax antenna until these subarrays are fully production-ready, and as it stands with the market at present, the commercial aerospace markets are taking a back burner to pressing defense initiatives," says Newell.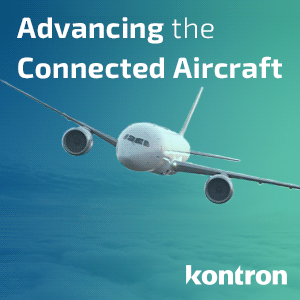 The AeroMax hardware is ultimately expected to enter the commercial sector on single-aisle aircraft. But NXTCOMM's rough target of "end of Q4 2021" for a certified Ku product for commercial airlines has moved to the right.
"COVID-19 has affected every aspect of our business, which is pretty much the same with everyone. Parts shortages have been rampant and challenges meeting with customers have been numerous. Despite these hurdles, we delivered a fully functional demonstration subarray that proved out the design – which has greatly reduced our risk moving forward. Being traditionally involved in antenna development activities that normally take 24 to 36 months, we were able to design and test our transmit array in 12 months – to our knowledge that's not been done before," says Newell.
"It's been a great run, and we are pleased with the results and the market response that we have achieved. Considering current market realities, timing product availability by the end of Q4 2021 would not be ideal since airlines aren't ready to accept it for GEO Ku and LEO Ku is not yet ready for prime time. For now, we are sharing those schedule and design efforts only with our development partners."
NXTCOMM continues to believe new LEO constellations will change the game for introducing electronically steerable antennas in commercial aviation. And it sees promise in every LEO constellation, according to Newell.
The investments are huge and are mostly coming from outside the traditional satellite market. Each has strengths and focus areas, and none are in a position to run away with the market. We have many development relationships with LEO, MEO and GEO operators, all of which can benefit from AeroMax products.
Asked by RGN if NXTCOMM has engaged in discussions with aero ISPs about AeroMax adoption as yet, and if it is still prepared to go direct to the market if necessary, the NXTCOMM CCO says: "We are engaged with many development partners in a range of aerospace markets and see working with existing hardware and service providers as a key step to validate our offerings and achieve a foothold in the market faster. A direct market approach could be the future, but for now we are focusing on those customers needing NXTCOMM products as part of their portfolio."
NXTCOMM has announced the formation of a new Board of Directors to help guide the next phase of its growth and commercial market introduction.
Related Articles:
Featured image credited to NXTCOMM