Once the aviation industry begins its recovery phase, real-time entertainment appears poised to explode in-flight. People have grown accustomed to the multi-screen experience at home, and comfort TV is certainly having a moment in living rooms around the world. That will surely set expectations for the onboard experience in the years to come.
For over eight years, Panasonic Avionics has offered an IPTV service to global airlines through a partnership with sports and events company IMG. A new five-year pact gives Panasonic all international inflight rights to IMG's popular Sport 24 and Sport 24 Extra channels, and enables it to exclusively provide the channels to any airline, regardless of the IFE system or connectivity network they use.
The deal "basically places us as a gatekeeper exclusively for Sport 24 channels for the inflight market", explains Dominic Green, director media services at Panasonic Avionics. He notes that there are "no other globally available live sports channels".
Consequently, Panasonic is now working with other inflight connectivity providers to ensure they can pick up its live sports streams and feed on behalf of their airline customers. "We're basically doing airside integration for other connectivity providers, so they can feed them [Sport 24 and Sport 24 Extra channels] over their network," notes Green.
The service can be streamed wirelessly to passengers' own devices or offered via in-seat IFE screens, when the latter are capable.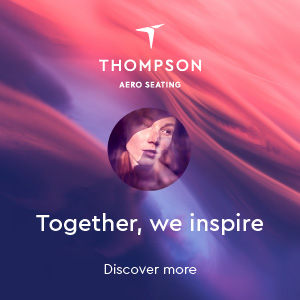 Green tells Runway Girl Network that Panasonic is talking to all the usual players in IFC, effectively anyone who wants live sports as part of their offering, which is a "huge and growing market".
Panasonic expects to forge relationships with aero ISPs after ensuring they have the right tech and security to protect the sports streams. But the company is not opposed to working with rivals in the embedded IFE space, with Green noting of course that Panasonic has a number of airline customers with a mix of IFE and IFC providers.
Once agreements are reached and Panasonic hands over the streams to the IFC providers, in theory those streams are available for whatever IFE hardware is on board, says Green.
This is about providing an amazing experience consistently across whatever the underlying IFEC platforms are.
Richard Wise, who serves as IMG Media senior vice president, content and channels, often describes Sport 24 "as the best sports channel in the world" because it offers everything from the UEFA Champions League, Premier League, NFL, NBA, NHL and Tennis Grand Slams to Golf Majors and the Ryder Cup, the NRL, and more. It broadcasts 24-hours a day, 365 days a year.
"We follow the sun, picking the best from Australia, the US and Europe and obviously Asia as well, and that's how we do it, how we schedule it, so basically it suits all passengers," Wise tells RGN.
The service has always been popular with airline passengers. Green confides that Panasonic sees "crazy usage numbers" for live TV around big events, like FIFA World Cup or the Super Bowl, with usage rates even hitting "over 100%" at times since passengers are watching one game on the seatback screen and another on their personal device. On average, sports channels see roughly a 30% usage rate.
But live television is clearly seeing fresh momentum now, not only because folks want to know what's going on at such a critical time in our world, but because of the huge pent-up demand for sports, which were sidelined for a spell by the coronavirus pandemic. "When sports restarted in July and August, we saw a massive increase in all the sports channels, and news is kind of similar," says Green.
Moreover, notes Green, the COVID-19 crisis accelerated changes to Hollywood's windows of release for movies, which in turn has elevated the profile of live television.
Could offering live TV buy cash-strapped airlines some time before having to refresh their cached movie content libraries? And might IFE spend be preserved for live TV steams over blockbusters, especially given the new movie paradigm? "I think we'll see an adjustment of budgets so live TV is more fairly represented in that lineup," suggests the Panasonic executive.
IMG's Wise, meanwhile, notes that bringing movies and other cached content on board is still largely a high-touch endeavor and involves quite a bit of human involvement and lead time, whereas live television is "touchless". And live TV is "the one thing you can't bring on board, the one thing you can't pre-record".
He adds: "You wouldn't have two big companies investing in this if we didn't believe in the future of aviation…We do believe that the market is going to come back strong."
The intent of Panasonic's new agreement with IMG was not just to extend its 8-plus year contract with IMG for the content but to support "a more collaborate effort for the IFEC industry" in general, says Green. He adds that customers have "every right to select different IFE and IFC solutions" and Panasonic wants to provide a "consistent digital and media experience regardless of the technical platforms".
Related Articles: