Following a competitive strategic review process, inflight connectivity provider Gogo has entered into a definitive agreement to sell its Commercial Aviation (CA) business to satellite operator Intelsat for $400 million in cash.
Gogo, which counts Cathay Pacific, Delta Air Lines, British Airways, Virgin Atlantic and other carriers as customers for its 2Ku-branded Ku-band satellite connectivity solution, said its board of directors has approved the transaction.
The sale is expected to close before the end of the first quarter of 2021, subject to customary closing conditions and certain regulatory approvals.
Intelsat, which filed for Chapter 11 bankruptcy protection in May, expects to finance the transaction using cash on hand and borrowings under its $1 billion debtor-in-possession credit facility. The company has received approval from the US Bankruptcy Court for the Eastern District of Virginia, Richmond Division to complete the acquisition. It intends to operate the Chicago-based Gogo CA business as an independent unit, led by current Gogo CA president John Wade.
Gogo CEO Oakleigh Thorne in a statement said the combination of Gogo CA and Intelsat "will create the leading vertically-integrated IFC business in the world, with the additional resources and scale to support continued growth and innovation as demand for commercial air travel recovers." Intelsat is among the satellite operators which provide Ku-band service to power Gogo CA's 2Ku connectivity for airlines.
Thorne previously suggested that the COVID-19 crisis would be a catalyst to consolidation in the industry. He later revealed that Gogo had retained advisors and launched a formal process to evaluate its strategic options for Gogo CA. Last week, reports surfaced that an agreement with Intelsat was in the works.
The $400 million sales price represents the upper end of analysts' valuation for the Gogo CA business. William Blair, for instance, estimated the value at between $100 million and $400 million.
"Even when assuming about 200 aircraft retirements and half of Gogo's 2Ku aircraft under contract with Delta may switch to Viasat, Gogo's operational aircraft is still about 2,700 planes. This is still considerable scale compared with competitors Panasonic (2,105), Viasat (1,418), Global Eagle (1,010), and Inmarsat (587) as of the end of 2019," noted William Blair in a report earlier this month.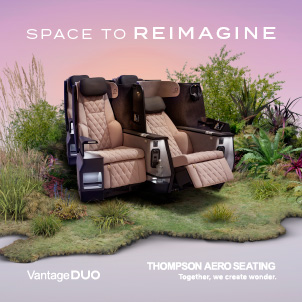 Gogo, which will remain a public company, said it will use the proceeds from the transaction to improve its net debt position and continue to invest in growth opportunities such as Gogo 5G, its forthcoming next generation air-to-ground (ATG) connectivity solution.
"With greater financial flexibility, including a lower cost of capital over time, the new Gogo will be better positioned to enhance the scale and profitability of its Business Aviation (BA) segment, which is uniquely well-positioned in an attractive and underpenetrated market," it said. The BA segment has enjoyed sales momentum, even amid the pandemic.
Notably, as part of the transaction announced this evening, Gogo will enter into a 10-year network services agreement under which Intelsat will have exclusive access to ATG services for the CA market in North America, subject to minimum revenue guarantees of $177.5 million.
ATG-based connectivity is core to the Gogo BA business, but is also fitted to commercial narrowbodies and regional jets operated by US legacy carriers.