Will aircraft cabins be reconfigured in response to the coronavirus pandemic? That's the question that a number of industry stakeholders sought to answer during this week's RedCabin webinar on aircraft cabin safety. Executives from United Airlines, Etihad Airways and design house tangerine suggested that carriers are more likely to alter services, soft goods and hygiene standards in the short-term, as many are now doing, rather than implement significant hard product changes.
Their discussion is timely. In the last few weeks, Runway Girl Network has seen no fewer than four new economy seat divider solutions emerge to better facilitate onboard social distancing and privacy, including from Italian seatmaker Aviointeriors, French firm EarthBay, UK-based Factorydesign and California-based Aerofoam Industries. Three of the four concepts require that a seat be blocked.
"Of course, those who are knowledgeable in aviation will realize that this is not without some challenges to achieve," said Factorydesign, "but the challenges are not insurmountable and there are clear privacy advantages in a future, non-COVID world, particularly for product offers such as economy plus and short haul business class."
Aircraft interiors behemoth Collins Aerospace also told RGN that it is presently helping airlines "explore seat configuration changes with existing equipment, and new measures to deal with social distancing requirements".
While the RedCabin webinar participants did not address the aforementioned ideas specifically, they tackled the notion of reconfiguring aircraft in direct response to the COVID-19 crisis. "Airlines have spent a lot of money to increase the capacity on aircraft. I don't think that removing seats is a good interim solution because it requires a lot of FAA certification on weight and balance, and it's just an added cost," said United Airlines manager IFE and Wi-Fi tech John Prieto.
He suggested that other procedures would be easier to implement immediately, such as eliminating touchpoints at the airport by relying on technology, and offering personal protective equipment (PPE) to passengers. "I have to see it from a technological perspective. I think the process of preventing or reducing the amount of germs brought on the aircraft starts at the airport," he said, noting that airlines have introduced apps for passengers to book and manage their flights.
The United executive believes there will be less human interaction and less touching of airport kiosks going forward. Indeed, United is rolling out a new touchless kiosk, which allows passengers to check-in and print bag tags without having to touch the screen.
Air transport industry-owned IT specialist SITA, which supplies self-service kiosks to airlines and airports around the globe, is also expecting changes, with CEO Barbara Dalibard suggesting in a separate SITA webinar this week that: "We are working towards a vision where your mobile will become your remote for travel."
A touchless boarding experience, whereby passengers scan their own boarding pass (increasingly on their mobile device), is already in play. "Once you scan yourself, and you're walking down that jetway," said Prieto, airlines can provide hand wipes and masks.
He also predicted that fogging aircraft for disinfection would continue between flights and that other steps will need to be taken by manufacturers to boost cabin hygiene, including around air filtration via HEPA filters. But, he said:
I don't see how more airlines will sink more money into a whole reconfiguration at the moment. One positive thing that we have with most US airlines is the ability to switch aircraft, depending on the load.

Usage of aircraft is going to be better than reconfiguring the aircraft … If we want to keep the airlines alive, we have to make do with what we have.
To this end, Prieto suggested an approach to cabin improvements which would rely on enhancing existing equipment in the cabin. "Instead of reinventing something let's look at something that you can 'plug and play'. For example, with LED lighting, can we add UV light in a button that says 'clean'?" He favors quick enhancements to the cabin, without having to reconfigure.
It should be noted that United is presently working to space passengers apart on board its aircraft, at least through 31 May.
During the webinar, Etihad Airways VP engineering Bernhard Randerath agreed with Prieto that significantly altering cabins to reduce capacity may be impractical, but noted that the level of occupancy initially will be low as industry recovers. "I am sure that we will fly initially with a reduced load about 60-70% and when you have such low loads you need to think about how you do that."
He suggested that the customers who are most likely to return first – business travelers – will be willing to pay for existing cabin options that offer greater distance between passengers, such as premium cabins. "They will pay more and will have the authority to go on board and see what the best option for them is.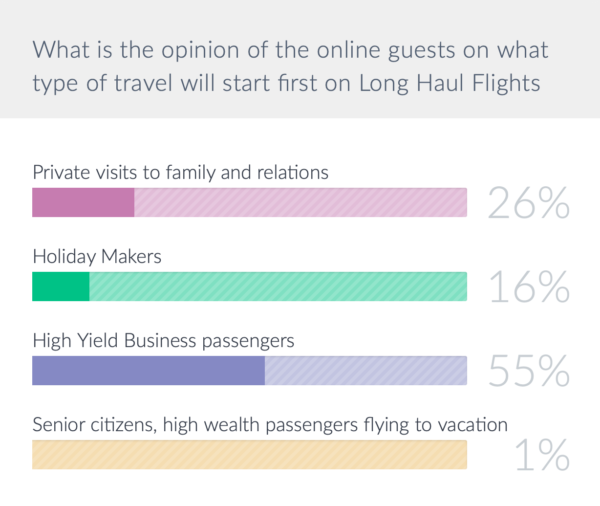 Interestingly, Etihad's Randerath believes there might still be some use for common areas in the cabin, like lounges on board, despite the trend for passengers to avoid proximity with others. "It depends on what social area," he said. "It still has the right to exist because people will understand that there will be rules. We will have social areas in a new way…"
In any case, he suggested, airlines will not want to alter their LOPAs to eliminate these zones initially. "It depends how long the COVID will be around. If you are talking about 2-3 years, changing the whole LOPA may not make sense."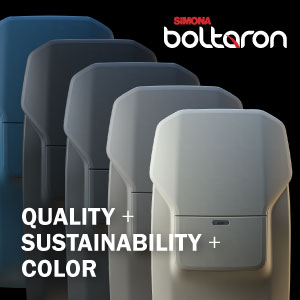 Randerath also suggested that touchless cabin features will become increasingly important. "Everything should be touchless," he said, specifically mentioning touchless lavatories. However, he believes industry needs more confirmation of the effectiveness of using UV light as an antiviral tool in general before embracing it fully as a cleaning solution.
Matt Round, chief creative officer at tangerine believes the changes adopted will vary with time. "What is more likely to happen in the short-term is changes to the cabin routine, cabin soft product, and PPE for passengers and the staff, because these can be done much quicker than changes made to the aircraft," he said.
"We know how long it takes to certify something under normal conditions. I think changes to the aircraft won't happen in the short-term. In the longer term, it's going to be about trying to identify the problems that we are trying to solve. There's been talk about taking out middle seats, which isn't going to stack up economically. Everybody knows that social distancing is about two meters." He noted that there is only half a meter between two passengers in business class cabin. "There will be some big challenges for the long term."
While some airlines have pointed out that a mandated reduction in aircraft capacity through imposed measures like leaving the middle seat empty would be devastating to them financially, the number of passengers flying initially might still leave plenty of room to spread out.
"Though we cannot guarantee that all customers will be seated next to an unoccupied seat, based on historically low travel demand and the implementation of our various social distancing measures that is the likely outcome," United's online statement reads.
Whether passengers will want a more isolated experience, with screens and dividers employed – and whether any airlines will accommodate such – remains to be seen.
Related Articles: