Inflight connectivity service provider Gogo believes the COVID-19 crisis, which has depressed revenue across aviation, has created an environment that will serve as a catalyst for industry consolidation.
The Chicago-based company, which counts Delta, British Airways, Virgin Atlantic and other airlines as customers, reckons that consolidation could take a few different forms, including vertical integration with satellite operators who want to enter the aviation market directly or horizontal integration with another inflight connectivity service provider to drive scale.
Another way in which consolidation could be realized would be if "an aviation company" opted to further integrate connectivity into its product portfolio, Gogo president and CEO Oakleigh Thorne said today during an earnings conference call to report a first quarter net loss of $84.8 million, a roughly five-fold wider net loss than recorded in the year-earlier period. Presumably airlines would fall into this final category.
IFC stakeholders have predicted consolidation for years, but with the exception of smaller hardware-focused M&A activity, the industry continues to see several service providers duking it out for aircraft tails to support onboard Internet for passengers.
Today, Gogo's Thorne suggested that aviation remains an attractive market for satellite operators and service companies in the long-term. Indeed, it could be argued that connectivity, including on aircraft, is now more important than ever, given our penchant for remote working, learning and socializing. With revenue down in aviation, he said, it "accentuates the issue of scale". Gogo wants to make sure its  shareholders "are beneficiaries of that consolidation".
Vertical integration has certainly been a differentiator for satellite operator Viasat, which competes with Gogo in the inflight connectivity space. Viasat designs and builds its own IFC systems and terminals, and provides connectivity service directly to airlines. Its Ka-band satellite-supported solution – found on JetBlue, American Airlines, United and others – competes with Gogo's 2Ku-branded Ku-band offering.
Share in the pain
Like many companies in aviation, Gogo saw demand for its services fall sharply in March due to COVID-19 "and has deteriorated further", said Thorne. In its business aviation unit alone, some 30% of Gogo's 5,700 air-to-ground (ATG)-based inflight connectivity accounts took some action to reduce their spend with Gogo.
Given the unprecedented challenges, Gogo has been working to reduce costs. On 4 May, it furloughed roughly 54% of its workforce. Gogo is also asking its satellite partners to "share in the pain" by reducing costs "commensurate with the reduction in capacity we need to satisfy demand", said Thorne. He said the firm is close to completing the terms with more than half of its satellite partners, and is "very close" to meeting terms with the rest.
"We will obviously favor partners in the future who help us today," he said.
Satellite operator SES, which provides service to Gogo, Global Eagle and other IFC providers, said last week that it is in talks with its mobility clients "to find the right balance" between supporting them through these challenging times, whilst "serving the needs and objectives of our own business".
Delaying installations
Airlines, which are suffering mightily amid the pandemic, are also amenable to finding ways to reduce costs. For Gogo, there is some upside – it can delay installation of connectivity systems tied to older deals which were heavily subsidized by Gogo. Its negotiations with airlines have been positive and Gogo now has "very few installs planned for the rest of this year", said Thorne.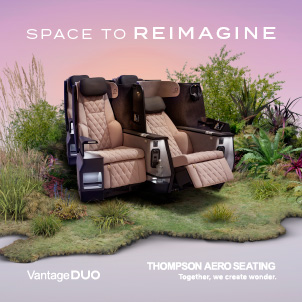 Because installs have been delayed, Gogo has sought to delay purchases around the inventory associated with the installs, which "required extensive negotiations with suppliers where we had preexisting orders", noted the Gogo CEO.
Despite the fact that it is facing significant challenges, Gogo has not stopped innovating. Interestingly, Thorne revealed today that Gogo has developed the ability to cost-effectively convert its 2Ku antenna – produced by ThinKom Solutions – into a "2Ka antenna", which could open up the Gogo 2Ku fleet to Ka satellite operators in addition to the present Ku satellite operators.
"Our multi-orbit orbit, multi-spectrum position is important to customers as well as to potential merger partners," he said, noting that 2Ku was demonstrated with OneWeb LEO satellites earlier this year.
Image credited to RGN contributor Jason Rabinowitz
Related Articles: