Over the last month, as movie theaters closed due to the coronavirus pandemic, consumers have been able to access certain new movies at home at the same time as their scheduled release in cinemas. While the biggest blockbusters have been delayed until theaters reopen, some great titles are presently available for digital rental.
That's good news for those seeking diversion during this stay-at-home period. But if studios were to stay the course with this model, even for non-blockbusters, and if consumers grow to expect digital movie debuts, it would have an impact on the airline passenger experience.
Why? Major Hollywood studios have traditionally adhered to a windows-of-release structure for movies. After the lucrative theater run, airlines can license films to broadcast on studio-approved inflight entertainment systems before they're made available by studios to the home viewing audience. Cruise ships and the US military can also avail of fresh-out-of-the-theater "early window" content during this roughly three-month period.
While the early window of release enjoyed by airlines and others has been shrinking or under threat of such for years, it still plays an important role in driving positive passenger experiences on board aircraft. To wit, outside of the moving map, early window movie content is usually the most popular content viewed on IFE screens. And blockbuster movies are the most expensive to license.
In-seat/seatback IFE has long been considered a comfort factor on long-haul aircraft, and many long-range narrowbodies. The ability to showcase early window movies is certainly not the only reason why most commercial widebody aircraft roll off the line with embedded IFE systems today. But it is among the reasons.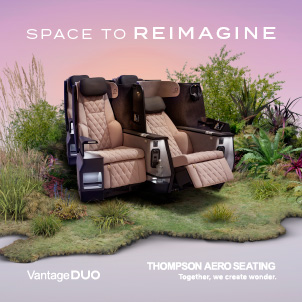 Universal Pictures, the studio arm of Comcast-owned NBCUniversal, was the first major Hollywood studio to release new movies concurrent with what would have been their local theatrical release dates amid the pandemic, beginning with DreamWorks Animation's Trolls World Tour. "Given the rapidly evolving and unprecedented changes to consumers' daily lives during this difficult time, the company felt that now was the right time to provide this option in the home as well as in theaters," NBCUniversal explained in a statement on 16 March.
Other studios quickly followed suit. Columbia Pictures set the sale date of Bloodshot on EST (electronic sell through) for 24 March. Warner Bros. announced it would make the release of The Way Back available via digital EST in the US and Canada in order to meet increased demand for in-home entertainment options in light of the global health crisis. Both studios insisted they are still committed to theatrical exhibition.
"With audiences largely unable to view films in theatrical release under current circumstances, we have decided to provide the alternative of early digital ownership of our currently released titles to people looking for great entertainment options," said Toby Emmerich, chairman of Warner Bros. Pictures Group. "So, while we remain big fans of the theatrical experience and hope audiences are able to return to cinemas in the near future, we understand that these are challenging times and offering this option simply makes sense."
For stakeholders that provide wireless-only entertainment solutions for passengers' own devices, the studios' temporary pivot to a day-and-date release model for some content amid the pandemic might be music to their ears if it hints of things to come (in the context that absolutely nobody is celebrating in the current environment).
Some prominent wireless IFE and connectivity providers – and indeed airlines – have long pressed studios to relent and allow passengers to stream early window content to their PEDs. In years past, those providers that jumped the gun – and claimed they were able do so already – were quickly put in their place by the major studios.
Given that airlines are slashing capacity, grounding fleets and seeking economic relief – and largely not refreshing content in the chaos – the studios' pivot is probably not on their radar screens in a meaningful way. To be clear, given the current environment, entertainment is likely the least of their concerns right now. But any material shift in the windows of release could color IFE decision-making in the future.
Of course, that doesn't even begin to address what a permanent shift in the model would mean for cinemas, which have suffered massive financial losses due to having to shutter during the pandemic. The National Association of Theater Owners (NATO) is now warning that shorter theatrical release windows reduce home video revenue.
"With movie theaters shut down due to the COVID-19 pandemic, studios have accelerated home release for some titles that were already in theatrical release when the industry shut down. Without theaters available, the release window was temporarily irrelevant for those movies," said NATO in a 14 April statement, noting that an Ernst & Young study shows shorter release windows cost studios money in the home market.
Even though the vast majority of the world fleet is grounded, the same technically holds true for airline PaxEx. The model currently being employed by studios effectively smashes the value of the early nontheatrical window for some non-blockbuster movies.
In its statement, NBCUniversal said somewhat vaguely that it will "continue to evaluate the environment as conditions evolve and will determine the best distribution strategy in each market when the current unique situation changes".
US President Donald Trump said theaters will be among the first large venues to reopen with "strict physical distancing protocols" under Phase 1 of the administration's Opening Up America Again plan.
NATO, meanwhile, believes that the unique circumstances posed by the coronavirus pandemic "do not signal a change to the theatrical release model".
But all eyes are now on the studios for clarity on whether this will, in fact, be the case in a post-pandemic world.
Featured image credited to John Walton