Iberia generally runs its spartan fleet of Airbus narrowbodies, replete with 28" pitch in economy and underwhelming Eurobusiness, between the two European mega-airports of Madrid and London Heathrow. But once a day it runs a widebody jet, typically the Airbus A340-600, on the route. Timed to land in London at 1700 and return to Madrid a few hours later full of business travelers and connections, it is a great way for the airline to make a little money off of a plane that would otherwise sit dormant.
For my purposes, though, this presented an easy and inexpensive way to fly aboard the world's second longest passenger jet, which is popular among aviation geeks. The basic economy ticket was booked on Iberia.com for $70US. Advance seat selection, to guarantee a view of the wing, added another $12US.
Pro-tip: the airline regularly runs its newer, three-class widebody jets on the route. But it sells them as a two-class airplane. The airline's long-haul premium economy seat can be selected either as part of a more expensive bundled fare (+$35US), or as an add-on to a basic ticket. I declined.
The adventure began several months later in Madrid's sprawling and stunning Terminal 4, having arrived on a mundane Iberia Express flight from Amsterdam that morning. Since London is not in the Schengen Area, the flight goes out of the international satellite terminal, 4S. The journey to the terminal is quite lengthy, involving a myriad escalators and trains and lots of walking.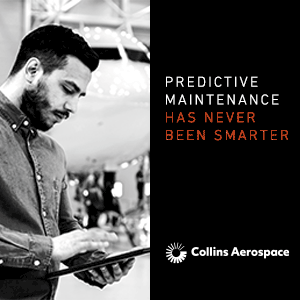 With boarding only 30 minutes away and our aircraft still en route from Mexico City, an on-time departure seemed improbable. Yet while loitering by the gate I repeatedly heard agents tell folks the flight would be on time, despite an obvious lack of an airplane at the gate even as the boarding time came and went. The delay was never mentioned on the ground.
To Iberia's credit, once the aircraft appeared it was offloaded, serviced, and reboarded in stunningly little time. We were airborne only 34 minutes behind schedule.
Today's seat was 22A, located ahead of the wing in the first of two standard economy cabins. It is configured in a 2-4-2 layout, with 31" of pitch and 18" of seat width. Recline was consistent with a long-haul jet: enough to be comfortable, at least for a while. There was no footrest. Each seat had an international power port under the seat, and a USB port in the inflight entertainment screen (IFE).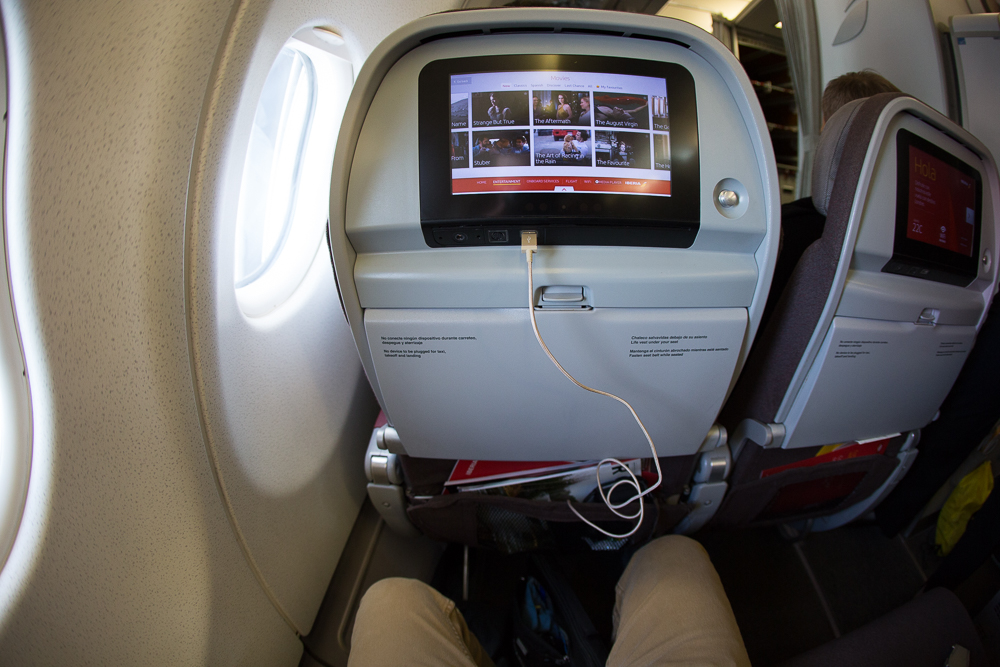 While waiting for the plane to finish boarding I fired up the Panasonic Avionics-driven touchscreen IFE system. It had all of the usual content trappings: a modest selection of movies, a smattering of 1-3 episodes of popular TV shows, plus games and a moving map.
The embedded IFE system was, predictably, stocked far better than the carrier's Immfly wireless IFE service I had used on the inbound flight from Amsterdam that morning.
Compared to other carriers, the selection depth was average. I watched a full movie.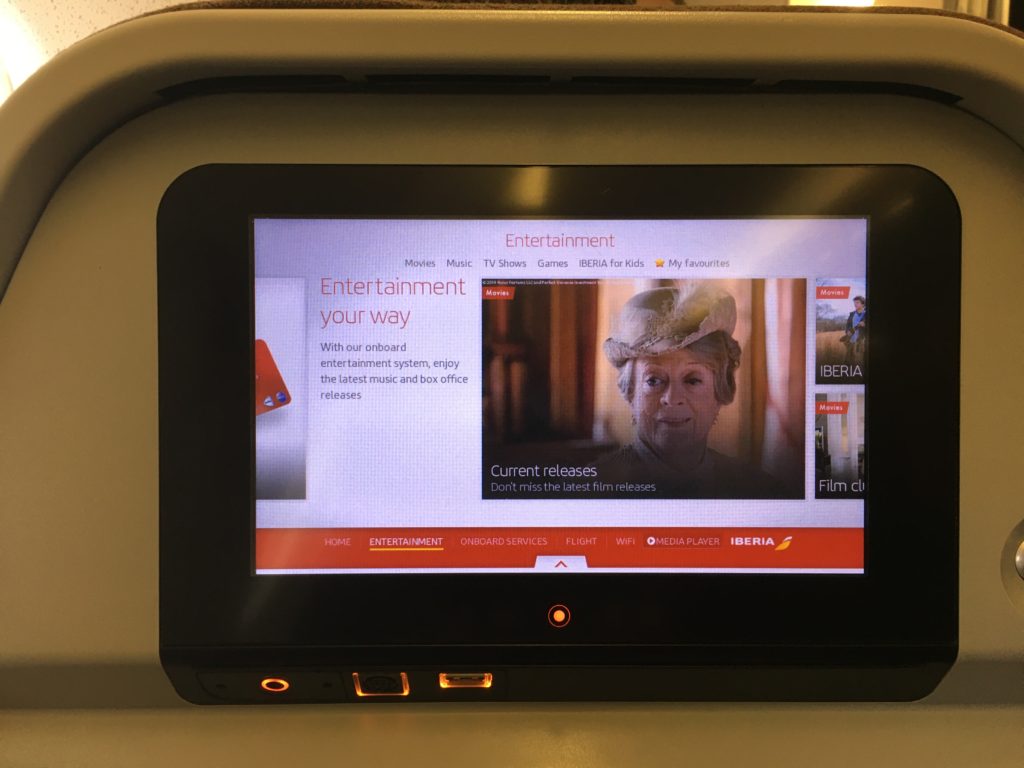 The aircraft is outfitted with inflight Internet via Sitaonair, using Inmarst's L-band SwiftBroadband satellite service. But buyer beware: marketed as time-based on the log-in splash screen, the packages are actually data-based.
For example, the one-hour package for 8.99€ is capped at 40MB, while the 29.99€ "full flight" package tops out at 200MB. Either is easy to blow through if you are not paying attention, and it was not clear if the service simply shuts off or begins to levy heavy charges once expended.
I didn't pay up to find out, though I wish I had.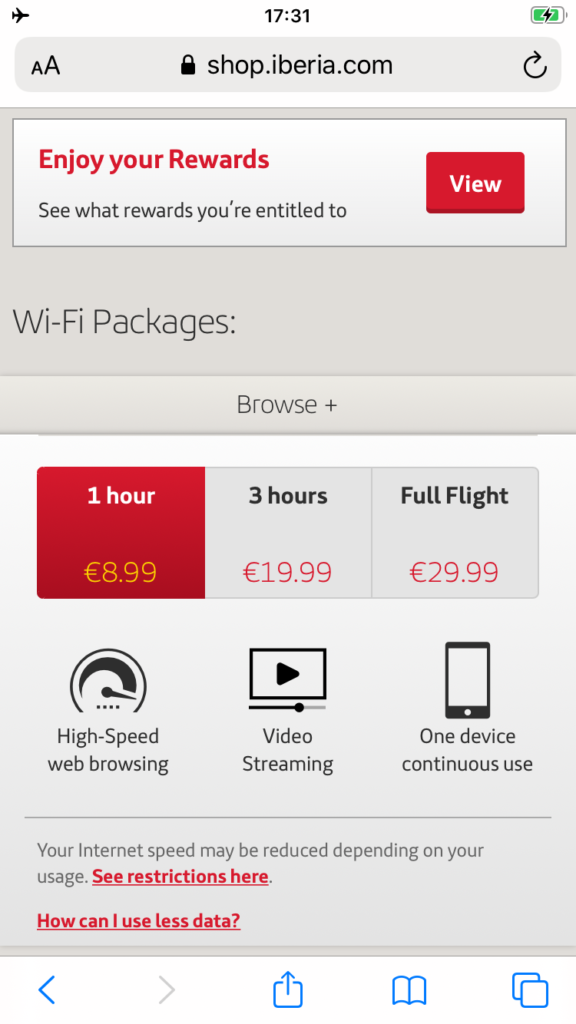 Flight crews trundled down the aisles midway through the flight, offering a selection of buy-on-board food and drink. Unlike my previous Iberia flight, which offered no menu and apathetic service, crews were attentive and had menus at the ready. I parted with a reasonable 6.50€ for a yummy tapas box of cured meats and breadsticks.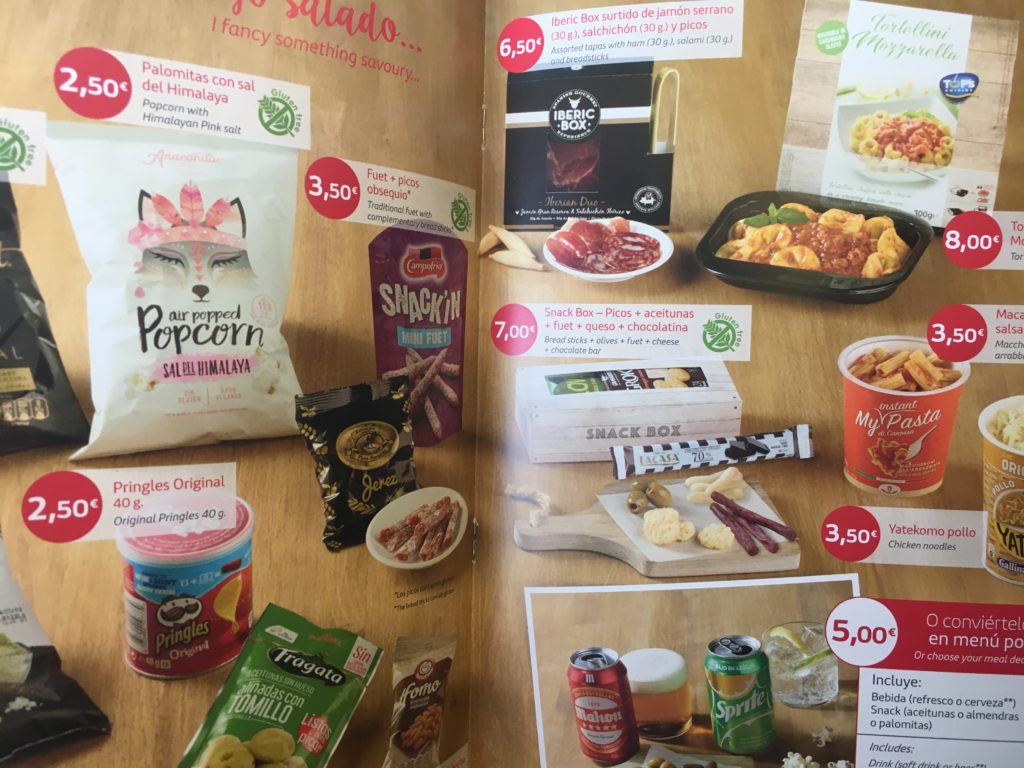 The experience continued to cement my support of buy-on-board versus free meals for all, at least on flights under three hours. I especially appreciated Iberia's portion size to pricing ratio: I have seen similar options sell for 50% more on other carriers.
The flight landed only 13 minutes in the late at Heathrow's T5.
Overall, it was an enjoyable experience that I'd be happy to repeat on the two-hour flight. I would imagine regular business travelers and Iberia elites love it too, with its superior passenger experience instead of the otherwise dull narrowbodies typically on the route.
If only they were all that pleasant.
All images credited to the author, Jeremy Dwyer-Lindgren
Related Articles: