International airline clients of Panasonic Avionics' Ku-band satellite-supported inflight Internet service are flipping the switch on their IFC systems when flying into and over India now that the entertainment and connectivity giant is availing of Nelco Limited's license with the Indian government.
A number of non-Indian airlines have already started to "go live" with Internet for passengers, a Nelco spokeswoman told Runway Girl Network after Panasonic issued a statement confirming an agreement with the Tata Enterprise company which sees Panasonic become the first satcom provider to begin IFC operations under Nelco's Department of Telecommunications license for inflight and maritime connectivity.
Panasonic is using capacity from the GSAT-14 satellite, which was constructed by India's ISRO (Indian Space Research Organization), and launched in 2014, to ensure that passengers on board Panasonic-connected flights can enjoy a full suite of connected services while flying over Indian airspace or into India.
Nelco does not have an exclusive partnership with Panasonic. However, together with Panasonic, it appears to have first mover advantage, despite the stated plans of multiple other providers. "There were many learnings from our partner Panasonic," said the Nelco spokeswoman. Panasonic also beat its competitors to the punch in China, where it was the first to receive the green-light to provide service in and over China.
Panasonic provides IFC on 2,500 aircraft. It counts Emirates, Lufthansa and United Airlines among its customers for the Ku-band satellite-powered service.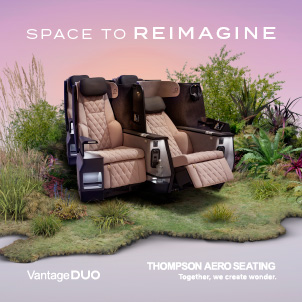 Indian full-service carrier Vistara, which is owned by Tata and Singapore Airlines, appears primed to be the first Indian operator to offer IFC to passengers. In 2018, it ordered 50 Airbus A320neo family aircraft, including the A321neo. Roughly 10 of the A321neos are being delivered linefit at the factory with Panasonic's X Series in-seat IFE and Ku-band connectivity, as will its six Boeing 787-9s, as first reported by RGN.
Vistara's first 787 is scheduled to start flight trials on 2 March, RGN has learned. The test program will last 45 days (and about 500 cockpit hours), during which the Panasonic IFC will be reviewed.
While Vistara has apparently worked out an IFC business model for its 787 operations, specifics about the various packages remain under wraps. The carrier's international expansion plan could be stymied in the near-term by the Coronavirus outbreak.
The Department of Telecommunications' so-called In-Flight and Maritime Connectivity (IFMC) license program, announced by the Indian government in December 2018, seeks to liberalize satellite communications services in the country. The provision of IFMC services within the Indian territory is subject to an authorization — valid for ten years — and the permit holder has to pay license fees and spectrum charges based on revenue earned from service.
While rules say the "designated authority" shall have the right to monitor or intercept messages passing through the IFMC network, there is no clarification on what comprises a "designated authority". Presently, the Home Secretary is in charge of the lawful interception of telecommunications.
The terms of the IFMC license mandate services be activated only after the aircraft reaches a height of 3,000m in Indian airspace to avoid interference with terrestrial mobile networks.
Thus far, several companies have been awarded a license, including Hughes Communications India, Nelco (Tatanet Services), Indo Teleports Limited, BSNL, Reliance Jio Infocomm, and Cloudcast Digital. Under the rules, the creation of a satellite gateway within India for providing connectivity service to aircraft and ships must be done through Indian-licensed service providers. Further, Indian satellite bandwidth has to be utilized.
If a foreign satellite is used, it has to be approved by ISRO.
Nelco was also the first to offer maritime connectivity under the IFMC license last September, along with partner Speedcast International. As a result of its agreement with Nelco, Panasonic said its ITC Global maritime subsidiary can also offer connectivity to maritime vessels operating within India.
Related Articles: