Two issues dominating global headlines, the grounding of the Boeing 737 MAX and the coronavirus outbreak, will impact the outlook for aircraft interiors in the year ahead, warn Safran Cabin CEO Norman Jordan and Tronos Aviation Consulting managing officer Gary Weissel.
The two executives are scheduled to discuss the outlook for aircraft interiors on 1 April at a Cabin Space Live conference session during the Aircraft Interiors Expo in Hamburg. Speaking to Runway Girl Network in advance of the session, Jordan and Weissel shared their views on the extent to which the MAX and the coronavirus outbreak will shape the market.
They also discussed other trends driving aircraft interiors strategies in 2020 and beyond.
"The longer the 737 MAX shutdown goes on, obviously, the much worse it's going to be. Shutting that down will have an impact on the supply chain, particularly for those doing linefit. But not everyone was doing linefit. Those with Airbus program deliveries and aftermarket will weather the pain better than smaller suppliers," said Weissel.
The MAX grounding is also affecting interiors installs on other aircraft types, with some #PaxEx stakeholders saying they're seeing evidence that airlines are reluctant to take aircraft out of service for upgrades due to tight capacity. Airlines which are particularly MAX dependent want to delay their retrofit programs.
Safran Cabin's Jordan sees the return to production of the MAX as the most important market driver for 2020. The interiors giant is working with its supply chain to prepare for return to service.
"Keeping our supply chain well informed and accurately assessing their ability, as well as ours, to ramp back up, will be critical to a smooth return to production," Jordan told RGN. "Since we all recognize the timing is out of our control, we are focusing on building in flexibility in our response, as well as an orderly return to production when it does occur."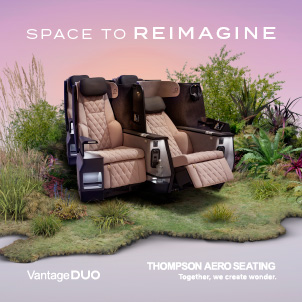 In terms of the coronavirus, Jordan said, "We are already beginning to see shifts in market demand due to the impacts of the coronavirus. Obviously it remains to be seen how severe and prolonged this event will continue to affect global travel trends, but it is clearly becoming a factor."
Weissel believes the industry can withstand the effects of coronavirus for now, and the negative impact could be "short-lived" but that will depend on how long routes remain closed and services disrupted. If it goes on for months, then this disease could turn into the market shock that airlines have been avoiding for a decade.
"We could see the same effect as SARS, maybe a bit larger if it goes beyond April or May," said Weissel. "The airlines are going to hold out for a while before they start to make significant changes in retrofit plans or start cancelling or deferring orders."
The International Air Transport Association (IATA) is already putting some color around the potential fallout, saying that in a SARS-shaped scenario, the estimated impact of coronavirus to Asia-Pacific carriers, alone, could be a revenue loss of $27.8 billion in 2020.
What the 737 MAX grounding and the coronavirus have in common is that the aircraft interiors sector has little or no control in over when or how they are resolved. Other industry challenges are more predictable and manageable.
"The entire industry is being challenged to find greener and more sustainable solutions both inside the cabin and out," noted Jordan. "The industry has always been focused on reducing weight, and thus carbon emissions, but there are other avenues in the interior to explore too. Recyclable and biodegradable materials are one, and using smart sensors to better manage consumption, thus reducing waste, is another. The challenge is implementing these systems and new materials in a cost effective way and also in a way that enhances airline operations and the passenger experience."
Weissel worries about what he describes as "the big 800 pound gorilla" in the room: the challenges of modification on latest generation aircraft. "The early 787 fleet is coming back from their leases and Boeing and Airbus have both completely changed their access to data," he said. This change in aircraft data sharing will push more modification control to the OEMs and force airlines to pay the bill for access.
There is some possible workaround for MROs through supplemental type certificates (STCs), if they can prove to regulators that modifications are less critical and will not significantly impact the structural integrity of the aircraft from the original build. But, Weissel told RGN, that's "a pretty limited scope in terms of what you can do in a modification."
Weissel also foresees a continued trend towards cabin densification and upgrades to overhead bin systems, with the introduction of higher capacity bins. He also believes we could see "a bit of a plateau in connectivity and connectivity installation" as airlines anticipate the introduction of LEO constellations supporting the aero sector.
Related Articles: