Delta Air Lines capitalized on the opportunity to put the airline center-stage in airline technology at CES 2020 in Las Vegas by revealing an ambitious passenger experience digital ecosystem that focuses on airline awareness of customer needs and independence for the traveler.
"We see technology as a tool to further our mission of connecting people and creating opportunities," said Delta CEO Ed Bastian during his keynote speech at CES. "We're not chasing shiny objects or tech for the sake of being cool. We are dedicated to solving your travel problems and making your voyages –  and your lives – easier."
This new vision involves the integration of a number of technologies that are already in development.
The airline's awareness of passenger needs is reflected in personalized features activated by systems that recognize the individual. For example, Delta gave CES visitors a preview of a new Parallel Reality display, which shows passengers individual messages related to their journey on the same screen. A prototype will be installed at Detroit Airport near the Delta Sky Club in Concourse A.
The Parallel Reality information display is an opt-in feature, activated when passengers scan their boarding pass at the scanner. It reflects a desire by Delta to ensure that its digital touchpoints mirror the personal care given to passengers by Delta staff. As Bastian said, "Technology is there to serve our customers, and it's meaningless without the power of Delta's 90,000 people worldwide."
Delta also plans to turn its Fly Delta app into a digital travel concierge that can anticipate travelers' needs for the journey and suggest various services. The aim is to give passengers greater control of their experience – with features like pre-select meals – while keeping them informed at every step to bolster independence. It will even notify them when their specific seat is boarding with a feature that Delta calls "virtual queuing". Other app notifications already available in select markets include TSA wait times.
Delta also announced a partnership with Lyft during CES which will link the Fly Delta app to Delta SkyMiles and Lyft accounts, and allow Delta SkyMiles members to earn miles for Lyft rides. The partners are exploring offering travelers estimated arrival times, testing a dedicated premium Delta-Lyft experience at select US airports, and giving travelers the option to pay for their rides using miles.
The carrier is also exploring possibilities of using its RFID baggage tracking to extend services for baggage delivery direct to the destination hotel.
To enhance the experience on board, Delta's in-house interiors and inflight entertainment specialist, Delta Flight Products announced greater personalization of IFE. That includes the introduction of a "binge button" which lets passengers enjoy their favorite series uninterrupted, and a plan to offer curated recommendations based on previous viewing.
Delta will also be testing "do not disturb" and "wake me up for meal service" features in the main cabin on long-haul flights. And the airline is researching the possibility of offering entertainment to passengers throughout the journey with the Fly Delta app, with passengers able to watch content on the ground and continue watching on board by pairing their devices to the seatback screen.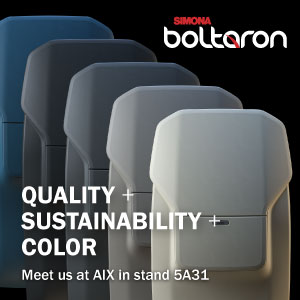 Aiming to ensure that its content choices better reflect passenger diversity, Delta also announced a partnership with ReFrame to create a dedicated IFE channel which will feature films and TV shows that include female-identifying people in key areas of their production, including writer, director, producer, lead, co-lead, speaking parts, department heads and crew.
Designing this seamless digital future will require strong computing power to make sense of a sea of data and an ocean of operational contingencies.
Delta has been making advances in AI-driven machine learning and will be introducing a new AI-informed disruptions management platform to more effectively manage decision-making during large-scale disruptions. During CES, Delta also announced it will be the first airline to join the IBM Quantum Network which will explore quantum computing applications that could further empower its operations.
Image at top credited to Delta Air Lines
Press Release: