Brazilian company Embraer has risen to become the third largest aircraft manufacturer in the world since being founded by entrepreneur Ozires Silva in 1969. To mark the occasion, Embraer invited aviation journalists to its US offices in Ft Lauderdale, Florida to provide an update on its growth, a first-hand look at the new-design interior of Embraer's E-Jet E2 cabin, and with it a glimpse into the airframer's future.
Since the time it was founded, Embraer has delivered over 8,000 aircraft, including over 1,500 commercial jets. Eight E190-E2 twinjets are now in service, with Wideroe, and Air Astana, boasting a 99.5% schedule reliability and a 99.8% completion rate. Early E-Jets are now making their way into the secondhand market for developing countries.
For fiscal 2019, Embraer made $28 billion in profit – its 10th consecutive year of profitability. But Embraer Chief Commercial Officer Arjan Meijer conceded there are ongoing challenges to maintaining this positive momentum, such as Brexit, trade wars, and the rising costs of fuel and labor at airlines. China and India are currently driving much of the growth worldwide, as airlines add service from smaller cities to their main hubs.
Embraer regional VP of sales for North America Jorge Nasser called the E2 aircraft a "new design on a proven platform". In addition to the Pratt & Whitney geared turbofan engines, the fly-by-wire E2 has a completely new wing, Honeywell Primus Epic avionics, a new flight management system, and the same cockpit philosophy as its predecessors. Nasser said a current E-Jet series pilot can transition to the E2 in as little as 2.5 days.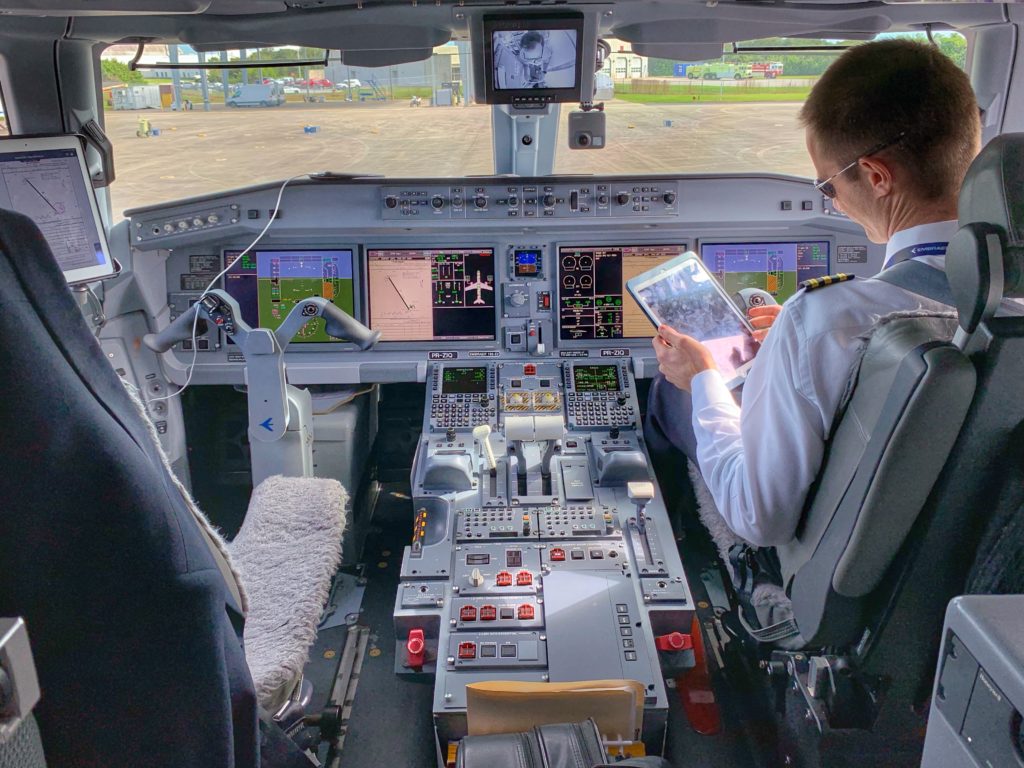 Embraer tested thousands of wing designs, including dozens in the wind tunnel, and selected a tapered design over having the winglets, as seen on the previous generation of its aircraft. Other E2 improvements include new landing gear doors and redesigned air inlets to help gain aerodynamic efficiencies.
Overall, the efficiencies gained give the E2 up to a 25% lower fuel burn than first generation E-Jets, with the latest E195-E2, specifically, boasting a 11% lower operating cost than the Airbus A220-300, according to Embraer.
Nasser said the E2 has been stretched as far as it can go, so we won't be seeing a larger jet in this series. He did hint, however,  that there may be some gains in range performance announced in the future.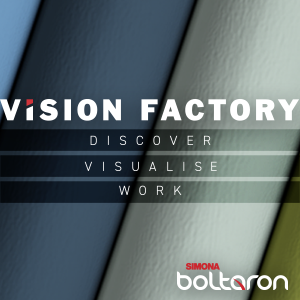 The E2 is still lacking orders from a US carrier due to pilot scope clauses, but Nasser said, "Historically it has only changed once there is a product that pushes it to change. We don't know what's going to happen." The E195-E2 has 51 orders from launch customer Azul, a Brazilian operator that accepted the first one in September with five more slated to arrive by year-end.
Embraer has been touring the world with the E195-E2 "Profit Hunter" regional jet for the past several months. Before making its way to Embraer's Fort Lauderdale offices, the company made other E2 stops in Seattle, Las Vegas and St. George, Utah. It doesn't take much guessing to know which potential airline customers saw the aircraft in those cities.
The striking black and gold "Tech Lion" E195-E2 is the latest of the specially painted jets in the E2 demo series, including other apex predators such as a tiger, an eagle, and a Great White shark. Journalists were given time to photograph the exterior of the plane prior to boarding and departing from Ft Lauderdale International Airport (FLL).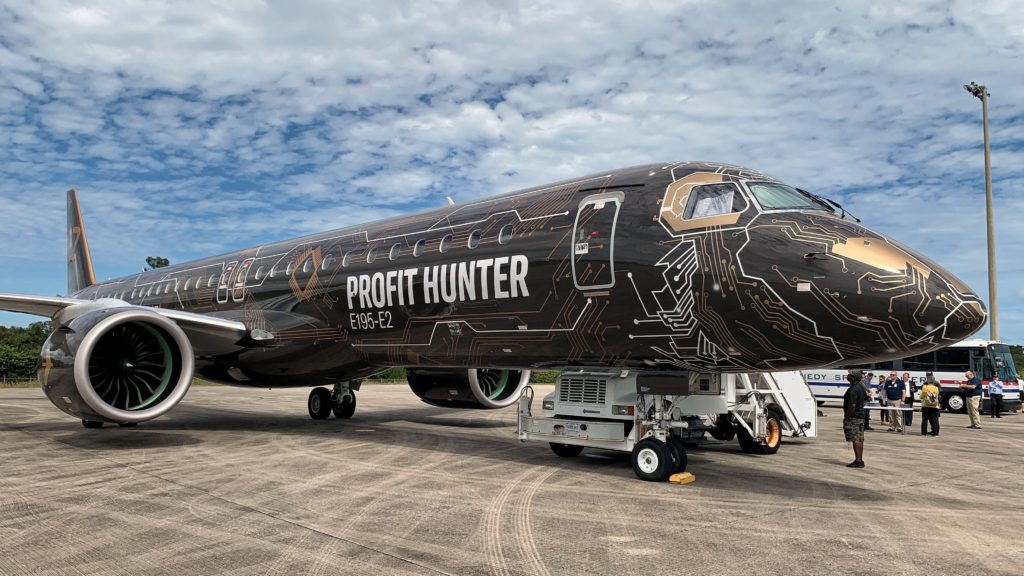 Through scattered clouds, we soared northward along the barrier islands toward Florida's Space Coast and Cape Canaveral, the home of NASA's manned space program at Kennedy Space Center. Cape Canaveral was the site from which all Mercury, Gemini, Apollo and Space Shuttle launches took place. The most recent manned launch from the Cape was the final Shuttle launch on 8 July, 2011.
But let's look a the interior design of the E2. Once airborne, passengers browsed the cabin, inspecting the functionality of the seats, overhead luggage storage bins, and lavatories. Embraer configured this demo aircraft with economy seats pitched at 35, 34, 33, 32, 31, 30, 29.5, and 29 inches in order to show airline customers the comfort levels they may offer. As always, the smaller pitches would be uncomfortable for passengers of above-average height, or perhaps those flying longer lengths.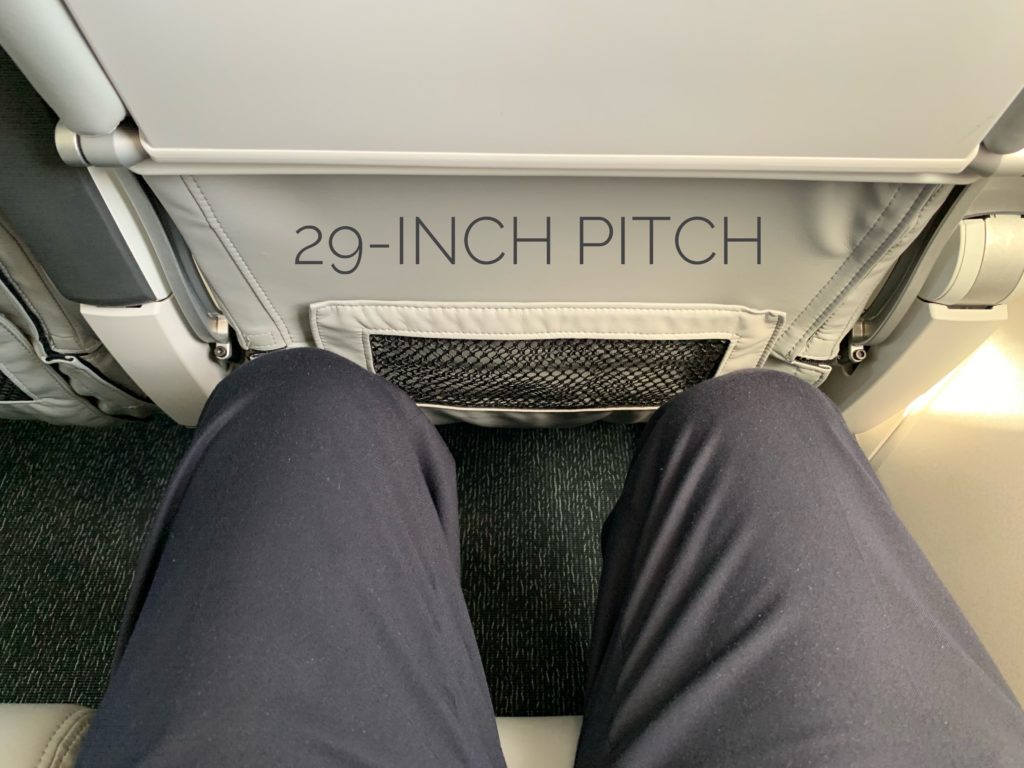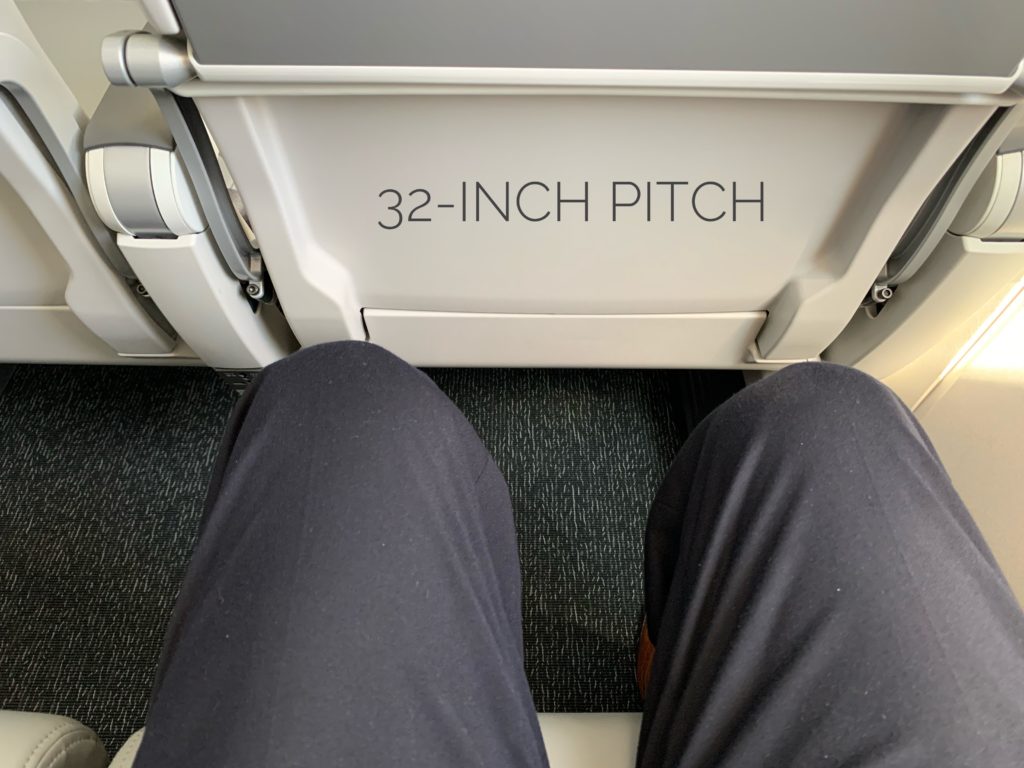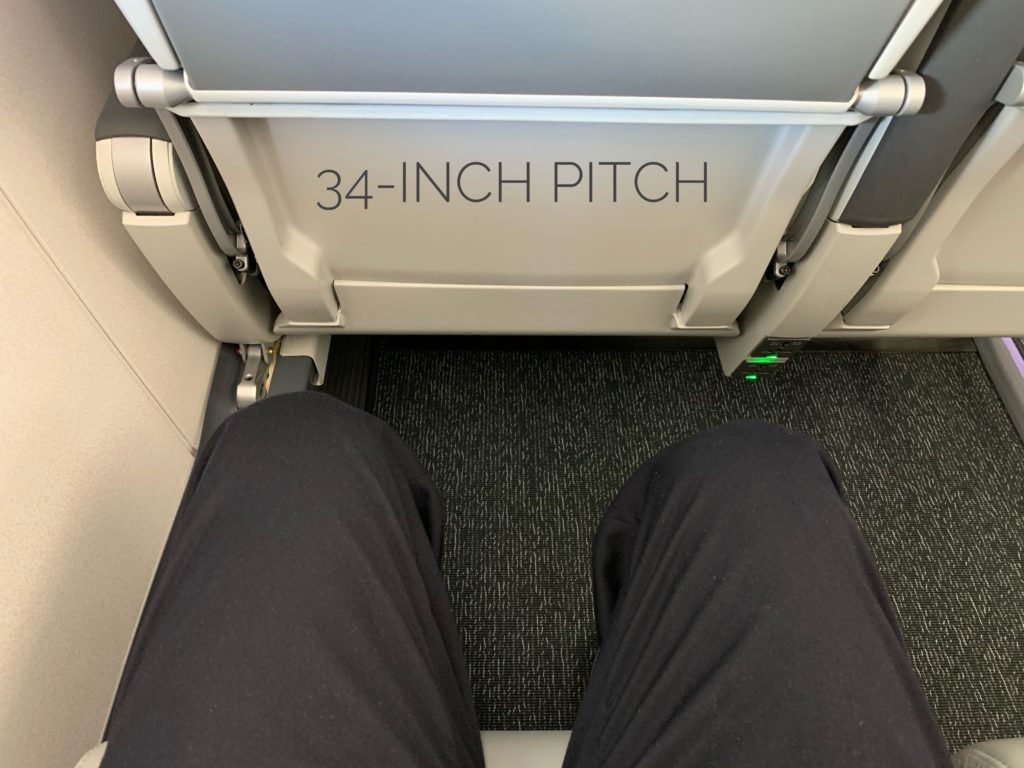 The Zodiac-designed economy class seats also demonstrated available amenities such as moveable headrests, seatback storage pockets, power outlets, and tray table choices.
In first class, the aircraft is fitted with 12 unique staggered seats in three rows, each with a 54-inch pitch. The tray table is stored within the armrest, as you would find on many short-haul first class seats. The table featured a smartphone and tablet holder on the forward edge, but it was not adjustable in its width, requiring the removal of any case you may have on your device.
Unlike the earlier cabin concept for the E2, this plane does not have any IFE screens installed, though an onboard server allows passengers to wirelessly stream a selection of movies to their devices.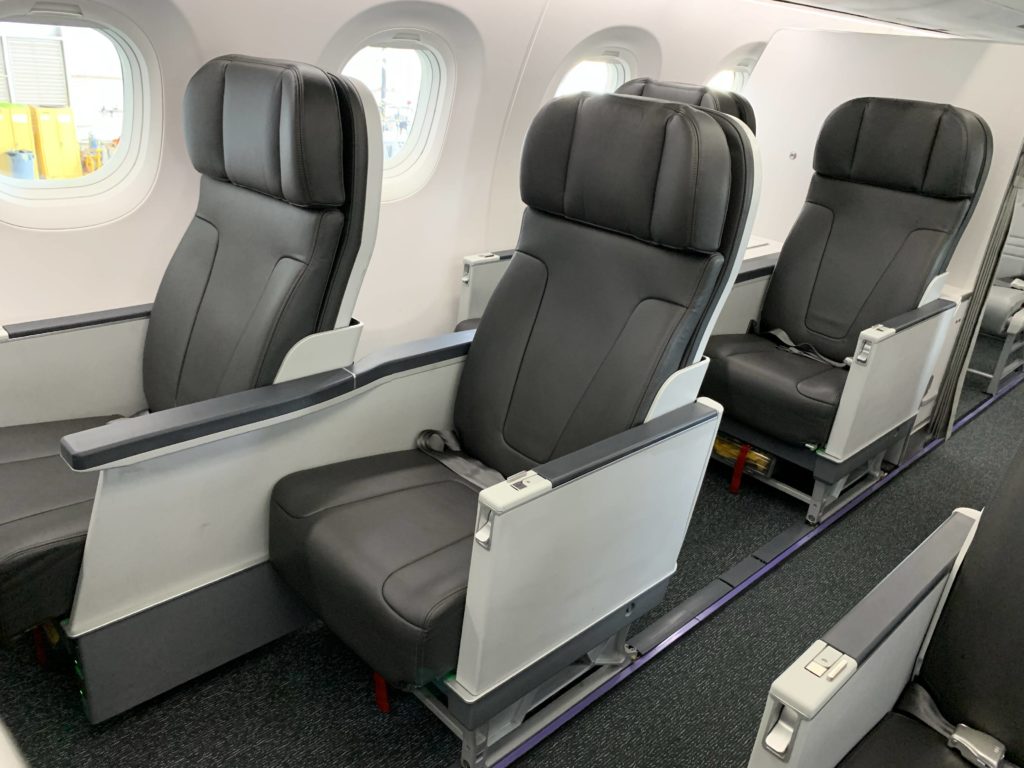 The seatback has a small horizontal mesh pocket which can be used to store things such as a pair of glasses or a battery pack for your PED, though there were also standard power outlets available.
Below the mesh pocket, there is a larger hard pocket where a laptop computer can be kept, and a holder for a bottle of water. The reclining function slides the cushion of the seat forward as the seatback reclines, so as not to encroach on the space of passengers behind you.
Overhead bag storage is generous throughout the plane, and among the largest found on regional jets. Four standard 22-inch roller bags can be placed in each bin, with wheels facing inward.
Lavatory space both forward and aft was ample, and on par with competitors' narrowbody aircraft.
Following a tour of Kennedy Space Center's Apollo program exhibit, which is celebrating 50 years along with Embraer in 2019, we departed from the Cape. On the return leg, most passengers spent time conversing and enjoying the coastal views before landing 43 minutes later at FLL.
Incidentally, NASA is currently planning a return to manned space flight from the Cape. Its Artemis program is scheduled to return astronauts to the moon by 2024, followed by the Orion program which will take interstellar explorers to the surface of Mars. Boeing is contracted to build the rocket for Artemis missions, while Lockheed Martin will build the rocket for Orion.
As for Embraer, current-generation E1 production continues on the same assembly line in São José dos Campos, Brazil, and will continue for the foreseeable future as long as that generation of jets keeps selling. Embraer estimates that 20 percent of production in 2020 will be for the E2 and will increase year after year. At the 2019 Paris Air Show, United Airlines announced a firm order for 20 E-175s, plus 19 options. Embraer also received orders for 37 E195-E2 twinjets in Paris. The current order backlog is over 300 aircraft. Embraer's 2019-2038 market outlook expects airline customers will need 8,230 jets which seat up to 150 passengers over those 20 years.
The E175-E2 will be the final jet in the next-generation series. It is expected to make its first flight by the end of 2019 and enter service in 2021, though it does not have any orders on the books.
Embraer is not currently eyeing the development of any larger aircraft, but Nasser referenced the KC-390 military plane as an example of their capability. It is likely that all future commercial aircraft development will be done by currently beleaguered Boeing, should that venture with Embraer be approved by regulators.
Editorial disclosure: Embraer invited RGN to attend its presentation in Ft Lauderdale and arranged for travel, accommodations and meals under no obligation. The accounts shared here belong solely to RGN and the author. All images are credited to the author, Paul Thompson.
Related Articles: