Out of all the ancillary revenue options in the world of airline passenger experience that have yet to come to pass on a meaningful scale, but where suppliers are innovating, pay-to-charge at-seat power is one of the most fascinating.
Some airlines are wielding a slightly larger stick here, of course: installing power only in certain rows, whether that's an extra-legroom sub-cabin (along the lines of United's Economy Plus or American's Main Cabin Extra), the seats that they consider regular economy but still charge a "Select" or "Preferred" fee for: those closer to the front of the aircraft, for example.
But two of the industry's challenger in-seat power suppliers are innovating regardless, hoping that new ways of presenting pay-to-charge end up being attractive to airlines beyond Scoot, the Singapore Airlines-owned low-cost carrier that first started charging for power.
KID-Systeme is offering a new MoneyPower add-on to its existing SKYpower offering. Demonstrated to Runway Girl Network by Mark Friebel, director of sales, at last month's APEX EXPO, the system is flexible on how it works dependent on the amount of automation an airline's cabin operations rhythm demands.
The crux of the system is a new adapter around 3cm long installed between the in-seat power supply and the cable splitter that leads to each seat. It looks rather like a dongle one might use to attach an external monitor to an older laptop.
From there, the model demonstrated at EXPO adds an infrared diode to each of the power-in-use indicator lights, allowing for it to be switched on and off with an infrared remote control system.
"KID [is also working] on a solution that is based on a cabin WiFi standard that enables transmission via a tablet or flight attendant panel. That could enable a pre-booked power flow" for passengers, explains KID's Maren Muente.
That could be the key: charging for power might be a small level of pricing opportunity compared with other service and sales opportunities for flight attendants, though we are hearing from a growing number of passengers who would pay a nominal fee.
Competitor IFPL has pivoted away from a micropayments model to something akin to a freemium game.
IFPL's Mark Reed, director of business development for North America, tells RGN how it works. "The original concept was charge-to-charge, but with airlines having to introduce an additional payment method we also looked at the different scenarios already available. With free software, very often you have an ad that you have to watch for 5-10 seconds. YouTube has been doing it for years, so people are generally familiar with that."
The model works via an app, likely the airline app, which controls the outlet via a small processor within the outlet assembly. "When the phone is connected we have an auto-launch, so as soon as the phone detects our jack, it autolaunches the screen. You click on "watch advert", the splash screen comes up… and then there's a light guide around the USB connector itself which changes color to green to indicate you have power," Reed explains.
IFPL will be able to set limits on the duration of power delivered per ad: an hour, duration of flight, whether the cord is disconnected or not, and so on.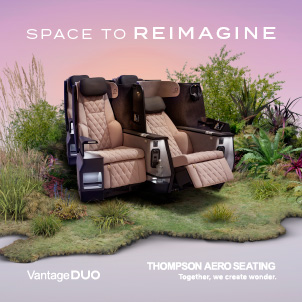 Interestingly, it seems that full service carriers are showing interest, not necessarily because they want to create additional revenue streams, but to highlight promotions and drive app adoption. IFPL is already talking with inflight entertainment and connectivity hardware provider Bluebox to create on-aircraft promotion content storage.
On balance, it seems likely that the more automated a system can be, the better it is, not just for ease of use but also for flight attendant service planning.
Whether on a full-service carrier, where crews become the first line of technical support for inflight connectivity in addition to their other service duties, or on a low-cost carrier where the benefit is substantially lower for managing power payments compared with, say, the profit from perfume or a panini, the key is to keep the process as simple and user-friendly as possible.
IFPL's original pay-to-power model is explained in the following video:
Related Articles: