Overhead screens are probably best known for serving as humble "dropdown inflight entertainment" on board narrowbody aircraft. Old reruns of Friends or Cheers might be on offer, providing a modicum of distraction for passengers. But increasingly, these screens are being used by airlines to share safety videos and other safety announcements. For example, American Airlines uses overhead monitors to, among other things, alert passengers of an inflight medical emergency, and to ask if there is a doctor on board. Airlines are also using them to display moving maps, flight information and destination programming.
It might surprise you to learn that an estimated 15% of narrowbodies are still delivered to airlines with dropdown IFE. Even some new-design narrowbodies, like the Airbus A220, offer overhead screens as a linefit option for airlines.
"The airlines have got some governance … they need to manage around making sure PAs [public addresses] are out and safety announcements are effectively delivered. Being able to do it by video is the perfect solution for that," notes David Withers, the CEO of inflight entertainment and in-seat power specialist Burrana. Overhead screens also enable airlines to offer captioned inflight safety messaging for passengers who are deaf or hard of hearing.
Moreover, adds Withers, "Passengers still want to know where they are on their journeys. So, being able to provide a map on the overhead and just being able to broadcast that to everybody on board is really important."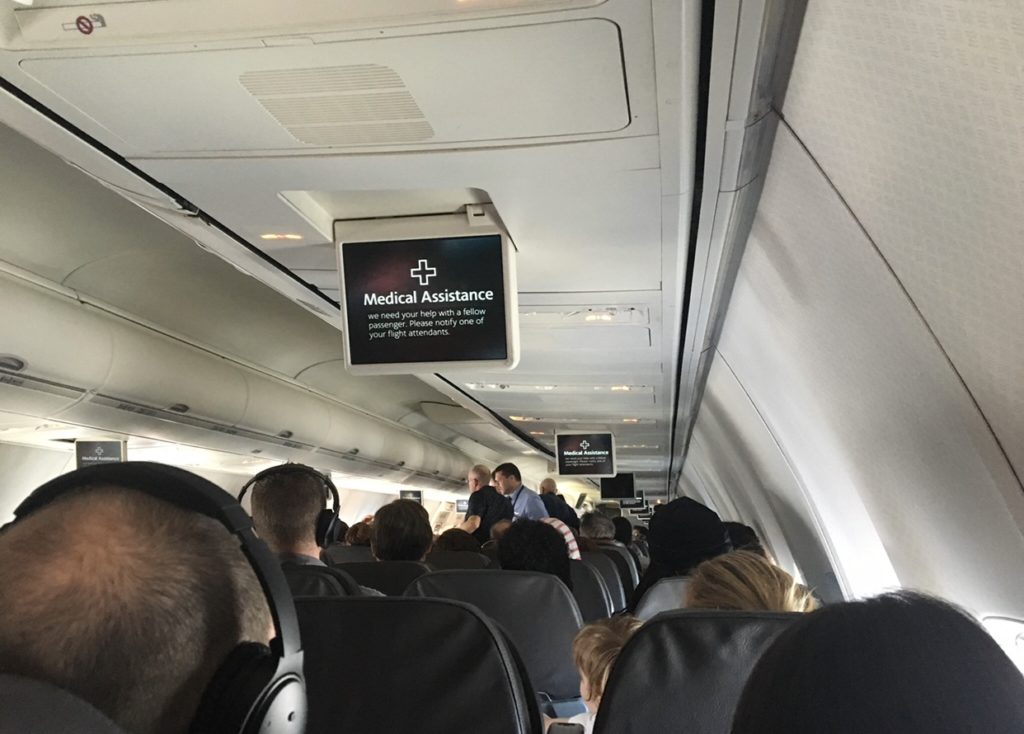 Little wonder, then, why Burrana believes it can grow its overhead screen business even as passengers carry multiple devices on board.
The company is off to a strong start, having acquired Collins Aerospace's commercial IFE portfolio on 18 January 2019, and with it the former Rockwell Collins PAVES family of seatback and overhead solutions, as well as other IFE hardware and content services. The deal made Burrana the #3 player in embedded IFE, according to the Australian firm.
Noting that "there is a real role" for overhead screens in the market, Withers says: "We see a continued growth in that space. It's never going to be the biggest part of the IFE map. It's never going to be the biggest part of our business. But it is still a very important part, and we continue to compete very well there and the investment we put into this new screen is a demonstration of that."
He's talking about Burrana's new 13-inch High Definition overhead screen launched in September at the APEX EXPO in Los Angeles.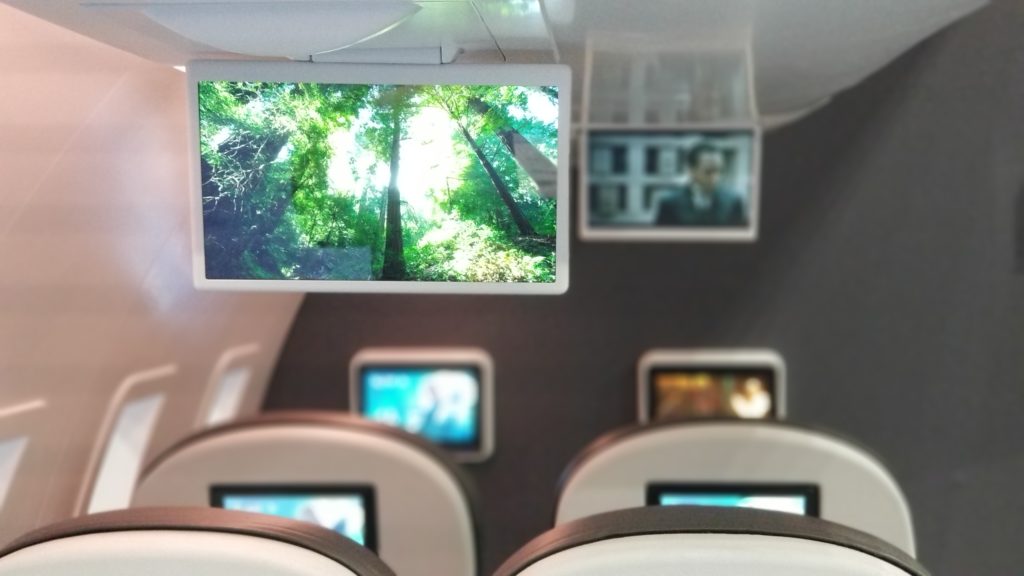 The large monitor is the "first time anyone has gone above 11.5 inches" for this type of screen "and the first time anyone has done a 4K screen in the overhead". Crisp and clean, this is certainly not your grandfather's dropdown IFE. Among the companies competing with Burrana in the overhead space is Panasonic Avionics.
Seatback IFE systems, as supplied by Panasonic, Thales InFlyt Experience, Safran Passenger Innovations, Burrana and others, can be found on the lion's share of the world's commercial widebody fleet. Indeed, seatback IFE is considered a comfort factor for long-haul flying. That's why Burrana remains committed to innovating here as well. Alongside providing in-seat power, including USB-A and a full suite of USB-C products to airlines, Burrana's portfolio includes its Android-based GLIDE seatback IFE solution.
All of these products can be mixed-and-matched to meet an airline's specific requirements, says Withers, noting that Burrana internally refers to this modular approach as "golden bricks".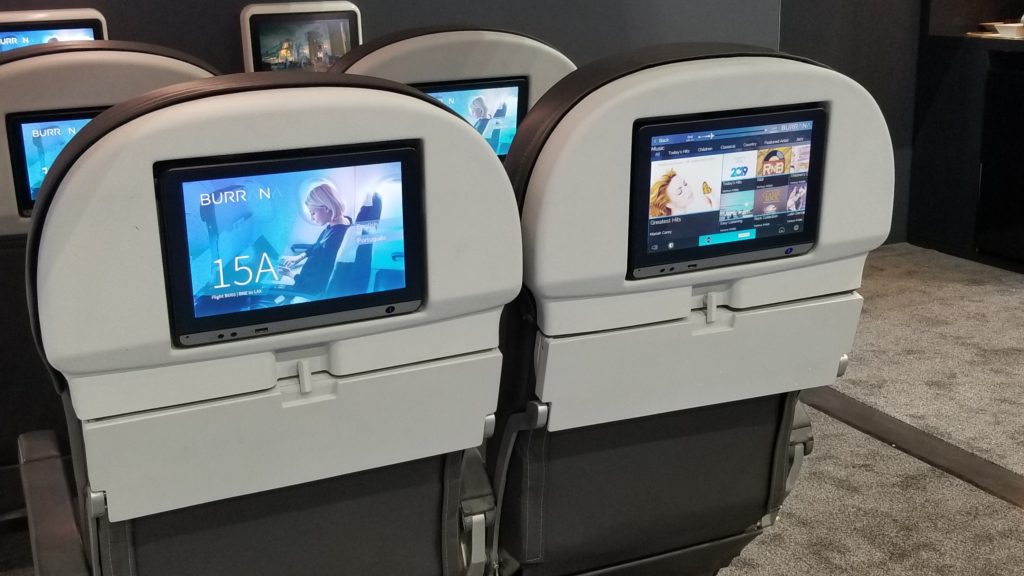 He explains thusly: "So you can take an empty airplane; you might decide you want to put very large [IFE] screens in first class, give them three outlets, full USB power and 110-volt power and give them wireless controllers. We can do all of that. If you want to step back in the cabin and say, 'well in the business class we want 21-inch screens and I want less power but I still want to provide a whole range of functionality there.' Step back into premium [economy] and you might get a smaller screen size. You might step back into economy and have no screen … you might just have wifi and power, or you might put overhead in the back of the plane."
"So all those elements are part of these golden bricks. So they are all the elements that you can build up now to come up with whatever solution you like," he adds, and importantly you have the ability to "very quickly" change your mind if necessary.
Burrana is satisfied for its brand to take a back seat to any airline's brand positioning. "I know a huge part of an airline brand is their onboard experience. That's not our brand; our brand is about helping them do that. We are the enabler of that," says the Burrana CEO. "So we are flexible and easy to do business with, and have all the necessary little building blocks that an airline needs to go 'this is what I want to do and this is how I am going to differentiate myself from my competitor by applying the Burrana technology.'"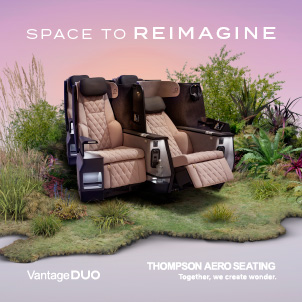 On the moving map software front, Burrana also stays flexible. When the company acquired Collins' commercial IFE business, notes Withers, Collins retained its Airshow moving map product as part of its business jet content portfolio. "We have a license to that, so that's obviously been a market leader for many years. Betria and the [FlightPath3D] 3D map has grown in market share and now lots of customers like that. So it's important that we felt we needed to offer customers choice." This approach meshes well with FlightPath3D's mantra of "any aircraft, any platform, any device""
"And then for airlines that do not necessarily want to spend a lot of money on a map, we have a very basic map of our own internal product that's available as a standard feature of the [GLIDE] solution," notes Withers.
Burrana's core message continues to be "we are here, we provide value to you, we are about working with you on your brand and how we enable you to deliver a passenger experience that you want". The company has been working very closely with all its airline customers, including the business it acquired through the Collins IFE buy, so there has been "a lot going on within Burrana" with more to come, adds Withers.
Related Articles: