Spirit Airlines snatched the #PaxEx headlines at the APEX EXPO with the unveiling of its new Acro Series 6LC slimline seats, and its push for a move away from seat pitch as a measure of passenger comfort. But one of the great distractions for anyone who is in a confined space on board is IFEC, and Spirit is obviously quite delayed in its launch of Thales-supported "FlytLIVE" Ka-band inflight connectivity.
In a one-on-one interview with RGN, Spirit CEO Ted Christie spoke candidly about the delay, and about how his passengers are eager for the service to go live. After all, the full fleet was slated to be equipped by summer 2019. Spirit's website now states: "Installations will begin in November and the entire fleet is expected to be finished in 2020." And Christie has suggested that equipage could bleed into 2021.
"The first thing is the product … we're still working with Thales to kind of refine some of the technical glitches that get us on the rollout. But we think we're at the final stages of getting that to work where we can start doing full scale installations into 2020 and getting the fleet done by the early part of 2021," Christie told Runway Girl Network.
"The second thing is that it's working fantastically when it's on and turned on cause we do have a couple of airplanes that are live and they [Thales] are doing their own testing … as well. And what we're finding is that even at peak demand it's definitely stream quality, which is what we were angling for was best-in-class and give our people the most affordable option to do it."
Asked by RGN if Spirit is using a Thales-specific antenna, Christie replied: "It is. Yeah."
Thales, which by the way is very happy with satellite operator – and partner on the program – Hughes, assured that the antenna configuration remains the same.
For Spirit, the configuration remains the same. As you mentioned, there has been some hiccup in the program. We are overcoming all the difficulties. And now we work very closely with Spirit as far as the installation of all the aircraft from their fleet…
Asked specifically by RGN if Thales is installing a Thales-manufactured antenna, the firm said: "Yes, correct." And you're staying the course with that? "Yeah."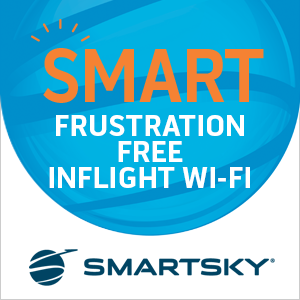 Even so, there continues to be a lot of interest and intrigue around the antenna. ThinKom is caught up in the mini-drama, as the low-profile nature of the Spirit package atop the carrier's A320 family fuselages has led some humpspotters to wonder if ThinKom's Ka2517-branded Ka-band hardware has been there all along, or is perhaps now somehow sliding in.
We put this query to ThinKom chairman and CTO Bill Milroy. He confirmed that ThinKom did not provide the antenna which might be subject to the technical glitches cited by Christie. Asked, however, if ThinKom can discuss whether it is saving the day on the program now, Milroy said, "I cannot. What is it they say in Washington? I can neither confirm nor deny."
He also said he is "a little restricted about what I can say on that". The intrigue continues.
Spirit's Christie, meanwhile, said passengers are extremely eager for the service to go live. "In fact you know once I went out – I guess that was last year – and made the announcement that we were going to be doing this, I hear it from our flight attendants all the time: when when, when can we expect it? So I think [Spirit's] Bobby Schroeter here, he runs our marketing group, he knows that we think the response is probably going to be a little bit better even than we guessed."
Spirit's new slimline seats, which will roll off the line with the carrier's new Airbus A320s, come with an inherent tablet/smartphone holder, pictured at top. You can simply hang your own device on a thermoplastic bar across the eye-level portion of the seat.
This will facilitate a sort of BYO seatback IFE experience for passengers once the Thales IFC goes live, as supported by Hughes satellites and ultimately SES-17. All eyes are on Spirit passengers as we await the go-live date for this brand new inflight connectivity service.
Related Articles: