Heading into last month's APEX EXPO in Los Angeles, the question of whether Collins Aerospace/UTC would be interested in Panasonic Avionics Corporation (PAC) on any level was candidly on the mind of this journalist given the ever-robust IFE rumor mill, which suggested M&A activity could be afoot.
But while Collins in September said it is not contemplating such a scenario, the aerospace behemoth – which collaborated with Panasonic on both the Jazz IFE/seat integration project and the Waterfront nextgen business class concept when then known as B/E Aerospace – is studying whether there might be synergies to explore with the Lake Forest, California-based IFE giant.
"The reality is is that we always have our doors open. People come through those doors. Sometimes we go through their doors and we have discussions. We talk in a careful manner to see where there may be synergies or potential possible future potential," said Collins head of cabin connectivity strategy Richard Nordstrom in answer to RGN's specific question about whether Collins is interested in Panasonic in the context of the rumors.
He said:
We've heard a lot of rumors recently. And I would say having a discussion is not necessarily really going to be an acquisition approach, it just isn't at this point,.
Added the Collins executive, "We are focused really on evolving and developing our Global Xpress [GX inflight connectivity] quality, improving on that, looking at the right price points for the passengers. Literally 50 cents, a dollar either side can make a big difference in uptake and usage. And we're also open and talking with other entities within the industry where there may be potential for us. But at this point in time, I would say that conversation is way too early."
For its part, Panasonic is remaining mum. When asked if Collins might ultimately snatch up PAC's Ku business, for instance, CTO David Bartlett agreed there are indeed "a lot of rumors out there" but he quipped: "It's good to see the rumor mill is still healthy and alive … Scalawags and scuttlebutt."
Industry observers who are privy to the scuttlebutt can be forgiven for having heightened interest in this topic, however. In a surprise announcement before the big NBAA show in Las Vegas, Collins revealed it will offer Ku-band inflight connectivity to the business aviation market in partnership with SES, and with Astronics providing the tail-mount antenna. Collins said the LuxStream-branded service will offer speeds of up to 25 Mbps in the United States and 15 Mbps globally via SES's managed Ku-band satellite network. That would seem to pit LuxStream directly against Gogo's forthcoming Ku offering for BizAv, which Gogo has said will boast speeds of 25 Mbps (a solution that may involve Gilat's tail-mount). But it also gives Collins placement in the Ku IFC patch, where Panasonic is among the leaders in the commercial airline space.
The LuxStream arrangement also obviously benefits Astronics' tail-mount business, and given the recent FlexExec ordeal is no doubt a big positive for the firm. RGN would be remiss not to point out that Panasonic appears – at least from this vantage point – to have reduced its focus on BizAv at this time, outside of large business jets serving the VVIP market.
So, long story short, Collins is already making a meaningful play in Ku of its own accord.
Collins remains connectivity focused for entertainment; any interest in packaged deals?
But in the commercial space, it seems logical that synergies between Collins and Panasonic could simply entail IFE and seats. After all, Collins and Panasonic's Jazz economy class seat collaboration, which was first quietly revealed to airline executives in 2014, represented a major step change improvement in the passenger experience, and a leap forward in aircraft interiors innovation at the time. Indeed, some of the innovations first revealed on Jazz are now a common sight on new-design seats.
Packaging Collins' GX VAR services with Panasonic's embedded IFE hardware in creative ways would also seem rational, again from your author's perspective. After all, the market already has a great example of how Panasonic IFE and Inmarsat GX integrate nicely together in the form of Air New Zealand's longhaul flights. Moreover, embedded IFE is one of the few gaps in Collins' extensive nose-to-tail portfolio of content for aircraft. And finally, Collins had in fact already started to go down the GX integration road with its own embedded IFE portfolio before selling that portfolio to digEcor, now named Burrana.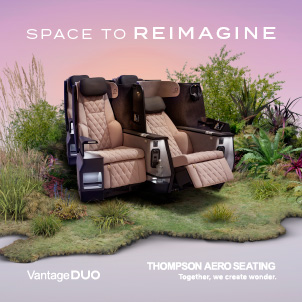 Asked about general IFEC packaging opportunities in industry, Collins' Nordstrom said: "Well, we were starting to package IFE, if you remember, it's now called Burrana. They have a nice booth [at EXPO]. They're doing a nice job. I miss some of the people who used to work with us. So, we're really happy to see that they've taken something that we've designed and developed and been able to go further with it. We've very happy for them, and it was a good deal for both of us on what we did.
"And right now our real focus is on broadband connectivity and the connected ecosystem of the aircraft overall. That's where our real focus is, because as you know, as Collins Aerospace, and Pratt & Whitney and the entire UTC aviation side business, we have a lot of, how can I say, presence throughout the entire aircraft and all of that presence could use a little connectivity, and bring greater value for the airline and for us. So that's our focus."
IFEC stakeholders playing together
Even before Air New Zealand's Panasonic IFE and Inmarsat GX IFC integration project, #PaxEx stakeholders had already started to play nice at the behest of – and for the benefit of – their airline customers. For instance, Emirates has long been instrumental on this front, tapping service provider SITAONAIR to manage its IFC, even though the hardware on its fleet includes a mixture of Panasonic Ku and Inmarsat SwiftBroadband. SITAONAIR is happy to see similar arrangements agreed with other airlines.
"What we're trying to do is to be able to integrate with any solution that the airline may select," explained SITAONAIR VP customer programs, Yann Cabaret to RGN. "And the airline may come to us and say, 'you know, I have selected Panasonic or I have selected Gogo on that fleet, are you able to provide your current services?' And then we will go and talk to the partners. And actually, that's why [this] show is super interesting because we can have a discussion with them on our respective capabilities, where is our core competency, and how can we make sure that everybody here is focusing its activities on where is the best [and] what is strategic for him. And that's what we do actually. So we try to be in that specific spot because we do it very well and then we believe in really bringing something to that industry."
Judging by RGN's conversation with Panasonic at EXPO, it seems as if the firm is focusing on its NEXT proficiencies, building out a deeply impressive Arc platform and providing key analytics to customers.
"And I think it's a great example," said SITAONAIR's Yann. "Yeah. Because, that's exactly right. They have developed super capabilities in that area and some others are non-core for them."
From a cost perspective, he said, "we are all going to live better if we don't all do the same".
Yann added broadly: "So I think I'm a strong believer of actually let's reflect on what is key for all of us. And I'm not saying there should be one player, right? There will still be multiple players, but nobody can say he's the best at everything. Well, you can say it. But whether you can deliver it is a different thing."
Related Articles:
Image credited to John Walton