As recently as a year ago, the message from commercial aircraft manufacturers about the growing cadre of supplersuppliers was one of distrust and suspicion. The logic was that these growing conglomerates — Safran, UTC, and so on — were providing too much of the nose-to-tail content for their aircraft, indeed including cabins.
That message may be changing at Airbus, at least. As recently as May, senior Airbus executives started to welcome the industrialization benefits that a larger company brings, partly by necessity and partly by best practice, with executive vice president for programmes and services Philippe Mhun telling RGN that "Safran buying Zodiac was good news for us because they bring also their industrial expertise to the product".
To be as blunt as many of the executives RGN has discussed ongoing seat quality problems with have been, it seems Airbus is hopeful that Safran's acquisition of Zodiac means the former Zodiac will stop rolling out bad product. Zodiac, of course, has been the subject of much opprobrium in the production and quality of its cabin equipment in particular, and especially on the Airbus A350. We've extensively covered the seat and lav issues at Cathay. And criticisms about A350 lav content continue to bite.
Has anyone looked into the built quality of A350 lavs? This is one of the lavatories on @Delta N507DN back in March 2019, it was only 1 years old back then. The problem is not isolated as we've all seen worse from @cathaypacific A350s. So what's the issue here? pic.twitter.com/O3MzyGj9GM

— FATIII Aviation (@FATIIIAviation) July 11, 2019
Without minimizing the build quality of the lavatories, however, it should be noted that the passenger-facing situation is not as concerning on every A350 operator. It's unclear why Finnair's A350s do not show nearly as much of a lavatory issue as Cathay's (and to a lesser extent Delta's) given the strength of in-house or in-group maintenance at all three airlines. Is it that Finnair's digital transformation strategy and tactics mean it is more responsive to the problems?
In any case, at the Paris Air Show, RGN interviewed Norman Jordan, chief executive officer of Safran Cabin, and asked his perspective about what appears from our vantage point as an apparent change of heart at Airbus.
"The OEMs are not sitting down and running through their entire strategy with us," Jordan said plainly. "What discussions we have had with them, what we can ascertain from our own observations: clearly they are going into more of a vertical integration mode. Clearly they're doing that because they perceive the need, from previous issues in the supply chain, that they need to have more control of that supply chain, that they think there are some advantages both in terms of revenue and profitability — and disruption issues that they have incurred in the past."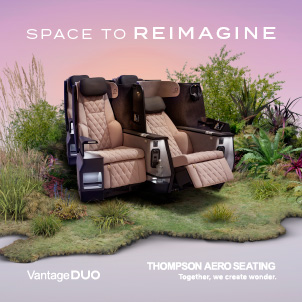 In the context of the purchase of EnCore by Boeing and the joint venture between Boeing and automotive seating company Adient – Adient Aerospace – there are clear questions about how far this vertical integration will go, particularly within the passenger experience space, and whether there are areas that the OEMs are specifically not intending to explore. Crucially for suppliers, including supersuppliers like Safran, the hope is that they are part of that strategy rather than excluded from it.
"I believe based on our more recent performance we will be a part of that strategy, but again, how much, how far, what does the competitive landscape look like two or three years from now, I think we'll see that written," Jordan imagined. "It's not written yet."
Jordan posited that the passenger experience implications of the EnCore acquisition by Boeing may be limited to Boeing aircraft, unlike Airbus' subsidiary seatmaker Stelia, which manufactures seats for both major airframers, and that Boeing is aiming both for the new-build market and for retrofit, a segment that has been gaining in importance.
That may be so, but the messaging from Adient Aerospace is clear: "Adient Aerospace intends to "develop, manufacture and sell a portfolio of seating products to airlines and aircraft leasing companies. The seats will be available for installation on new airplanes and as retrofit configurations for aircraft produced by Boeing and other commercial airplane manufacturers."
Adient Aerospace is also serious about ultimately entering the economy class space. And if its economy product boasts craftsmanship as impressive as its premium seats, one would expect operators of Airbus aircraft to be keen.
"Ultimately our business plan is long term and we intend to be tip-to-tail. We want to take it carefully. We want to make sure we don't overcommit ourselves," Adient Aerospace CEO Alan Wittman told RGN editor Mary Kirby at the Aircraft Interiors Expo in Hamburg. For now, Adient Aerospace has a joint marketing agreement with EnCore, and indeed the JV showed off LIFT economy class seats on its stand at AIX (it also quietly displayed a lie-flat seat prototype for narrowbodies to collect airline feedback)..
Adient Aerospace also has a strategic partnership with LIFT "where they are our partner on the furniture. So working with them on both design and then ultimately the manufacturing of the furniture will be done by LIFT and EnCore in California," noted Wittman.
Meanwhile, it's within the dual-segment linefit/retrofit context that supersuppliers like Safran are looking to raise their game, and Jordan said that a crucial part of the work they need to do to reassure the OEMs is around integration of previously disparate businesses.
"Integration is something the previous company, Zodiac, didn't do," Jordan said. "They made many, many acquisitions — all good companies, largely — but they did little to nothing to integrate them into a cohesive unit. In some cases they were competing against each other when I came into the business two years ago. So, that's done, and now we're under a brand that everyone, I think, is rallying behind. That's a big piece of it at the top."
Next steps? "The drive to do more integration and to have a vision and to bring a plan on day one that says 'we will integrate, and here's how we will do it'," Jordan said. "Then when you merge that with my own strategy within Cabin to get to a more streamlined business, reducing sites, consolidating business even locally. We've got multiple plants locally — we're going into a single facility to try to get synergies out of the business."
Safran, corporately, is providing the drive, the support and the resources to drive this integration, including programme and project management methodologies across the business, development strategies, and Lean manufacturing techniques.
The company is also starting to benefit from a product-line reorganization within the last year, Jordan said: "Galleys, lavatories, what we call floor-to-floor; our cargo and inserts business was left intact because it was already product-focused; and then we have our engineered materials and our advanced composites; and then as part of Safran's vision we brought back our services activity into Cabin so that we can focus on end-to-end design, production, build, delivery and aftermarket support of our products."
As Safran continues to look to turn the page on its well-publicized problems, the key will be to turn the growing services market into a positive provision rather than the problem-solving, service recovery sort of activity that has been characterizing much of its aftermarket activity.
Related Articles: