This was a review I had been looking forward to writing for some time. After spending weeks in Southeast Asia filming in the jungle without a break, I wanted to reward myself with something nice. So I booked a handful of flights with Thai Airways, partly to get some time to myself relaxing in scenic Phuket, but mostly to snag a handful of flights on the airline's Boeing 747-400s.
I booked three flights in total, all of which were 747s at the time of booking: economy class round-trip between Bangkok and Phuket, and the splurge: business class between Kuala Lumpur and Bangkok, for a chance to be in the nose. Or at least have a sweet view of the wing out the window.
It was a great plan until it all went awry, resulting in one of the more frustrating customer service experiences I've had.
Here's the story:
Bangkok to Phuket swapped out to a 777 almost immediately. No problem. The ticket was cheap ($33US each way), the service featured some pleasant surprises, and in any case, I had two more rides booked.
The dumpster fire though, came weeks later. Sure enough, the day before my biz flight from Kuala Lumpur to Bangkok, the airline swapped out the Queen for a 777. Super sad, but I had prepared for this possibility, having purchased a flexible, refundable business class ticket. My personal value proposition crushed, the plan was to seek a refund for my existing ticket, and purchase a new ticket in economy to save a bunch of money. Failing that, the hope was to at least catch an earlier flight.
I logged into the app, but found no way to modify or cancel the flight. No worries, I thought, and called Thai's global help line to get the ball rolling. I was quickly told that they couldn't help, and that I would need to call the local office in Kuala Lumpur. They did not provide the number, telling me I could find the info on their website. I did find the info, calling them six times in an hour with no answer, no voicemail, no prerecorded message: nothing.
A return call to Thai's global line ended the same way, while a follow-up to their dedicated business and first class phone line revealed that the phone numbers on Thai's website for the KL office were out of date. They gave me two more, and a further bevy of calls also went unanswered.
I made another plea to both the global and dedicated premium line, but was told I should have called during business hours, and that the local office was probably closed for the day. It was 1705. I started making calls at 1500. I don't think shrugs are audible, and yet I'd swear I heard one.
An attempt via Twitter DM for assist proved fruitless as well, with the team pointing out that they were not empowered to change anything. They at least sort of tried, though, providing me with five different phone numbers to try, four of which had already gone unanswered. Spoiler alert, so did the fifth.
Resigned to being stuck with a fare I was supposed to be able to refund, I showed up to Kuala Lumpur International Airport the next day with a new goal in mind: change to an earlier flight.
That turned out to be a misadventure, too. The check-in agent was contracted, and said they couldn't do anything. Check at the lounge, they said.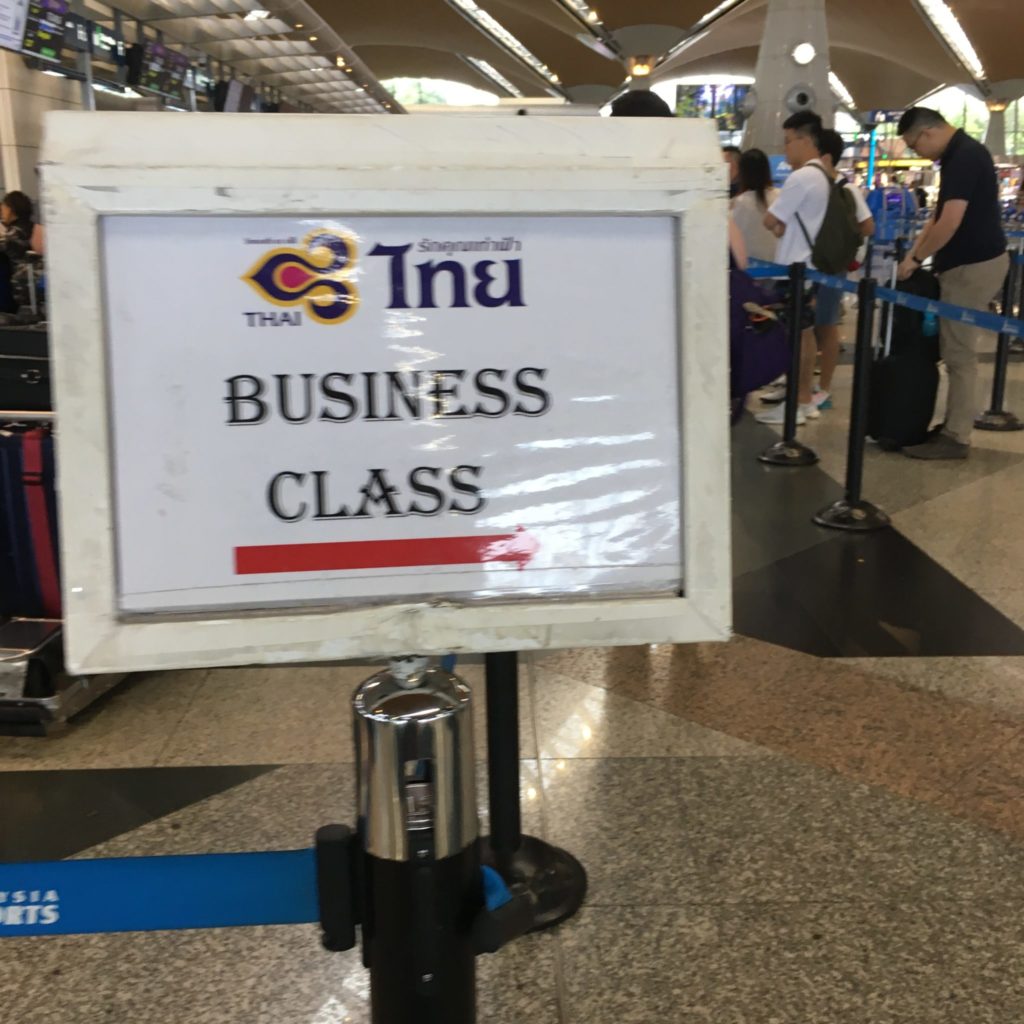 The Royal Orchid lounge also was staffed with contractors who couldn't do anything. Talk to the desk downstairs, they said. Before heading down, I stayed for a few minutes, sampling a bit of the decent food but finding both the coffee machine and restrooms out of service.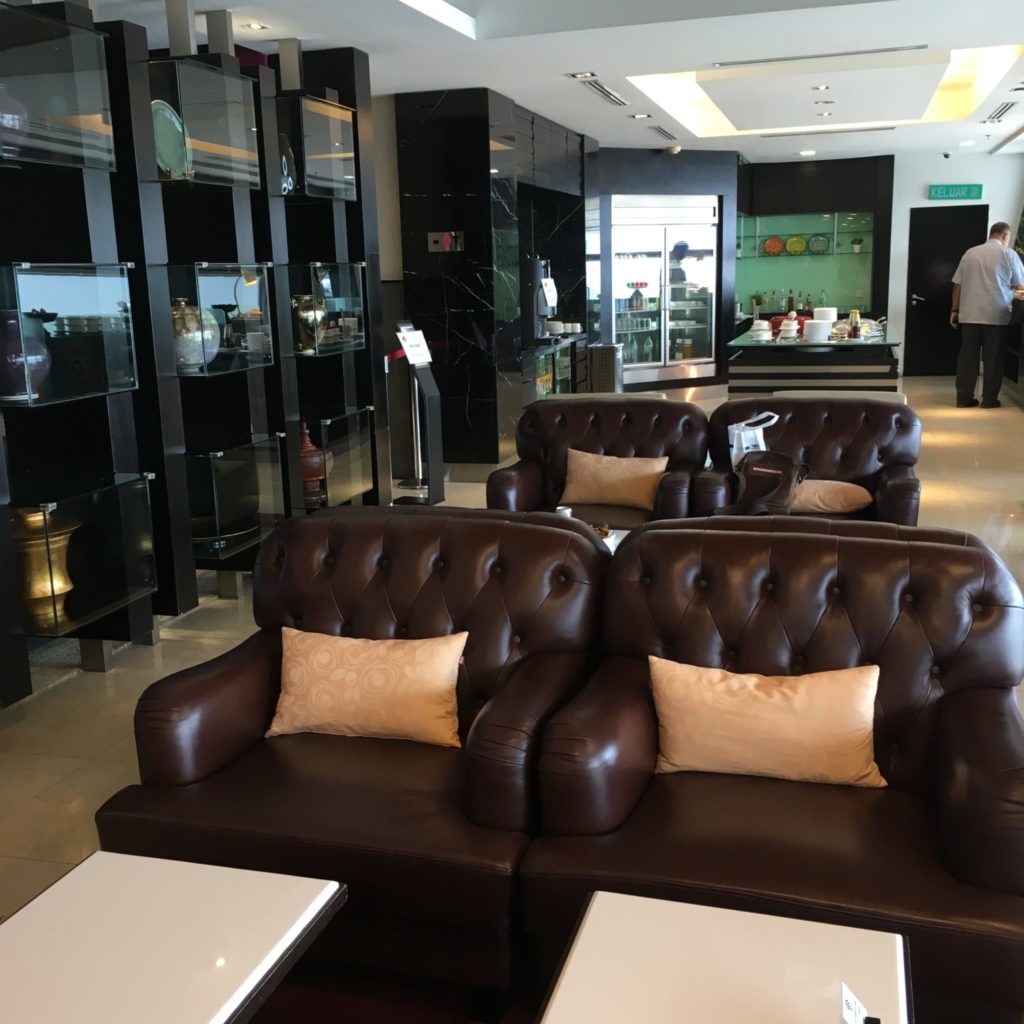 The desk downstairs was no different, with the exception of an agent with an attitude. They simply told me where my gate was before I could finish my question, repeated it as though I didn't understand, and then very rudely explained that they couldn't do anything. As though it was audacious to even ask.
Which left me with the gate agents who, take a guess – couldn't do anything either.
The entire experience left me super bitter as I boarded TG416 on a plane I didn't want, with a supposedly changeable and refundable ticket that I could neither change nor refund. The bitterness did not dissipate much as the flight went on.
Which is a shame, because the flight itself had some real high notes.
The crew, for one, was spectacular. Professional and personable, they hit the marks I'd expect from an airline with the reputation of Thai: drinks were refilled, trays & trash removed promptly, requests were met with a smile.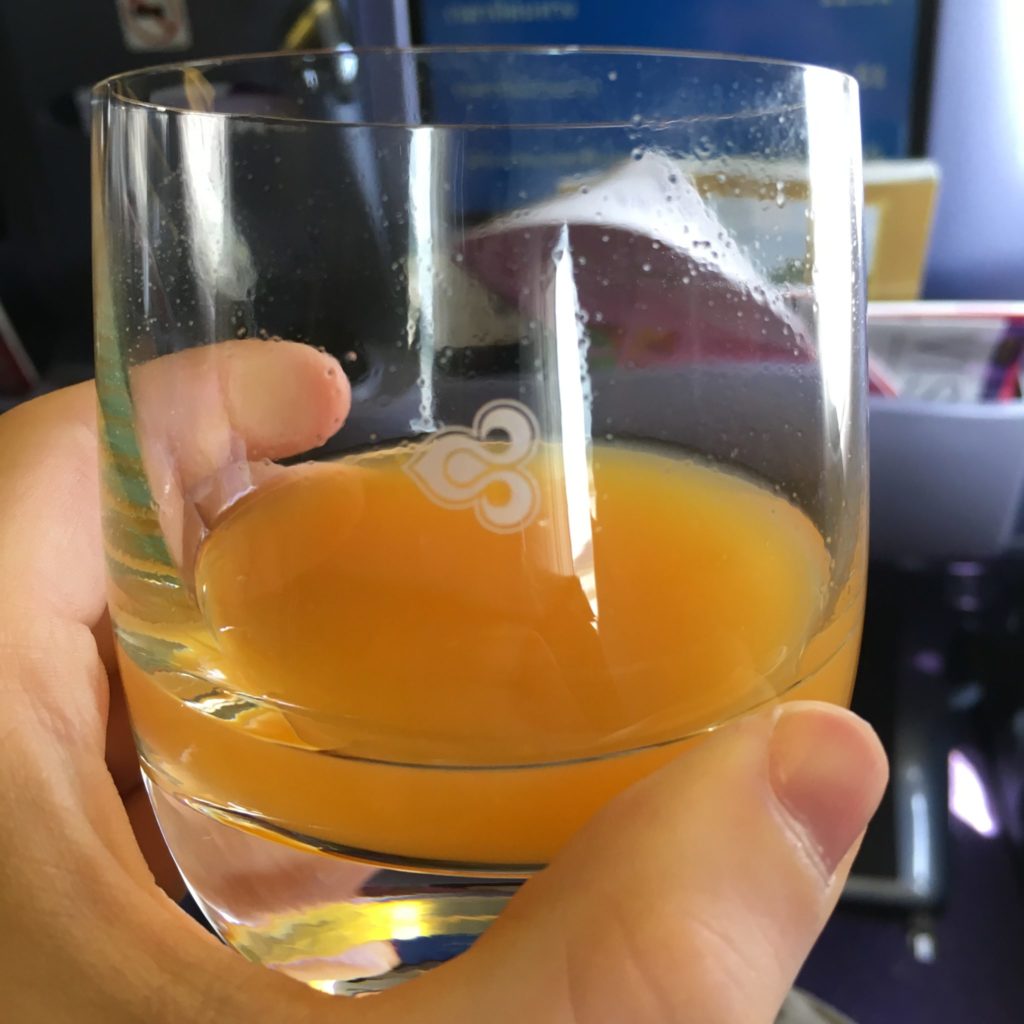 The catering was also on point. Served all at once instead of in courses, the beef entree impressed with melt-in-the-mouth meat and noodles that had a hint of crunch, while a duo of floral and chocolatey desserts shined.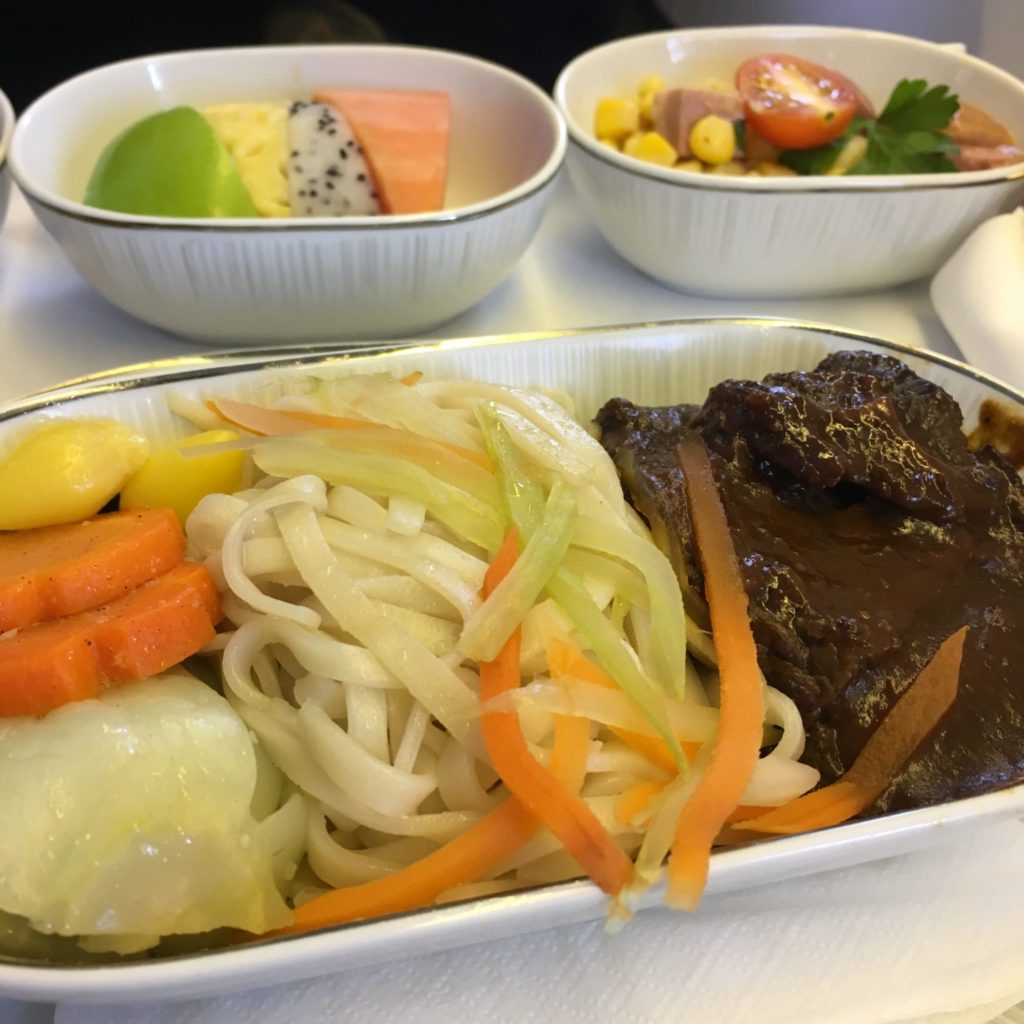 The seat is Thai's regional business class, an aging angled lie-flat product in a dense 2-3-2 configuration that hit its prime some time ago. It has all the normal whiz bangs like headphone jack and international power port, and modest storage space, however.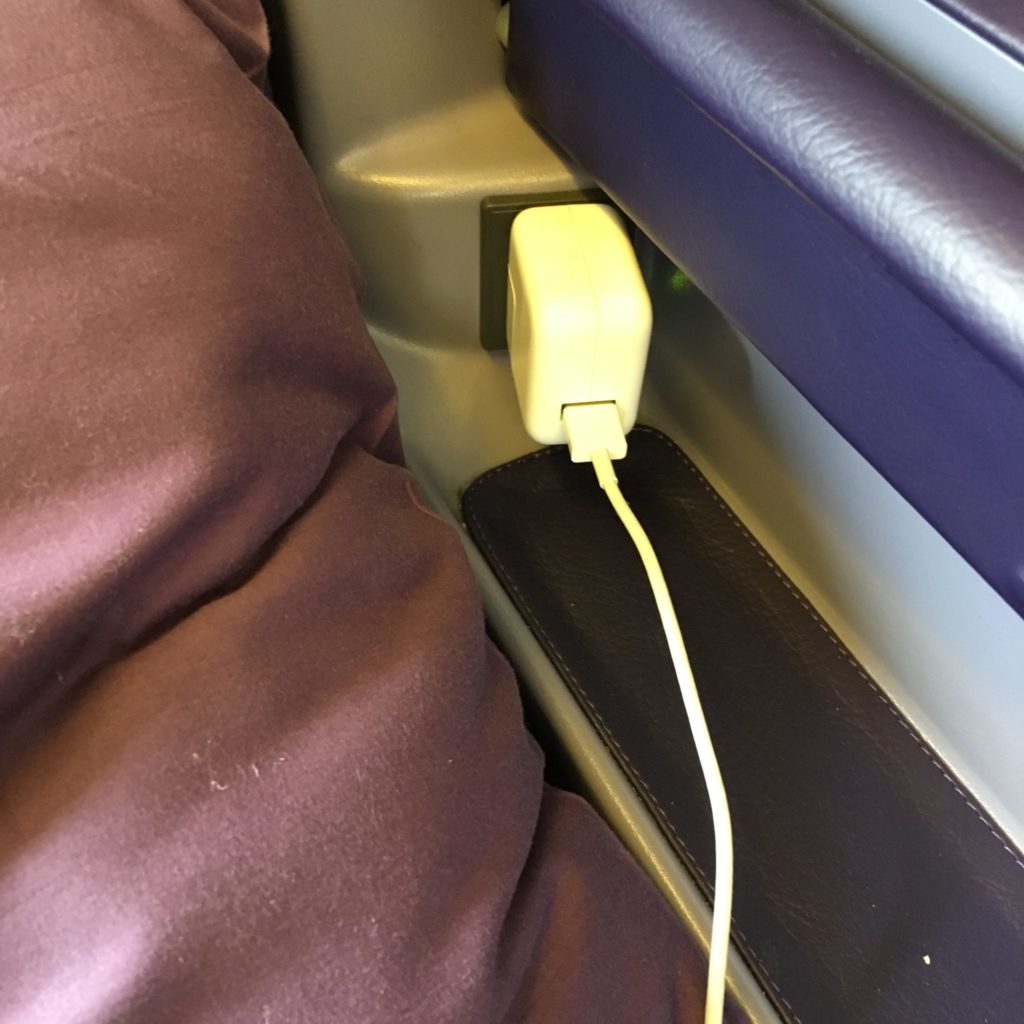 The screen, squarish in shape, is low-res and frustratingly hard to watch level dim. I wouldn't be thrilled to fly it to Europe, for example, but a few hour's regional flight was fine.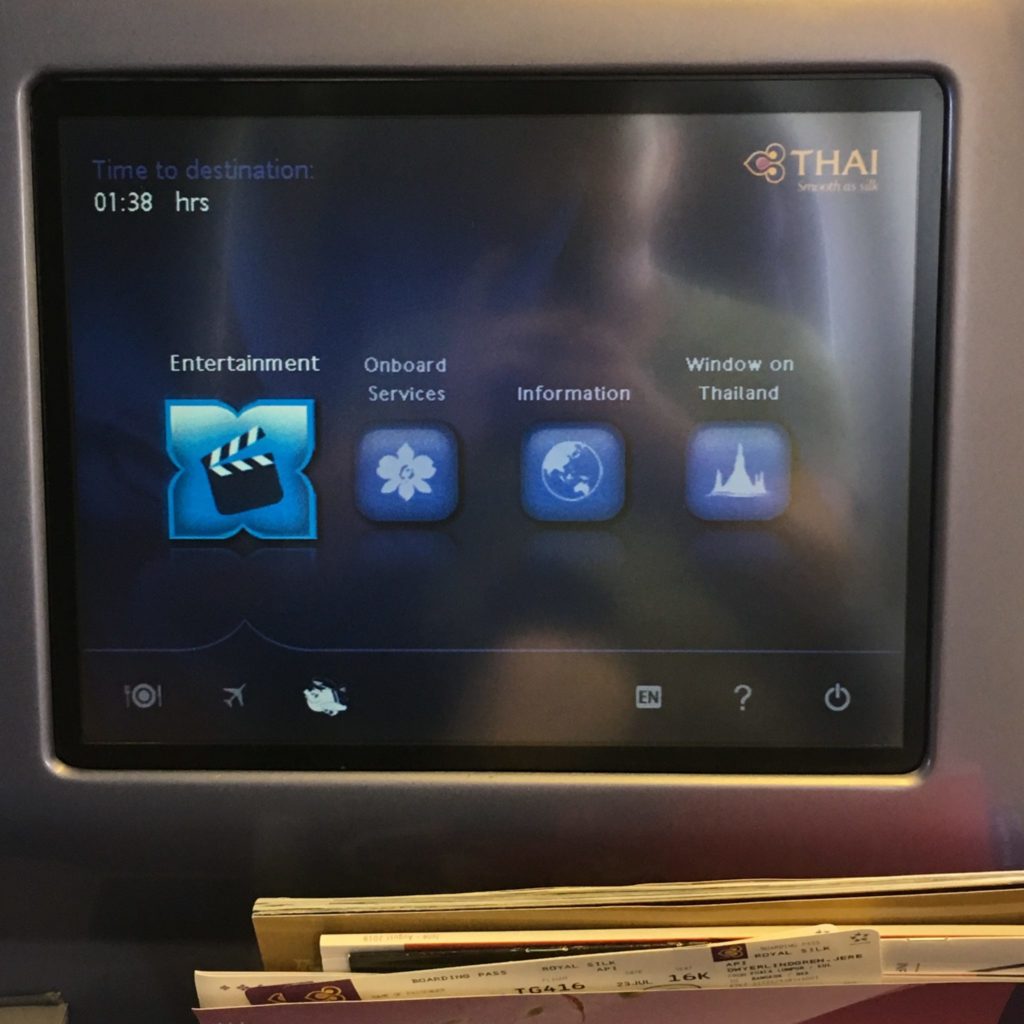 Despite the poor screen quality, the inflight entertainment offerings were somewhere in the middle in terms of quantity and quality. Not bad, not terrible. I found a few TV shows and a few movies that caught my eye. The airplane does not have WiFi.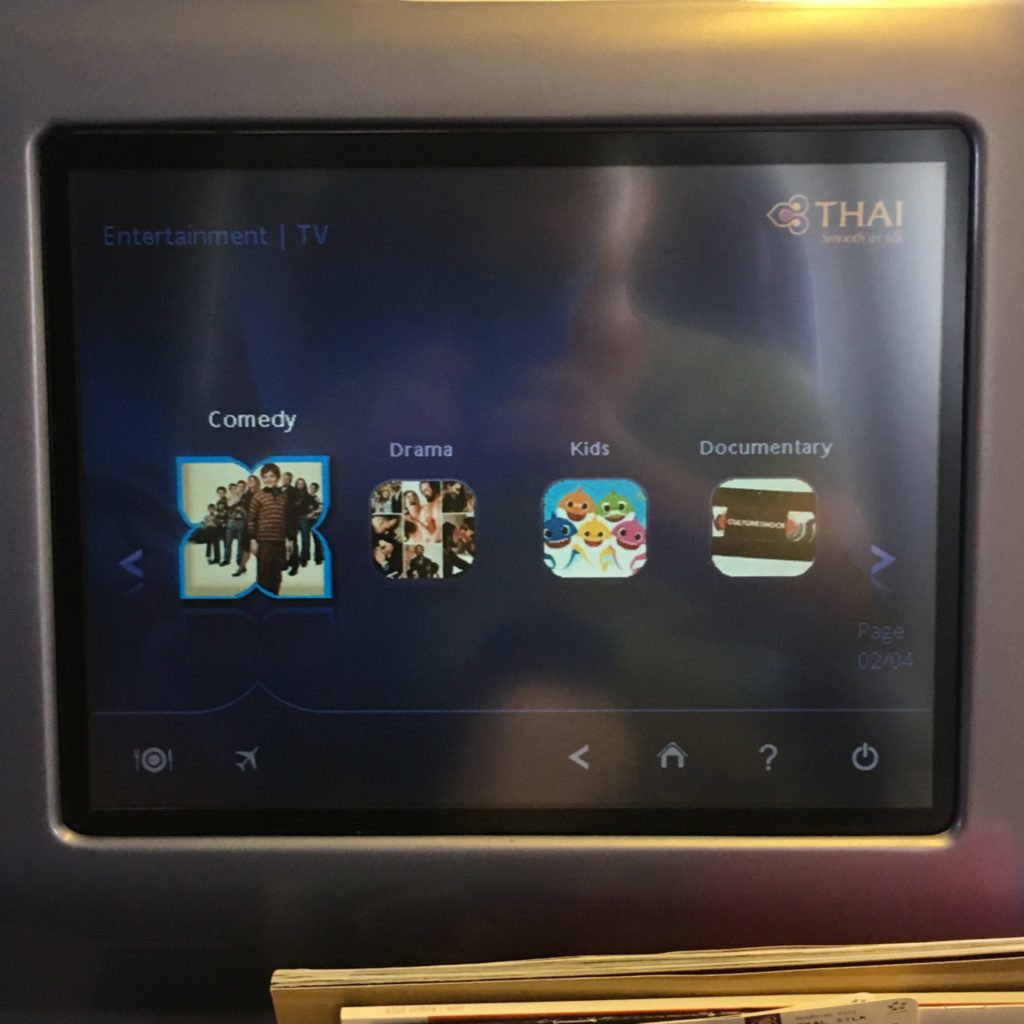 For a two-hour flight, it was pretty decent all things considered.
But all of those positive notes – the great crew, the on-point catering, the nice enough seat – were all washed away in the preceding tsunami of customer service incompetence.
Let me be super clear: Thai did not owe me a 747. Yes, it would be nice if the plane listed at purchase awhile ago was the one that actually showed up , especially considering that I paid vastly more than I would have otherwise. But that's how the game goes sometimes. It sucks, but it happens.
What Thai failed on was its customer service, for a full fare business passenger no less. That literally no one I could reach, at any point, was empowered (or cared enough) to do something so basic as process a refund or a flight change is astounding.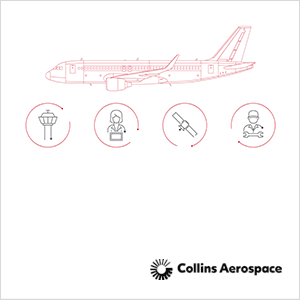 The experience was so confounding that I honestly feel as though I had to have screwed up somehow. That I had to have missed something in the fine print, or that I didn't explain it right in any of the seven times I tried, because I just can't imagine a full service airline having such a ludicrous approach to basic changes. I really can't.
Maybe I'm just used to Alaska and Delta, whose phone lines and social media team at home and abroad are available 24/7; empowered to help work through even the most complicated situations.
Maybe that's not how it is at Thai. Maybe the carrier's frequent fliers make do with only being able to change a ticket on weekdays between nine and five at the local office of the departure city whose listed phone numbers are wrong.
I don't know. I can't imagine that being true. But for their sake, I really hope not.
(For the record, the third flight swapped too. Call me stupid, but I can't underestimate how badly I wanted to be on it. I wound up forfeiting one of my beach days in Thailand to buy another ticket and try a fourth time. It worked, and was amazing.)
All images are credited to the author, Jeremy Dwyer-Lindgren
Related Articles: