Panasonic Avionics has long been known for producing high-quality inflight entertainment systems. But while the firm is still committed to "making the best IFE screens in the industry" and has not diminished its focus on hardware, according to CTO David Bartlett, it also knows that software is the key to driving new outcomes for airlines as the industry undergoes a digital transformation.
Bringing in "a much bigger software element" and software differentiation means that Panasonic will be able to activate new experiences at speed for its airline partners, and ergo for passengers, Bartlett told Runway Girl Network during a wide-ranging interview at last week's APEX EXPO in Los Angeles.
To this end, Panasonic in 2015 acquired award-winning UX and development firm Tactel AB. Now a Panasonic digital studio, Malmö, Sweden-based Tactel AB has proven to be a very strategic addition, as it is able to create industry-leading apps and services for Panasonic's IFE hardware, including its NEXT ecosystem.
For airline customers of Panasonic IFE, the value proposition is increasingly clear. "We can not only bring your software, bring your application" to Panasonic IFE, explained global head of marketing Gaston Sandoval, but Panasonic can develop its own applications on behalf of carriers, and this seems to be "a key pivot for the airlines. So that's why I think you'll see more and more focus on platform development, platform investment, without losing the focus on IFE innovation."
Among the airlines making a pivot in positioning is Panasonic customer Virgin Atlantic. The carrier's CEO, Shai Weiss, told APEX EXPO conference attendees that Virgin is shifting from being a product airline to a customer experience airline, Sandoval noted to RGN. "We're transforming where we are going … removing the seams and using data and insights to get to an understanding of our customers throughout their journey," said Weiss, as reported by APEX Media.
Therefore, it's crucial for Virgin's partners, including Panasonic, to be able to respond quickly and flexibly to this approach.
But there are other benefits to being agile. On the seatback IFE hardware front, Panasonic faces fierce competition in the market, not only from the usual players like fellow industry stalwart Thales InFlyt Experience and fast-growing Safran Passenger Innovations (formerly Zii), but also from Burrana, which is enjoying a new level of prominence after acquiring Collins Aerospace's IFE assets. There are also newcomers, including Irish firm Mythopoeia, which offers a seatback solution. And even certain wireless IFE companies are giving seatback IFE a second look, with hardware provider Kontron, for instance, confiding to RGN that it is seriously eyeing the space again.
Fully aware of the growing cadre of rivals, Bartlett said Panasonic's analysis suggests the firm is selling as much hardware as it has in the past. The hardware, though, is "going through a commoditization, a price pressure that we're hoping to make up with the software", he admitted.
One way for Panasonic to do that is to invest "in data lake, data science, data analytics so our customers can get more out of the hardware because the airlines are also under price pressure. So how can they get better content, better focus on what they're delivering to their customers? So, we're giving them the insight and that's one of our big focus offerings. If you look around this room here [the Panasonic stand at the EXPO] you'll see one of them is 'insights', but then the other ones are these 'new online partnerships', 'theater', 'wellness,' et cetera. And they're all supported by this insight, these analytics, to get more value, better customer engagement, and driving more effective and steady revenue from them."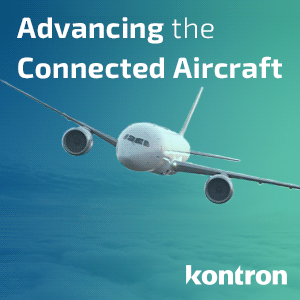 Panasonic's Arc moving map product – developed by Tactel AB – is an important part of this overall digital transformation. First unveiled in April at the Aircraft Interiors Expo in Hamburg, Arc's stated design objectives are storytelling, air-to-ground retailing, and cross-platform interactive personalization. And despite "more market pressures at the IFE level", said Sandoval, Panasonic believes it is "winning more and more in this platform game because now, as I said, some airlines … like Vistara and airlines like global carriers that we're having conversations with, they're saying 'can we have a platform discussion?' They're actually starting to even isolate some of the RFPs to say, 'can we just have a conversation about platforms, forget about the new program."
"So that is the shift in the market," he continued. "In that sense we're feeling very strong that the value proposition that we're bringing to market is resonating well. It's no longer about the system discussion. You know, exactly yesterday we were having a meeting internally and I shared with the team and said, 'Hey, in very simple terms, what we're bringing to the market is our commitment to systems, platform solutions, and services.'"
Indeed, Panasonic recently snagged its first Arc customer in the form of Vistara, which has also selected Panasonic's embedded IFE hardware for its Airbus A321neos and Boeing 787s.
Given that Panasonic can package innovative software services with its hardware, the firm is clearly in a position to financially incentivize airlines to choose its native Arc platform over other moving maps on the market. "Yes, absolutely. And we're actually even doing a lot of work internally having a deeper understanding of how do we engage with the airlines," said Sandoval.
You know, one of the interesting areas that as an industry we need to work on is how do we develop, to your point, the software industry in the cabin? Because it's one thing to buy enterprise software for IT; how do you as an airline learn to bring these platforms to a cabin experience when traditionally what we've been doing, and I'm Panasonic but for all, you either give away the software or you just put a minor extra one-time charge on top of a big system engagement. Right?

So how do we educate the industry to say 'hey, there's these new services that we can bring to you. We can bring, you know, constant releases of new features, new capabilities.' Arc is a great example. From the get-go, we're designing it as a service so that we can serve multiple clients with better, more innovative capabilities over time. But it's a new concept for the industry, so, a lot of work to be done there. But, you know, definitely, we see that if they come to us and work with our product, there's no need to start from competing map solutions.
With that said, Panasonic still welcomes other maps to run on its IFE systems, stressed Bartlett. So if an airline prefers FlightPath3D or Airshow, for instance, Panasonic will accommodate as it has done in the past.
"We just felt like we needed to fundamentally change what maps provided," Bartlett added. "Because maps is one of the most common touch points every passenger goes to during the journey. So if you're flying over a city, you can actually use our platform to actually drill down and understand more about that city, destination, services, history, facts, and make it fun at the same time."
Passengers using Arc can pinch and zoom around the world to see the points of interest on map, which can also expose the airline's e-commerce partners, be they hotels, car rental companies, etc. A differentiator for Arc is the integration with all other applications on the IFE system. In this way, passengers can stay engaged in the Arc application, even as they move about the system to watch content, for example, check their wellness or indeed do a bit of shopping.
Panasonic will customize the offering per each airline's wishes to ensure a bespoke experience. For example, it can offer Islamic services (a time for prayer) or a heightened gaming and entertainment offering for children, or even the ability for eco-conscious passengers to pay for carbon offsets through the system. An Arc portal will also be available to personal electronic devices.
"There's a lot of momentum, a lot of interest" from airlines, said Sandoval. "And again, it goes back to the platform orientation because they are seeing that Arc is not just another map, but is like, 'can I use it as a platform so I can bring content, I can bring a shopping experience', all in one pane of glass."
Related Articles: