Last minute bookings are always fun, I think. A recent adventure in Malaysia had me suddenly needing to travel to Kota Kinabalu from Sandakan, located on the remote island of Borneo. I could have driven six hours. Or, way more sensibly, taken a plane for 30 minutes.
Two airlines connect the cities, Malaysian and AirAsia. Malaysian offered tickets for ~$150US each way, while AirAsia started at $13US and offered better timings. Easy win for AirAsia.
While the stupid low fares are eye-catching, this is a low-cost carrier: everything has a price point. Want to choose your seat? Be ready to pay anywhere from $2 to $10. Checked bags are based on weight rather than quantity, and prices range from $10 to $37. Looking for a meal? That's $2.
And that's just at initial booking. Thereafter, prices go up 10-15% for almost everything. The fee chart also changes by distance. Longer flights generally equal higher price points.
AirAsia does offer some pre-bundled packages, and I chose Premium Flex. It comes with a handful of perks that we'll discover shortly, but the main one is no change fee. Since my stay in Kota Kinabalu was of an indeterminate time, I figured this wasn't a terrible option. Plus it basically pulls out all the service stops, so I'd get a good look at all AirAsia has to offer.
A single agent was overseeing bag drop when it came time to go flying, and despite a dedicated carpet for Premium Flex, I had to get their attention for service. My two bags were checked without incident, though on a return flight I had added provisions for a month-long work trip and went overweight: a costly mistake that set me back $48.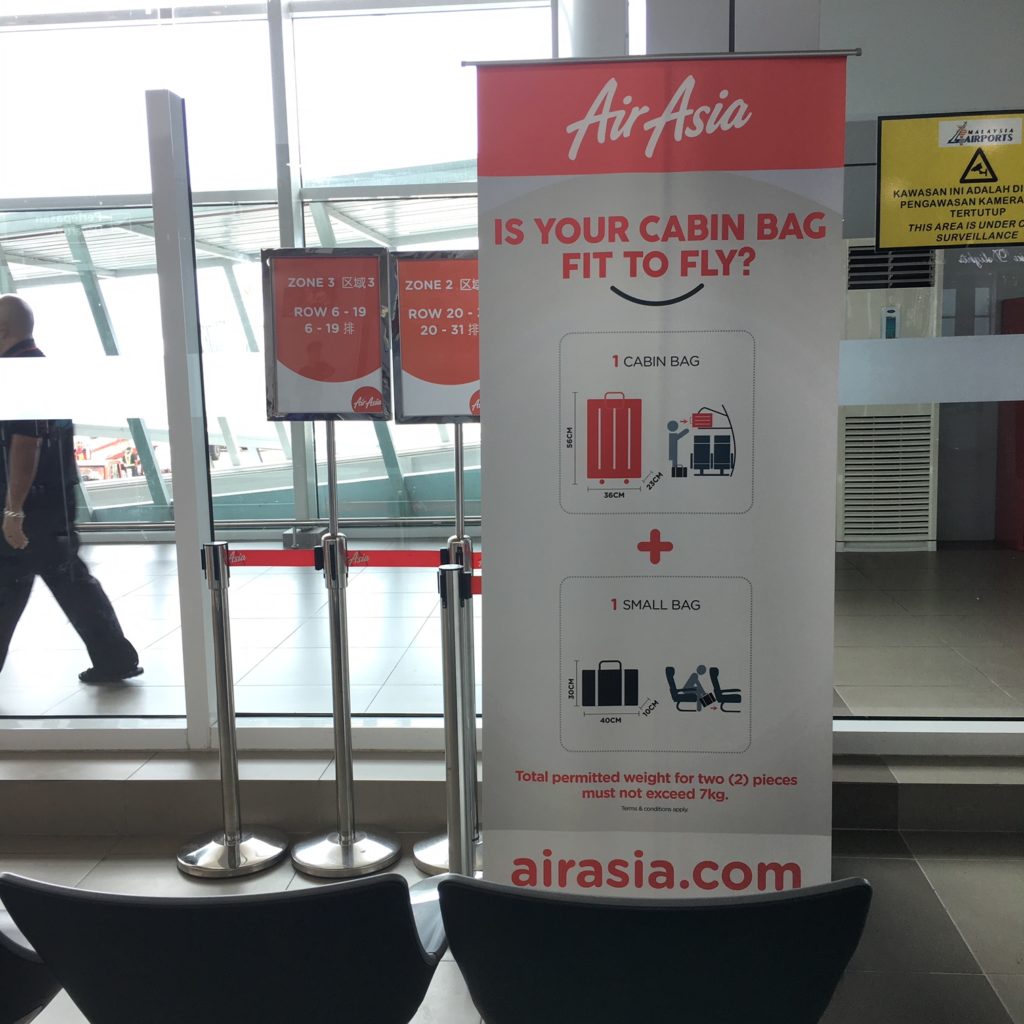 Premium Flex comes with lounge access in certain airports, but with a grand total of two gates, Sandakan does not have a lounge. Womp womp.
Boarding began late, and was split into three sections arranged by rows. Hot Seats (billed by AirAsia as being seats in the forward cabin or with extra legroom) and Premium Flex tickets like myself boarded first, followed by zones two and three, again based on rows. Despite dedicated lanes for each, both zones two and three began simultaneously boarding after Hot Seats.
AirAsia's business model is low-cost, no frills, so I went in with low expectations for the inflight experience. First impressions of the cabin matched that, with a 3-3 all-economy layout running the entire length of the Airbus A320. I settled into seat 3F and stuffed my bags in the overhead. Pitch was a tight 29″ , while seat width was the rather standard 18″ for an A320.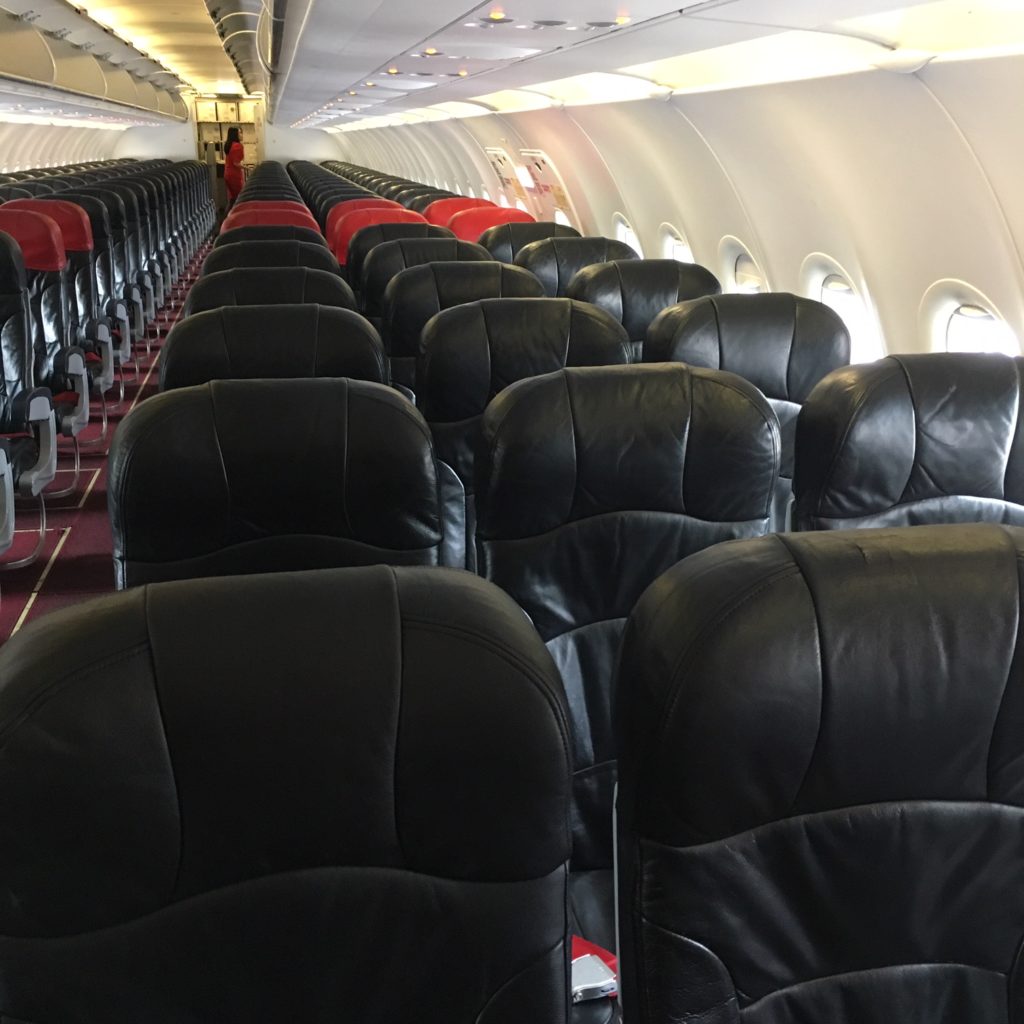 The seats were surprisingly plush and padded on this flight, and reclined more than I thought they would. It was a marked departure from the intensely uncomfortable seats I'd have on another AirAsia flight the next day, which felt more like a steel chair with a vinyl cover slapped on it for two hours. They were the worst seats I'd ever been in. But these, for today, were quite comfortable. Doubly so as I got lucky and had the row to myself for the 30-minute flight.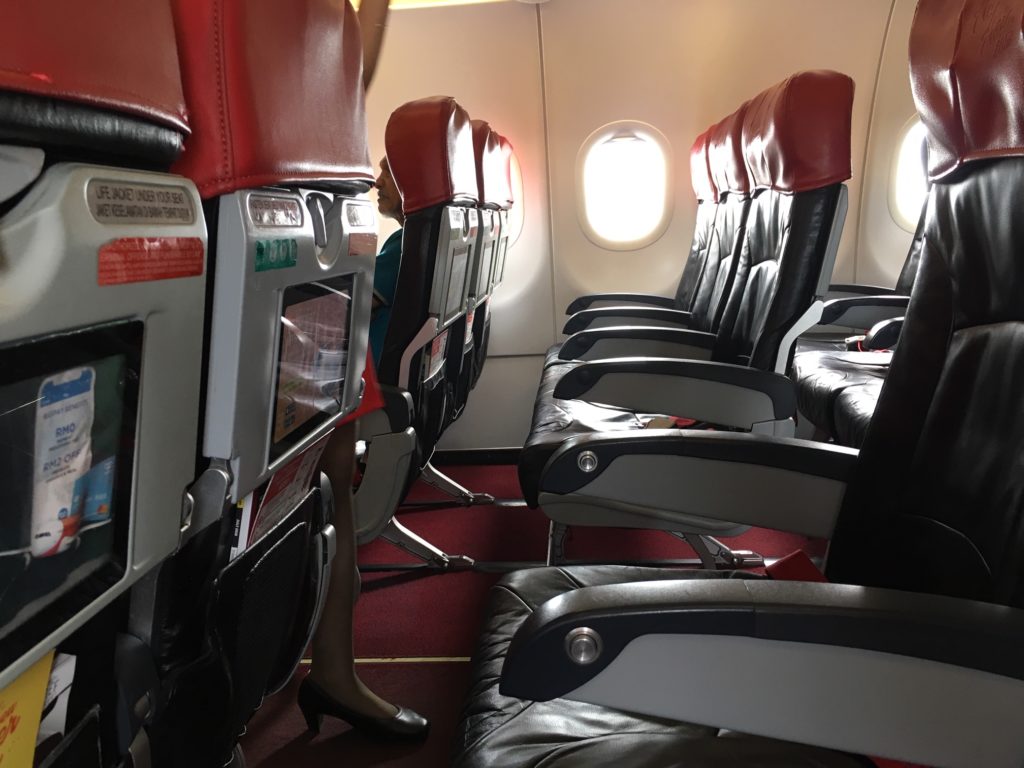 The rest of the plane was a bit worse for wear. Seatback literature pockets were often broken, and scuff marks and frayed seat covers omnipresent. For what it's worth, the aircraft on my next three flights looked much better.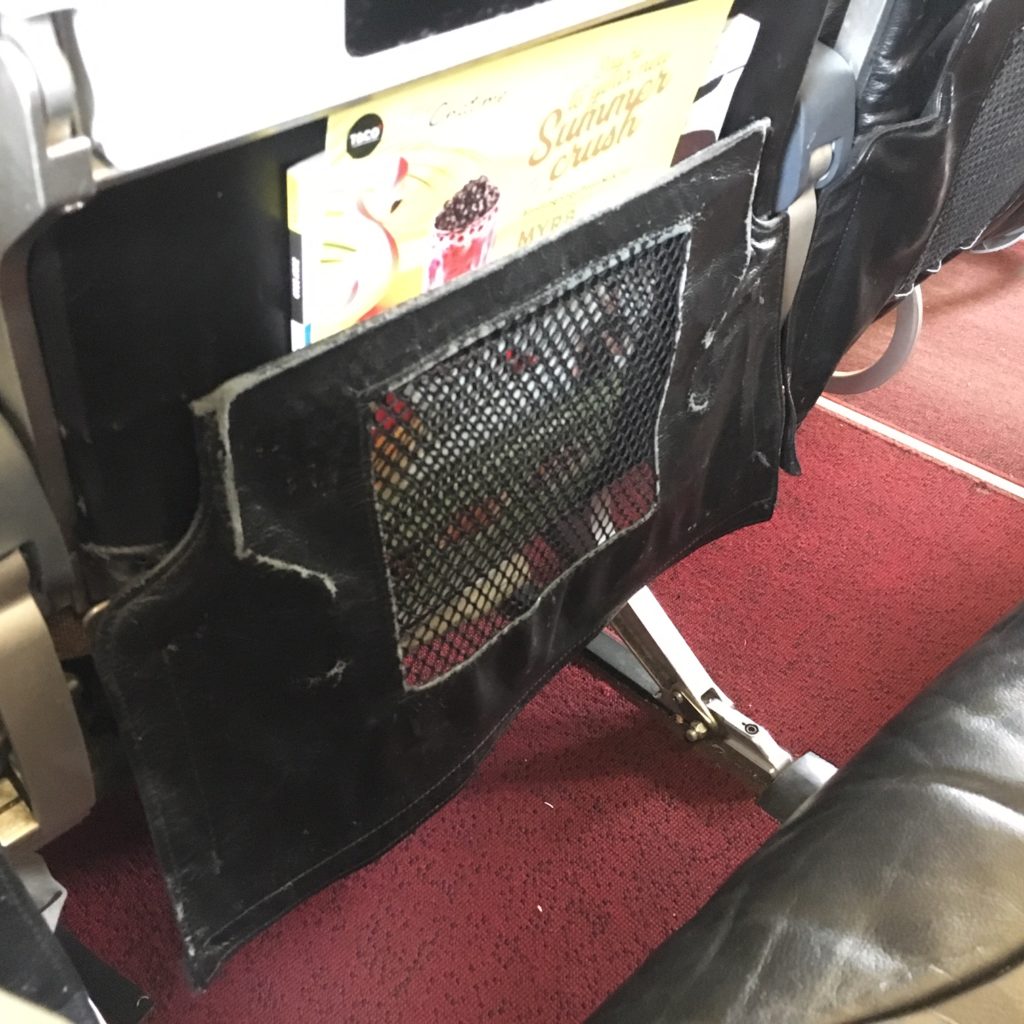 As we took off I couldn't help but notice adverts for free Wi-Fi via ROKKI plastered throughout the airplane. Once we cleared 10,000 feet I fired up the phone and tried to poke around. The landing page offers three choices: Internet, entertainment, and shopping.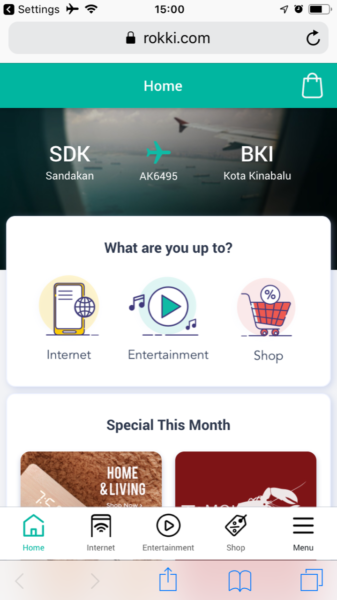 I went right for Internet, hoping to log on for free. But it wasn't free: several data plans were available for a fee instead. If it is free, I couldn't figure out for the life of me how to get that working.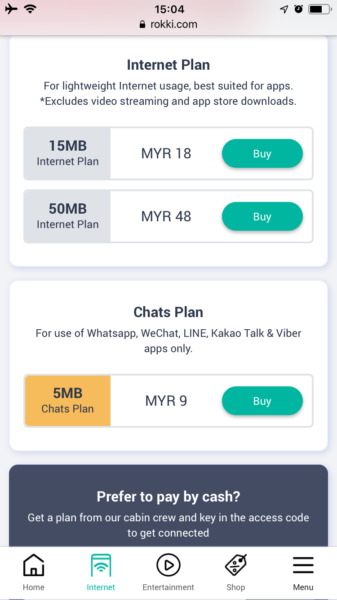 I didn't venture into entertainment on the short flight, but I did on a later one, and stumbled into a small cadre of content available for free (maybe this was the free part?).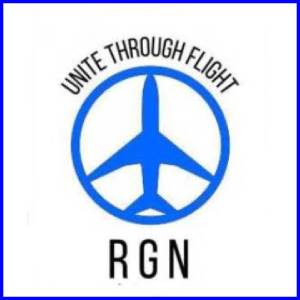 The content selections were slim, with a few episodes of "SpongeBob Squarepants" and "Rescue from Gilligan's Island" being the highlights.
Premium Flex tickets come with a complimentary meal, which in the booking process is called Captain's Choice. You can choose a specific meal for an additional, inexpensive fee before check-out or on the plane with either cash (cash!) or card. While the other pay choices had nice glossy photos, Captain's Choice simply had a grayscale thumbnail.
Needless to say, the suspense was building as I saw the drink cart saunter its way out into the aisle. Frankly I didn't expect to even receive it thanks to the short flight duration. Yet ten minutes into the flight, a crew member popped into my row, asked to see my ticket, and handed me a tin-foil wrapped meal with a cup of water.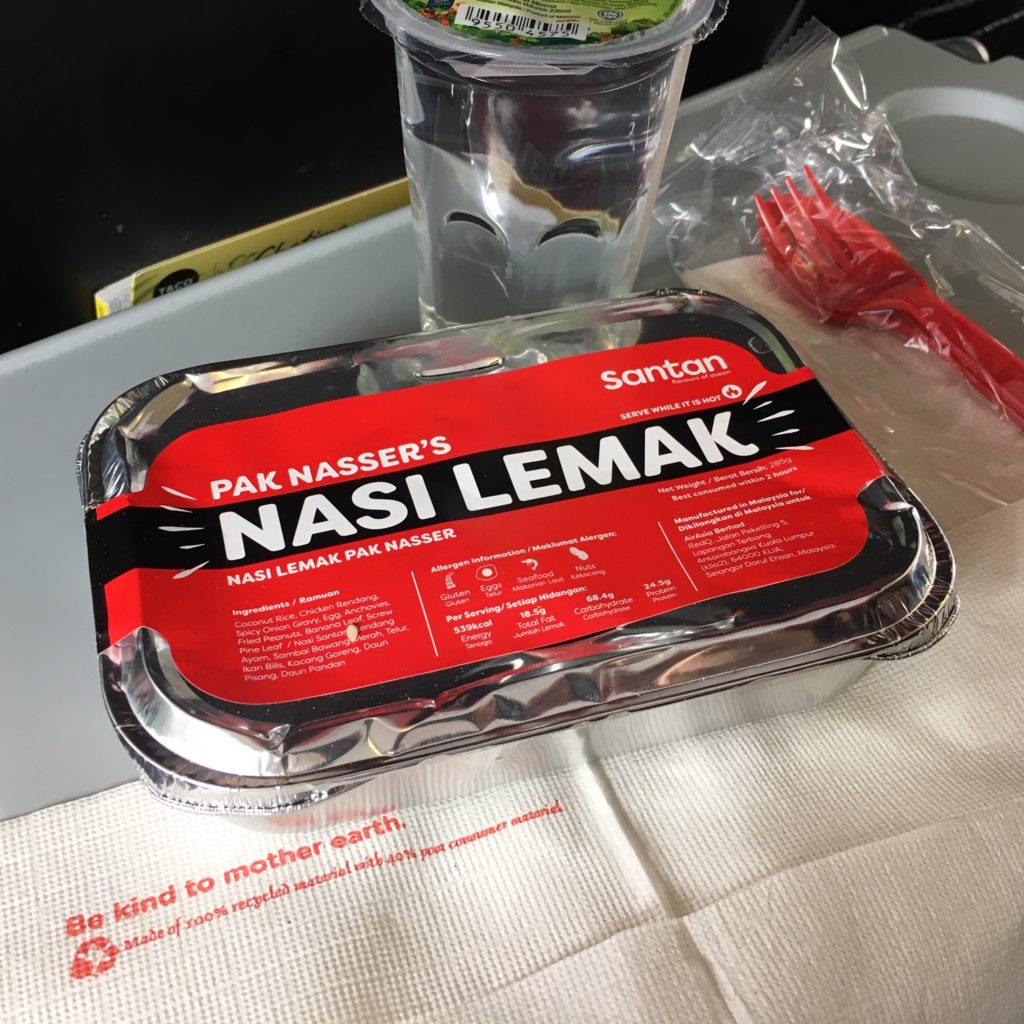 The winner? Nasi lemak, a tasty, spicy dish featuring chicken with rice, onions, roasted nuts, hard-boiled egg, and the putrid smell of fried anchovies. Once I removed the anchovies, the meal was pretty good. In fact I'm shocked to be saying that it was one of the better airline meals I'd had in awhile in any class of service.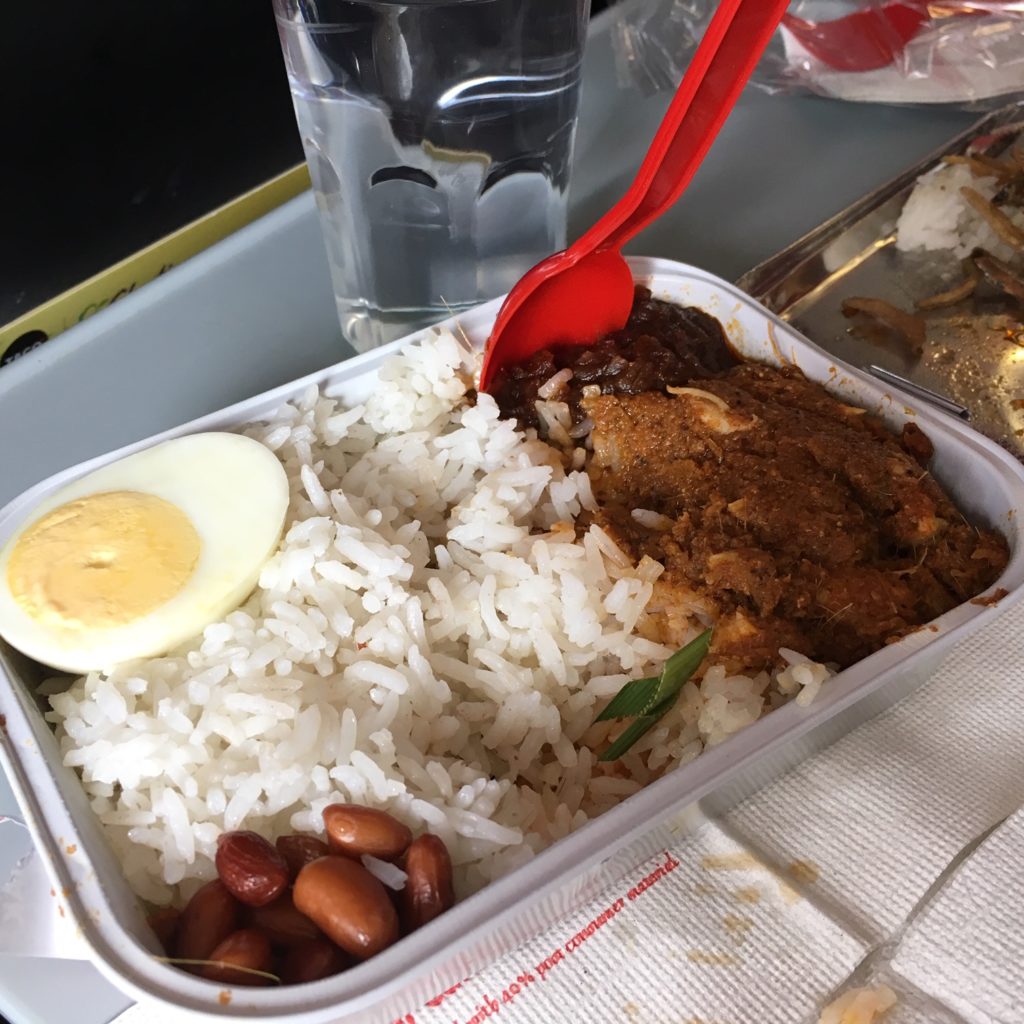 The flight landed a bit behind schedule, and the bags appeared almost right away.
Considering the price starts at $13 each way, you just can't go wrong. Granted, Premium Flex set me back quite a bit more, adding an extra $46 each way. But the call was smart: I wound up having to change my return flight twice at the last minute. I estimate it saved me ~$75 in change fees and fare differences.
And yes, the fee charts can be a bit overwhelming and tough to navigate. I'd imagine it would be a minefield for folks not familiar with the a la carte, unbundled nature of LCCs (and their punitive pricing). As always, slow down and do the research.
For me though, it was a win-win. The service was friendly, the buy on board food quite good, and who doesn't love SpongeBob reruns?
All images are credited to the author, Jeremy Dwyer-Lindgren
Related Articles: