Comparing business class seats has always been something of an art rather than a science, but a new system from French industrial designers Style & Design is progressively — and scientifically — aiming to benchmark the entire range of premium seating using the "perceived quality" concept.
The tool, vice president for aerospace Laurent Stritter tells Runway Girl Network, is called BenchmarQ, and was developed from experience within the design house in the automotive industry, where 'perceived quality' is a long-held fundamental of product design.
"Airlines are buying a product for the same price as a very nice Audi or BMW car, and they're getting a product that can be very deceptive at the end for their customers, who are paying four or five thousand Euros to fly in a certain level of premium-ness and attention to detail," says Stritter.
That's big money for carriers and for seatmakers as well, Stritter argues. "For some airlines, business class seats represent eighty percent of their profits. It's the same way for the seat vendors, it's where they make all their money."
In essence, BenchmarQ collects data on a combination of the colors, materials, finish and functionality, but focusing on the ergonomics and whether what's on offer matches the other experiences business class passengers will have in their everyday lives. And it uses real-world flights by experts with over 900 measured and comparable parameters to do it.
BenchmarQ crucially puts aside the most subjective part, the aesthetics, which makes some sense. Emirates' explosion of burled walnut and faux brass is either the zenith of swank or the nadir of tacky, and any one passenger's opinion on which will be the result of a number of individual, societal and cultural intersections.
"What's important to us," Stritter says, "is gaps, the flushness, the consistency of the color and materials, the quality of surfaces. We developed this protocol, which addresses by 900 questions, the scoring of a seat on seat quality that we've broken down into three main parameters."
The "Shape" parameter considers overall and detailed build quality, interfaces, gaps, flushness, and so on, answering the question of whether the seat as designed has been executed well.
"Look", meanwhile, examines the padding, finishing, cover quality, stitching, and interfaces. As an example, Stritter says, "Let's say that on one side you have an injected part and then right next to this part you have a thermoformed part. If they're specified to be exactly the same color and there's a mismatch with the color, it will be identified by the passengers. Maybe they will not say 'this is not exactly the same color, and it should be the same color', but overall they will identify that there is something wrong with the color matching. Either you ensure in your development process that you will have exactly the same color between two technologies, or you make a differentiation."
Lastly, "Usage" looks at the accessibility and ergonomics of the seat, as well as its dynamics, the noise it makes, and how robust it is. Wear and tear, especially premature wear, is a key element here, but so is an overall factor of whether the gestalt of the product makes sense.
In terms of ergonomics, this can be crucial. "Some seats, you put your elbow on the top of the console because it's a natural posture, and you don't use as much the armrest," Stritter explains. "There are some seats where the control pads are there and you end up putting your elbow on the console just to relax while you're watching a movie, and then all of a sudden your seat starts moving. This has a great impact on perceived quality."
When a BenchmarQ benchmarker takes a flight, the data-capturing process usually takes around six hours on a normal in-service flight, taking numerous measurements — and indeed pictures, including with a 360-degree camera placed on the floor, the seat pan, the cocktail table and the top of the shell.
The benchmarker uses a tablet-based app to enter every parameter, which is then accessible to customers over a web interface. Stritter demonstrated BenchmarQ to RGN and it is indeed a powerful, detailed, thoughtful and thought-provoking tool.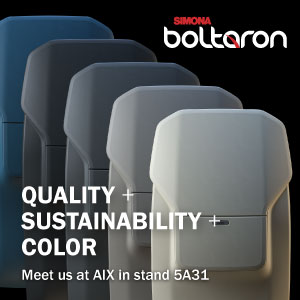 "Today we have nineteen seats in the database, and we have eleven more seats to come in 2019," Stritter says, covering a wide variety of aircraft: "A330, A350, 787, 777, A380 also. Various territories: we have seats from America, from Europe, from Asia, from the Middle East. We also like to show how the airline is evolving in their product range. For example, with one airline we made the scoring of the original herringbone and then we made the scoring of their new, latest herringbone, so you can see the evolution of one generation to another generation."
Customers can request a specific seat to be scored, and Style & Design also uses the tool on a consulting basis. Interest, as well as the customer base, is growing. While the split is roughly 50:50 between airlines and seat vendors, Stritter says, it is "maybe a bit more with the seat vendors", with airframers becoming increasingly interested as they do more to focus on perceived quality as a metric for the products that are built for — and indeed in — their aircraft.
Related Articles: