At IATA's Annual General Meeting (AGM), the global economy was a deep concern, particularly stemming from the effects of protectionism and global trade disputes. The current trade wars between the US and China are a double-whammy for airlines, threatening their highest yield airfares and their profitable cargo capacity.
The world's legacy airlines – which have been working to optimize their operations, investing in more fuel-efficient aircraft and unbundling their fares to compete with low-cost rivals – still rely on premium tickets and on air cargo to remain profitable. The trade disputes put pressure on these higher-yield sales, even as airlines keep base fares low to compete, and face rising operating costs.
"Margins are being squeezed by rising costs right across the board – including labor, fuel and infrastructure," said IATA Director General and CEO, Alexandre de Juniac, during his address to AGM delegates. "Stiff competition among airlines keeps yields from rising. Weakening of global trade is likely to continue as the US-China trade war intensifies. This primarily impacts the cargo business, but passenger traffic could also be impacted as tensions rise. Airlines will still turn a profit this year, but there is no easy money to be made."
The industry reached peak profitability of $10.08 per passenger in 2015, but the projected profit per passenger for 2019 is only $6.12. This is by no means the lowest profitability airlines have experienced – during the financial crisis in 2008, for example, airlines lost $10.49 for every passenger carried – but the recent reversal shows how vulnerable airlines are to sudden economic shocks.
The current trade war presents a unique challenge. It creates instability where there might be none; based on relatively stable world GDP growth. A graph shared by IATA in its economic briefing to the press makes this point clearly: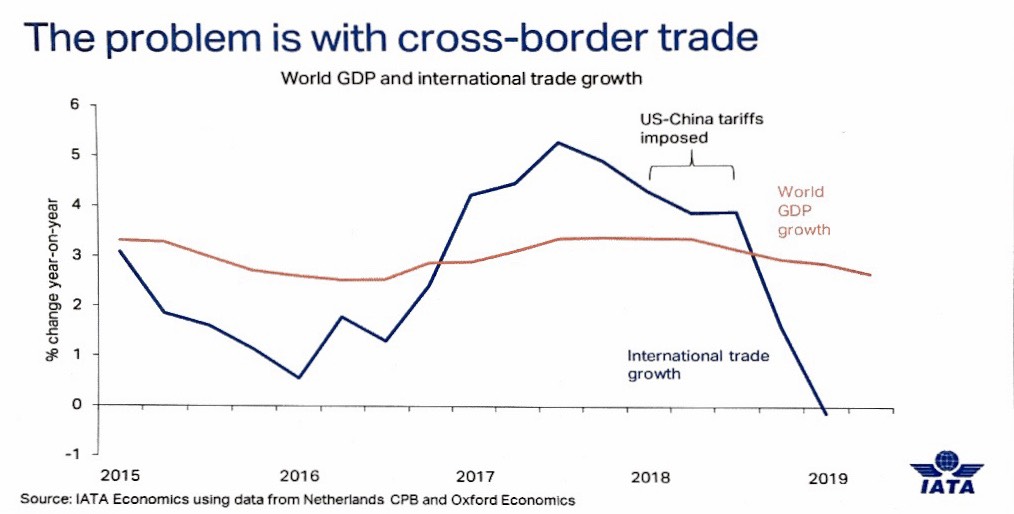 But what do trade wars mean for passengers?
Airlines, up to now, have relied on premium tickets – defined by IATA to include premium economy, business and first class – to fill the gap on low-yield economy class fares. Until now, demand for premium tickets has remained relatively high. But that may change as a result of the trade wars.
As Brian Pearce, Chief Economist for IATA told Runway Girl Network, "Yes, we do find that premium travel is linked to trade. Obviously, getting export orders is not the only purpose of business travel, but there seems to be quite a link there. That's one of the reasons why yields have been under pressure as well."
Faced with softening demand for premium cabins, airlines may need to reconsider their cabin mix, perhaps allowing more room for Economy+ products to replace some premium capacity, and adding enough economy class capacity to off-set the costs of operating the flight. In other words, this could mean fitting more seats on planes and flying more crowded cabins.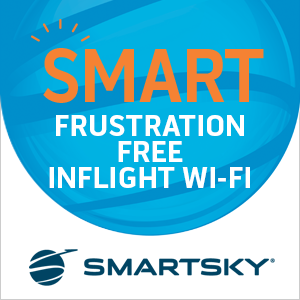 In recent years, airlines have established a working business model of unbundled fares, with low base fares supplemented by fees, and the sale of ancillary products and services.
Attracting passengers by advertising low fares and making up the difference in charges and "extras" has also helped keep load factors high. IATA projects an average global passenger load factor of 82.1% for 2019 – the highest average load factor in the 2019 IATA forecast, which shows figures back to 2004.
Airlines may also choose to raise air fares, but that seems less likely, at least for now, because they will not want to discourage buyers. They could charge more for those "extras" instead, or increase the fare differential between economy and Economy+ (extra legroom economy) seats.
While the current situation is changeable, one thing is certain: airlines need to ensure they can offer their investors a return on investment. They need to be profitable to pay for newer, more fuel efficient planes. Even in the US, where airline profitability is highest by far, the $15 billion net profit projected for 2019 is a significant drop from a high of $21.7 billion in 2015.
Airlines hope the trade situation will be resolved before it can do lasting damage, but they don't control government trade policy.
"Our world trade and cargo figures are based around the current [trade] situation," Pearce said. "It could get worse; we hope it won't."
Related Articles: