With the absence of the A380 at the upper range of its future aircraft plans, Airbus' push to compare a 400-passenger A350-1000 with a 400-passenger Boeing 777X as its high-capacity offering is, it seems, based on requiring ten-abreast seating that the airframer initially pegged at 16.4", but is now promising as 17".
Following an Airbus pre-briefing in advance of the Paris Air Show, this push is so far relying on substantial confusion, a firm lack of detail, and what felt like obfuscation around the competition between the Airbus A350 and the Boeing 777X.
At its Innovation Days media summit in Toulouse last month, Scherer (and other Airbus executives) teased the airframer's work to densify the A350's economy class, promising a more palatable ten-abreast configuration than the 16.4" seat width that the A350 3-4-3 layout was initially calculated to give.
Praising the A350 in Paris, Scherer said, "when you fly long ranges at up to 8,000 miles, when you fly 350-400 people up to 8,000 miles, that's where the economic difference from new technology becomes very, very perceptible — for the airline, for the airline CEO on the bottom line, and for the passenger in the cabin. I just sat the other day on the ultra-long-range flight from Los Angeles to Singapore. I came out of that A350 flight feeling absolutely great. It sounds esoteric, perhaps, but the cabin experience of a brand new A350 with the air quality, the cabin pressure altitude, and the noise level of the airplane makes a huge difference."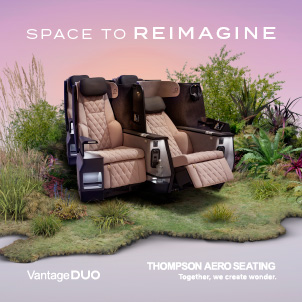 Far be it for Runway Girl Network to get 'esoteric' about cabins, but Scherer will, of course, have been at least in premium economy and more likely business class on that Singapore Airlines flight, which does not offer an economy class product on the route — let alone an ultra-narrow ten-abreast one.
In what was one of his most controversial statements of the evening, Scherer continued, stating that "quantitatively, the A350-1000, 400 passengers, will fly a good solid 400 people, full of cargo, deep from inside Asia, deep into America. That airplane, when it takes off with its full load out of Asia, will take off 45 tonnes lighter than its equivalent competing aircraft."
In answer to RGN's question about whether this 45t (consisting, Scherer said, of 35t lighter weight and thus 10t less fuel) and 400-passenger configuration included the need to operate ten-abreast seating, Scherer noted that "the short answer to your question is: ten-abreast vs ten-abreast, the A350 is unbeatable."
This is not surprising: an airplane substantially shorter (73.79m compared with 76.72m of the 777-9X) and narrower than another airplane should indeed be lighter.
Based on the A350's fuselage width of 5.96m and the 777-9's fuselage width of 6.2m, the difference between fuselage widths is 24cm (9.45 inches), or 2.4cm per passenger in ten abreast seating, if Boeing and Airbus can do similar work on sidewalls.
As for 400 seats, this looks to be complicated as well. While airframer "typical configurations" are often unrealistic, the sort of longhaul configurations of the -1000 seen so far are Qatar Airways (46 business plus 281 economy for a total of 327) and Cathay Pacific (46 business plus 32 premium economy and 256 economy for a total of 334).
Rumored configurations from other longhaul carriers look similar, with regular economy looking to be around Cathay's 30 rows or Qatar's 32. Adding a seat in each row gets the layout thus to some 360-odd seats. Perhaps one might imagine the Qatar example without the two rows of Qsuites after doors 2, but even so, there are few airlines willing to eschew the profitability of premium economy these days.
"This symbolic statement I made is in your typical configurations, but you're right, the 777 is slightly larger," Scherer admitted in response to RGN. "We are having a number of initiatives that we can demonstrate now giving airlines the opportunity to put 17" seats ten abreast across the A350, allowing it to be just as large in terms of passenger capacity as the 9X. That makes it uncatchable."
While RGN is by no means unfamiliar with the advances in seating and monument ergonomics and kinematics to carve out extra space within the cabins, a 2.4cm per passenger difference is enormous and requires detailed justification to be taken as read. Despite multiple requests from RGN, Airbus has not supplied any further details of how it plans to create 24cm of room within the A350's fuselage.
Related Articles: