For airlines that want to take advantage of a single inflight connectivity provider globally, but still want Viasat's regional Ka-band service in the next three to four years before the company completes global Ka-band coverage, Viasat has launched a second-generation version of its hybrid Ku-band-Ka-band antenna.
It's essentially a final piece of the puzzle of the Viasat offering for carriers that might be existing customers of competing IFC providers, or that do not currently have a non-regional inflight connectivity provider for longhaul operations outside their home regions.
Don Buchman, vice president and general manager of Viasat's commercial aviation business, tells Runway Girl Network that "it's going to be available end of this year, from an install standpoint, going through the certifications, and STCs will be available."
Rumors have already surfaced that the hybrid has scored a customer in the form of American Airlines for Boeing 787s, but the airline has not confirmed, telling RGN in response to a query:
We have more high-speed satellite Wi-Fi than any other airline. More than 670 planes in our fleet have high-speed satellite Wi-Fi, which means 100 million+ passengers per year have access to streaming services, live TV, faster Wi-Fi and more. And that number keeps growing; we'll have over 700 planes by the end of 2019.

As the industry's definitive in-flight connectivity leader, we will of course examine every option to continue to increase our lead.
Principally, and certainly initially, the solution will be installed via the retrofit market, suggests Buchman, although the company certainly sounds open to other options if it becomes necessary. Viasat expects the solution largely to be aimed at the longhaul widebody market, on aircraft that serve routes that pass from the existing Viasat-operated or -contracted Ka-band networks to areas that are out of coverage.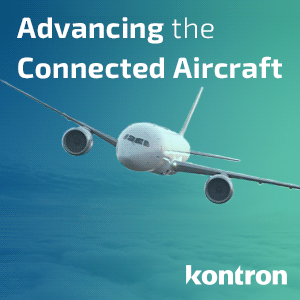 In terms of the market that Viasat expects the new hybrid antenna and modem to serve, "it's for airlines that are bridging into the Viasat-3 constellation, the ones that want to get going today but can't wait til 2022, 2023 for the full constellation," Buchman explains. "What's really driving it is Asia-Pacific. Whether you're a European, Middle East, or Americas airline, you are going to Asia from one direction or the other."
Crucially, the extra weight of the dual system is less of an impact on larger widebody aircraft than on smaller narrowbodies, which, despite the rise of the Airbus A321LR and longer-range versions of the Boeing 737 MAX, would largely be covered by existing networks.
"Most of the narrowbody markets," Buchman notes, "we're going hit with the right capacity in the right time frame. There hasn't been a great need" for double-band capacity.
With Viasat-3, Buchman says, "we can cover all the Americas… say I want to go between South America and North America. In the time frame that we would've gone through the bid of getting it certified, the first Viasat-3 Americas would be in orbit and ready for service within six months. It's more around timing with the narrowbodies."
The hardware will include the latest generation of the Ka-band antenna, forward-compatible with the Viasat-2 and Viasat-3 satellite constellations, including the modems, and is intended to be offerable to all Viasat's key customers, including Finnair, SAS, Qantas and El Al. "They could put it on routes that they are flying today," Buchman says.
Viasat says it has also modernised processors, optimised internals and made other tweaks since the first generation of the Ku-Ka product.
The purpose behind developing the new hardware, Buchman explains, is installation timing and as a bridge to the arrival of the next set of satellites, specifically "acceleration. We've been really successful where we've had coverage and capacity. Right now, a lot of the demand we're getting is, 'We want your product. We want it now.' This is really a bridge to that. We can take advantage with other widebody fleets from all of our great Ka-band capacity today without having to compromise. You can stay connected."
Describing the new Ku-Ka product as "exciting", Buchman continued to hedge slightly on the precise launch and operational dates of Viasat's remaining satellite launches before it completes its constellation, citing the vagaries of launch systems, operations and achieving the satellite's full orbit after initial insertion.
Viasat's first-generation Ka-Ku-band system flew on Virgin America before the carrier was acquired by Alaska Airlines. The nextgen system is seen above.
Related Articles: